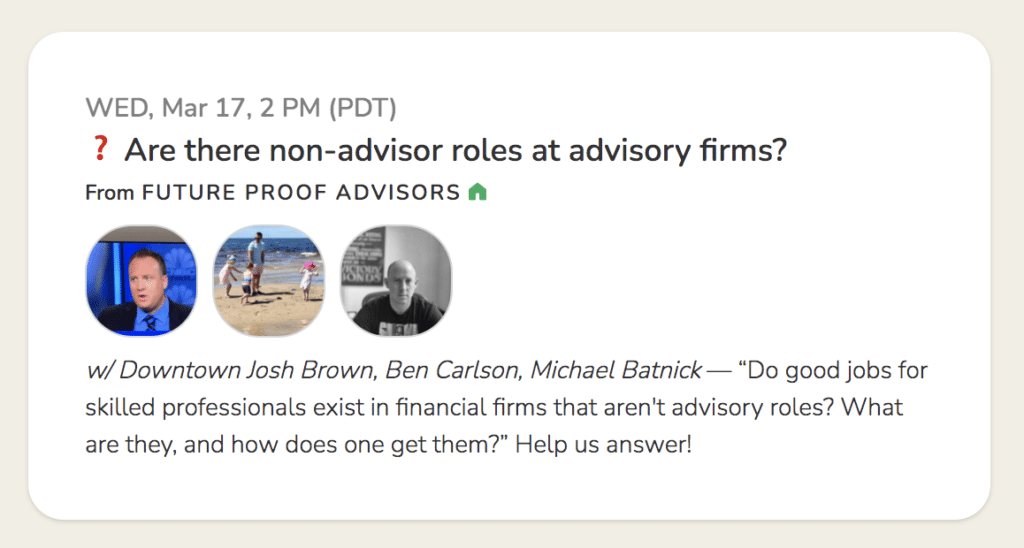 Today at 5pm, we'll be discussing this topic with some of the most well known entrepreneurs and firm owners in the RIA space.
At Ritholtz Wealth, we're in the process of hiring a staff accountant and a creative media producer. These are not financial advisory roles but we are, obviously, a registered investment advisor firm.
So how do you find these roles and apply? We get this question all the time and we're bringing some of our friends along to help answer it.
The Future Proof Advisors Club (FPAC) is the first club for forward-thinking, enterprising financial advisors on the Clubhouse app. Anyone can become a follower of Future Proof Advisor Club on Clubhouse and attend the discussions. Membership requires nomination from an existing member, so if you're a registered financial advisor and you see someone you know among the membership, ask them to nominate you!
And, of course, you can connect with me on the app by following @downtownjbrown today!