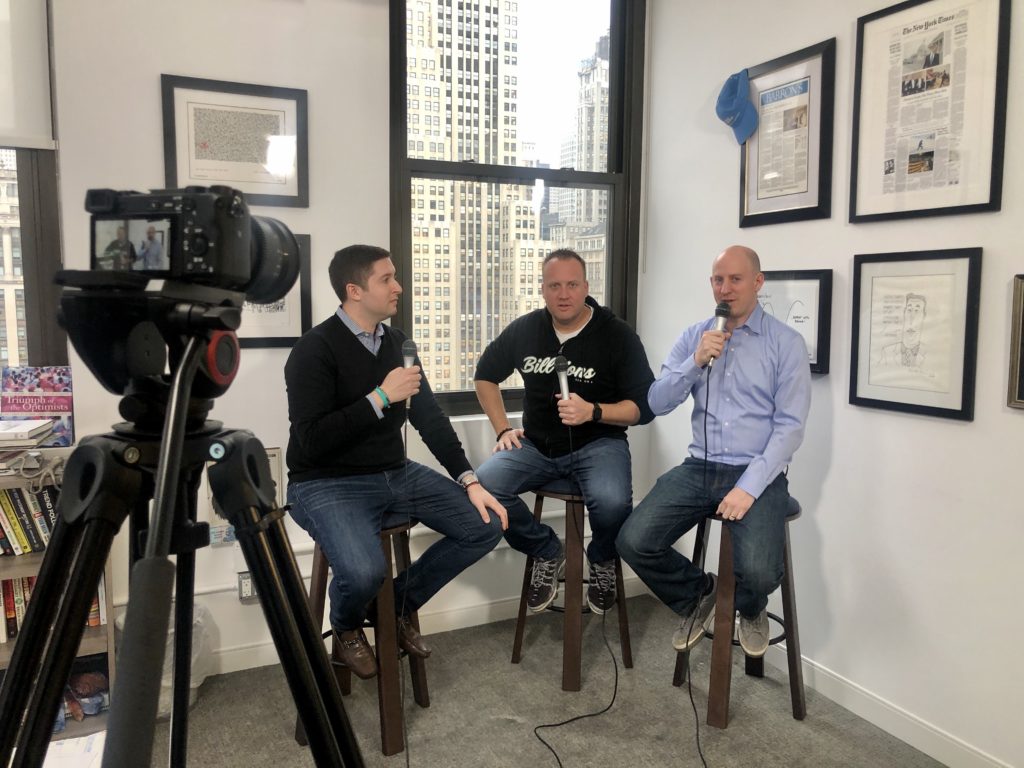 If you or someone you know wants to apply for one of the best creative jobs in the entire financial services industry, now is the time. Send resumé and reel and whatever else we should see to hiring@ritholtzwealth.com to be considered – subject line CREATIVE. 
The audience for our content is blowing up. We're making major investments in this stuff and we need you to take it to the next level! Here's the formal job description – putting it here before we open it up to the rest of population via ZipRecruiter / LinkedIn next week. 
Creative Media Producer
Ritholtz Wealth Management is a fast-growing, unconventional (no suits/ties) financial advisory firm with an even faster growing YouTube channel and social media presence. We're seeking an experienced Media Production Specialist to join our rapidly growing, close-knit team to help produce quality visual media and audio content. 
The position includes competitive pay, good benefits, a very friendly and close group of coworkers with a "work hard/play hard" attitude.
The position will be based out of New York City
Responsibilities
In this role, you should expect to:
Produce audio and video content for podcasts, interviews, explainer videos, social media posts, and training demonstrations 

Implement knowledge of cameras, lighting, support gear (tripods, sliders, gimbals, and other production equipment), as well as professional lighting and audio recording techniques 

Maintain well-organized project files for archiving and sharing with others

Play a key role in production (camera, lighting, audio recording, etc.) and post-production (media management, video editing, motion graphics, audio editing and mixing, color grading, etc.)

Effectively troubleshoot audio/video issues

Help manage an active YouTube channel
About You:
Can lead projects throughout the various stages of the project cycle including technical discovery, creative development, and multimedia production.

Deep understanding of digital media and content production across multiple formats 

A fast learner and critical thinker capable of following instructions and accepting criticism

Able to produce quality work on tight deadlines

Are comfortable collaborating with many different teams of people

Have an eye for design
Qualifications
Bachelor's degree in Film/Video Production (or related fields), or equivalent professional experience as applicable

2+ years of professional experience in audio/video/motion graphics production

Knowledge of interview lighting and sound recording techniques

Ability to create custom motion graphics in After Effects

Proficiency in Premiere Pro, After Effects, Photoshop, and Audition (or Pro Tools)

Ability to troubleshoot technical challenges and problem solve calmly

Positive attitude and solid communication skills both written and verbally

Please include reel or samples of previous work with your application. You can also email documents to hiring@ritholtzwealth.com.
Bonus Skills
Graphic Design Experience (inDesign, Illustrator)

Advanced knowledge of motion graphics (After Effects)

Knowledge of digital photography and photo editing techniques

Experience with live-streaming or live broadcasts

Interest in investing/finance/economics
The candidate must be a team player who is proactive and takes pride in their ability to execute tasks, problem solve and be a team player. Detail orientation with proven organizational skills is a must, as is the ability to manage time efficiently and multi-task. Excellent written and verbal communication skills are very important as this role determines a significant part of our growing YouTube channel and social media presence.
Looking forward to meeting you!