One of the most interesting things that happens after a big, nasty, protracted bear market is that no one wants to be accused of being bullish or upbeat about anything. In the aftermath of a crash, the bulls always look and sound dopey or complacent.
Wall Street strategists are only human. And as markets trade higher, they gradually get more and more comfortable sounding positive on stocks. The trauma of having been bullish and wrong ahead of the last crisis fades away and the recency bias takes over. Individual investors' risk tolerances work this way too, but that's another discussion.
Anyway, my friend Savita Subramanian has been showing us the Sell Side Indicator that she keeps for BofA and, over all this time, The Street hadn't really gotten up to a place where the rally might be threatened by excess bullishness – until now: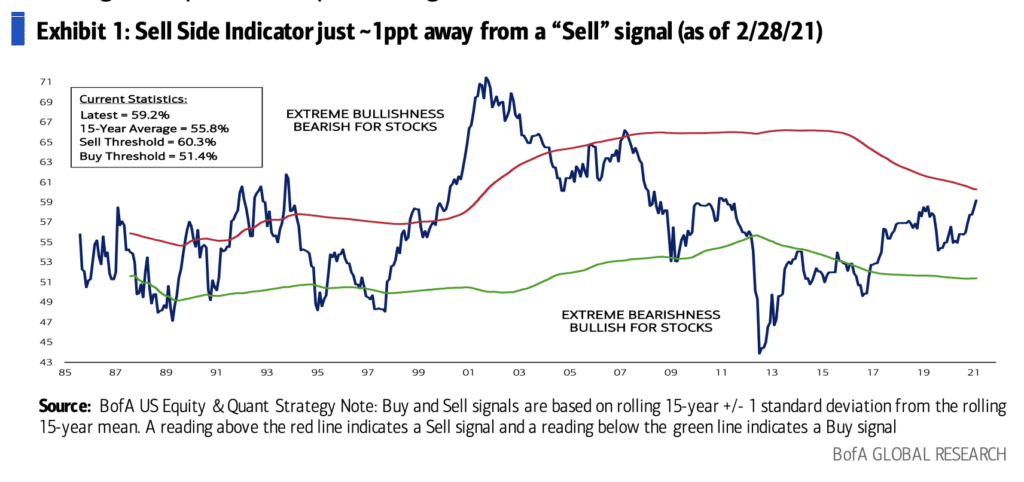 Wall Street is just 1ppt shy of 'Sell" signal

Wall Street strategists continued to increase their recommended equity allocations in February. The Sell Side Indicator (SSI), which is the average recommended equity allocation by sell-side strategists, rose by nearly 1ppt to 59.2% from 58.4%. It's the second month in a row of an almost 1ppt jump, bringing recommended equity allocation to almost a 10 year high and just 1.1ppt shy of a "Sell" signal. The last time the indicator was this close to "Sell" was June 2007 after which we generally saw 12-month returns of -13%. We've found Wall Street bullishness to be a reliable contrarian indicator.
Savita notes that we're still in Neutral territory based on the model's inputs, and we've been in the Neutral zone since December of 2016. And with the indicator still at Neutral (as opposed to Bullish), we're still looking at positive forward returns based on the historical relationship holding (which, who knows if it will).
It only took about 20,000 Dow points, a quadruple in the S&P 500 and a 500% Nasdaq rally to get The Street's experts up to the upper end of Neutral sentiment. That's pretty funny, in and of itself, regardless of what happens from here.
Source:
Approaching "Sell" signal
Bank of America Securities – March 1st, 2021