Once upon a time there was a traditional automaker that looked on as Elon Musk promised and innovated his way toward one of the largest market caps on earth and an explosion in brand awareness. That automaker, GM, stood by as Musk's Tesla racked up millions of new vehicle orders for cars that hadn't even been built yet.
And then the pandemic struck, and the automaker's CEO, Mary Barra, decided to go on the offensive. The dividend was canceled. Factories were repurposed and retrofitted to build batteries and zero-emission cars and trucks. Plans were moved up for a company-wide remake. The electric version of the iconic Hummer luxury SUV was rolled out. Cruise, GM's autonomously-driven ride hailing service began plans to roll out in San Francisco. Technology workers were hired. $20 billion in spending was committed to change this company's future by 2025.
And now investors are treating GM like it's an entirely different company. It's share price has broken out toward a three-year high as each week brings fresh news about the transformation now underway.
It's fair to say that Tesla has a significant technology edge and lead on GM right now. It's also fair to say that a gap between Tesla's enterprise value to cashflow of 10x is probably absurd and that this gap ought to close, one way or another, in the coming years should GM be able to execute. At present, GM is being valued at 6 times EV to EBITDA while Tesla is 65 times. And that's based on forward estimates, which makes it even more absurd.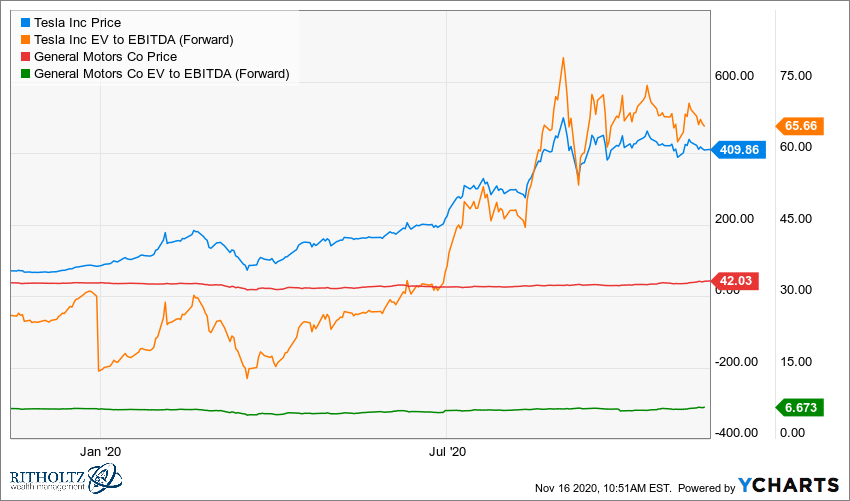 GM has been a "value stock" ever since it came public again after filing for bankruptcy during the financial crisis. For nine years, it traded at a deep discount to the entire S&P 500 and within a narrow share price band of between 30 and 40, give or take. And then, this year, it got sick and tired of being a value stock with a stagnant share price and a diminishing mindshare in the automotive industry – this while every Tom, SPAC and Harry immediately got credit just for merely uttering the word "electric" at an IPO roadshow. GM had had enough and decided to get aggressive. When's the best time to buy a value stock? When it figures out how to become a growth stock again.
Here's the interview Mary Barra did about GM's electric future with the Barron's tech conference last week…
Source:
EVs Are the Future, GM's Mary Barra Says. Where the CEO Sees Growth. (Barron's)