What has developed is more like a K. On the upper arm of the K are well-educated and well-off people, businesses tied to the digital economy or supplying domestic necessities, and regions such as tech-forward Western cities. By and large, they are prospering.

On the bottom arm are lower-wage workers with fewer credentials, old-line businesses and regions tied to tourism and public gatherings. They can expect to bear years-long scars from the crisis.
If the K-shaped recovery continues on its present course, the next Democratic nominee will basically be the ideological descendent of Che Guevara. And the reaction on the right will be who knows what – but certainly something of an extreme in order to counter-balance. Because what's going on right now in terms of economic inequality is so utterly unsustainable that it's a miracle we don't have ten more Portlands on our hands already.
Chris Rock's opening monologue for this weekend's Saturday Night Live season premiere took a stab at the issue. He made the point that we may need to rethink the entire relationship Americans have with their government, in light of the fact that government seems not to be able to function anymore. Rock's joke premise about how we have a Constitution instead of having a king – but that we've inadvertently created a class of Dukes and Dutchesses in Congress to represent poor people – is more reality than it is the setup for a joke. Especially when you consider how completely voiceless the working poor will become as a result of the current economic recovery leaving them even further behind.
Here are some highlights (lowlights?) from the recent data, as relayed by the Wall Street Journal this morning:
Black and Hispanic women held many of the restaurant, retail and hospitality jobs that were badly hit by lockdowns. Black women held 11.9% fewer jobs in September than in February, and Hispanic women held 12.9% fewer, according to the Labor Department. White men have been the group least affected, with 5.4% fewer jobs…

By September, workers with bachelor's degrees or higher had nearly fully recovered jobs lost in early spring. But those with just a high-school diploma held 11.7% fewer jobs in September than in February, according to Labor Department data, and high-school dropouts had 18.3% fewer. The two groups combined were down by 4.4 million jobs—amounting to around 40% of the employment that remains lost since the pandemic began—although they are only 27% of the labor force…

Nearly 30% of white employees held jobs they could do from home in 2017 and 2018, according to the department, compared to 19.7% of Black workers and 16.2% of Hispanic workers did.

The same Labor Department report found that 61.5% of the upper quarter of earners could work from home, compared with 9.2% of the bottom quarter.
You can have a few quarters go by like this but not a few years. Can't do it. The frustration and anger that this sort of environment will engender will make the country essentially ungovernable.
And in the meantime, the next stimulus bill, which ought to have been done by August, is still being debated. It's really outrageous.
I spent the summer listening to podcasts and reading books about the French Revolution. In particular, I recommend Hilary Mantel's novel A Place of Greater Safety and Mike Duncan's epic Revolutions podcast (Season 3).
The American Revolution began as a dispute between wealthy Americans and their colonial bosses. It was catalyzed by import taxes and business interests. It's not at all apropos of the present situation in America. The French Revolution is a much better analog.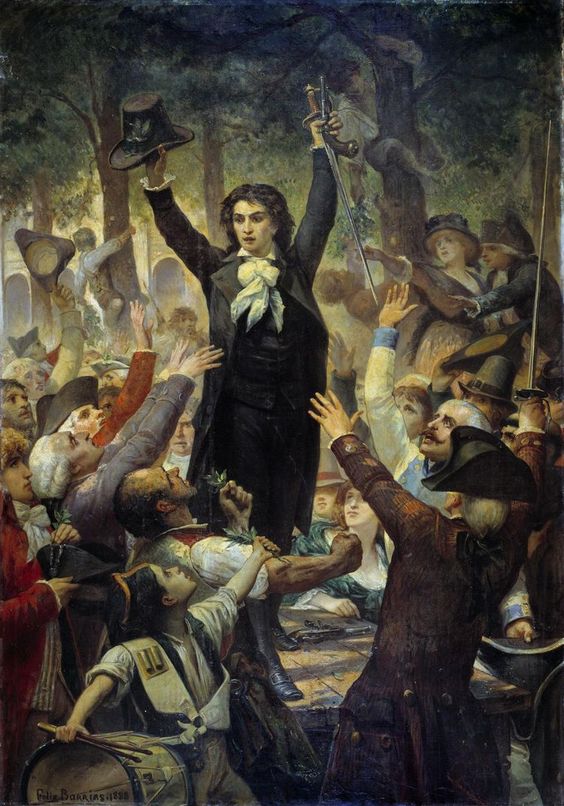 French lawyer turned revolutionary poet Camille Desmoulins follows up his tweets by raising hell in the streets
The French had tolerated Dukes and Dutchesses and all manner of feudalism and drastic wealth inequality for centuries. And then, like now, there was a natural disaster that blew up society and accelerated the already rampant inequities of their system into an intolerable extreme. There was a mini-ice age in the mid- to late-1700's that froze the nation's agricultural product, which led to a grain shortage, which then affected bread prices and threw the matter of sugar prices into dispute as well. Poor King Louis XVI just happened to have been coronated at the wrong time, 1775, just as the economic situation of the monarchy was being called into question with so many people starving on the streets of Paris. Newly won press freedoms made it so that any aggrieved citizen could start and distribute a newspaper (their version of Twitter) and these newspapers published the incendiary ravings of any lawyer, poet, philosopher or other opportunist who could string a few sentences together.
To counter these writings, the King's finance minister had the idea to "open the books" and let everyone see that the royal family was managing the nation's wealth responsibly. This was a Pandora's Box, out of which escaped the very dangerous idea that the king was now answerable to the rabble. It wasn't long after that heads began to roll. Then, like now, the cities were a sort of Ground Zero for the misery and suffering, and the revolt had to emanate outward into the countryside (our modern-day suburbs) in order to engulf the entire nation.
I don't mean to suggest that we are quite at that point, but the parallels are lining up perfectly. We cannot endure a situation where the Hamptons carries on as though nothing has changed, tax rates remain where they are and asset price inflation becomes a substitute for wage growth. There is only so far that the top arm of a K can continue higher before something revolutionary sweeps up everyone on the bottom arm.
So if you think we're polarized politically now, if nothing changes in the next few years we're going to be unrecognizably so for the next cycle. And with the Boomer candidates having all aged out by then, whatever movement comes next is going to be angrier, more energetic and significantly less patient with the status quo.
Unless we find a way to re-employ and re-enfranchise the millions of people who have essentially fallen out of the economy, through no fault of their own. Unless we find a way to bind ourselves together again, as one workforce, one economic reality, and one vast opportunity set where everyone has a shot to pay their bills and pursue their dreams. Right now, this ain't it. The K doesn't end well.