I don't see myself ever joining one of the political parties because the more I see of partisanship, the more I come to the conclusion that "membership" in any organized group forces you into positions and postures that require the shutting down of your brain. Or some form of self-deception. Either way, and to either end of the spectrum, I'm not interested in going there personally.
Michael Cembalest (JPMorgan) has the quote of the day, along with an accompanying chart that represents the failure of our current leadership to a tee…
"At a recent party conference meeting, GOP Representatives reportedly called on Liz Cheney (R-Wyo, who votes with Trump positions 97% of the time) to resign or be removed as House Republican Conference chair for simply supporting NIAID director Dr. Anthony Fauci in public. This [insert your own adjective here] anecdote may be as good an explanation for the US infection gap with the rest of the developed world as any data-driven analysis I have seen to date."
And here is the result of this sad state of affairs and utter lack of competence and unity in the face of the crisis: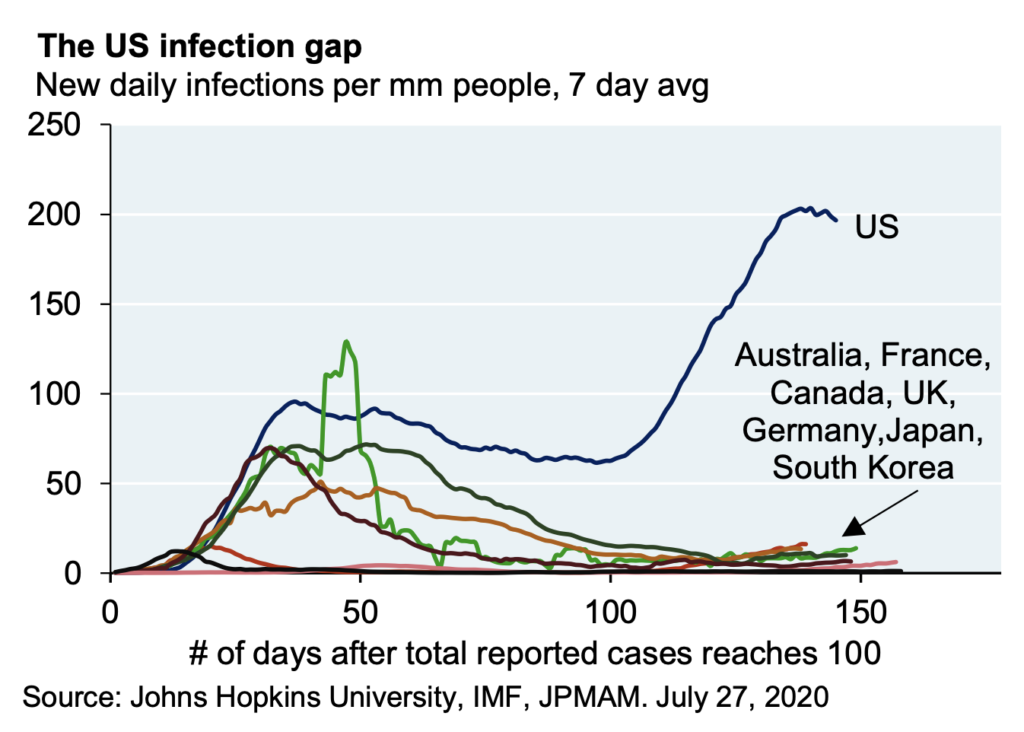 I don't think you can have 50 states' governors issuing 50 sets of diverging orders on 50 different timetables and come out with a satisfactory response to a virus that doesn't respect or recognize borders. Other countries tackled this as a health emergency. We treated it as just another excuse to fight with each other. We were failed by the people in charge and by our fellow Americans. If and when the children don't return to school this September, you will be doubly reminded of this objective, undeniable fact.
Source:
Eye on the Market
JPMorgan – July 28th, 2020