For obvious reasons, it's a positive that the rate of deaths has not kept pace with the rate of new cases. You can chalk this up to more effective treatments, a younger population of newly infected people and the more persistent rate of testing catching the cases that are only mildly symptomatic versus only very ill people being tested before.
My chart o' the day comes to us from Ethan Harris's economics team at Bank of America Merrill Lynch. They note that although we're having a resurgence of new cases, it might be topping out here…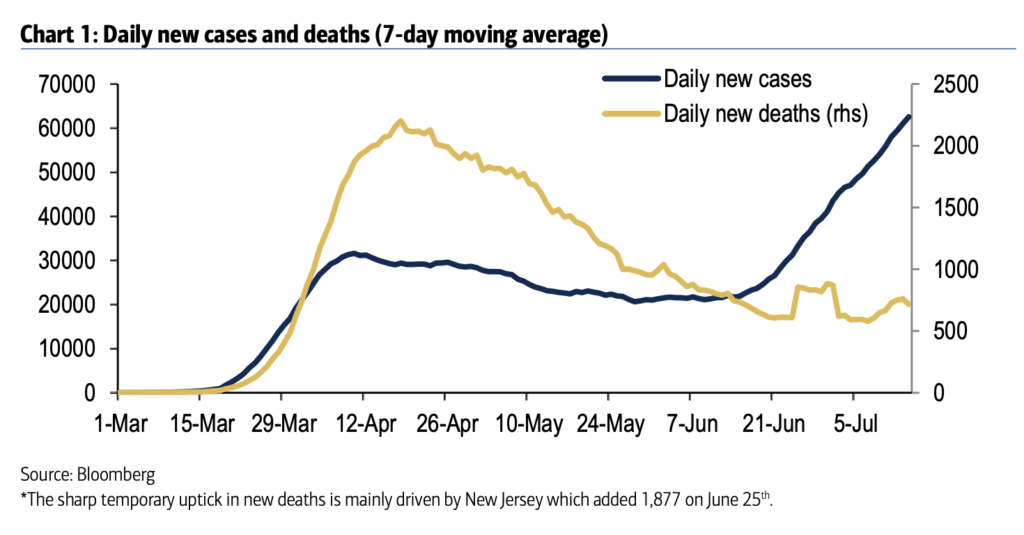 The US reported 65,590 new cases yesterday, slightly above yesterday's number, pushing the 7-day average up to 63,690. However, there continue to be signs of a slowing in new case growth as the curve starts to bend a bit. The 7-day average in the most troubled states rose to new peaks in Florida (11,120) and Georgia (3,360), but remains below recent peak levels in Texas (9,080) and California (8,890), while it continues to moderate in Arizona (3,290). All five states confirmed the recent roll-over in the proportion of tests that return positive
Let's hope.
Source:
Rent recession 
Bank of America Merrill Lynch – July 15th, 2020