This weekend's Barron's looked at the phenomenon of technology companies with market capitalizations above $5 billion crushing the overall market this year, with names like DataDog, Fastly, Bill.com, DraftKings, Zscaler and Zoom Video all more than doubling year-to-date. Technology columnist Eric Savitz points out the most extreme performer of all, Shopify, which looks to me as though it's now the most expensive stock on earth.
Shopify's market cap now exceeds $120 billion and its stock price has zoomed above 1,000 per share. My chart below, stock price vs market cap: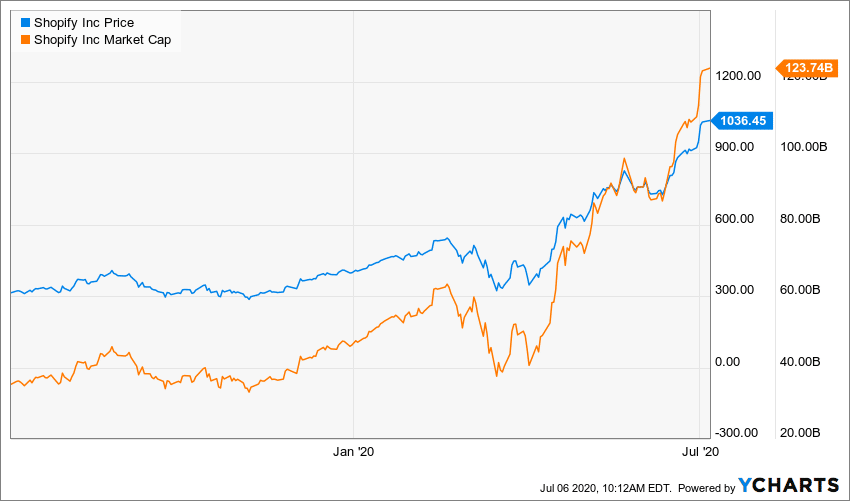 It's very rare to have a company of this size see a quintupling of its valuation over the course of just a few months, but for Shopify, that's what just happened. That's what's happening now for many companies that are seen as the beneficiaries of Coronatimes. Shopify's software and services are used by traditional retailers who want to go online and compete with the Amazon juggernaut. It's a great story and a huge opportunity.
But as Savitz writes, there's a lot being baked into SHOP's current valuation – maybe more than any company could ever achieve.
Shopify is shining as retailers snap up tools to move online, but the stock trades for close to 60 times current year sales, making it the most richly valued large-cap company outside of biotech. It fetches 2,000 times estimated current year profits of 50 cents a share…

In a recent report, Grand View Research projected that the global e-commerce software market would grow about 16% a year through 2027, to $20.6 billion. Let's say the market is $20 billion by 2025. If true, then Shopify, which sports a market value of $115 billion, is trading for close to six times the entire addressable market five years out.
Shopify is on pace to finish 2020 with around $2 billion in revenues. It has a market capitalization that exceeds the combined valuation of Walgreens, Kroger and Target, according the article – companies that do a combined $350 billion in annual sales. LOL. If you're a buyer of the stock here, you either think there are millions of new investors coming in behind you who will pay any price to own the stock, or you're bullish about the ecommerce opportunities post-colonization of Mars, Jupiter and Saturn.
Investors would do well to remind themselves that even if the bulls' wildest predictions for Shopify's growth come true, there's no rule that says the share price must reward them from here. The starting price you pay for a stock, regardless of how much growth the underlying company delivers, can absolutely work against you if either market-wide multiples contract or single-stock fundamentals are already priced in.
One other thing, and I'm just a little bit kidding – the history of being of the largest growth stock in Canada has not been great for shareholders. Think: Nortel, then Research In Motion / BlackBerry, then Valeant. All epic debacles for the ages. I'm not rooting for this outcome, just pointing out some cautionary tales from the recent past.
Source:
At Least 1 of the 10 Best-Performing Tech Stocks This Year Has Gone Too Far (Barron's)