At the end of last week, China's services PMI hit a ten-year high, signaling not only a full rebound from the coronavirus pandemic, but an actual return to broad-based economic growth for the country's consumer economy. Chinese stocks went crazy on the news, gapping higher into a relentless rally, taking out a five-year high. It continued overnight to begin the week, with another 6% gain.
Here's the CSI300 or Shanghai-Shenzhen Index, which is market-cap weighted and tracks Chinese A-share (or blue chip) stocks on their local markets: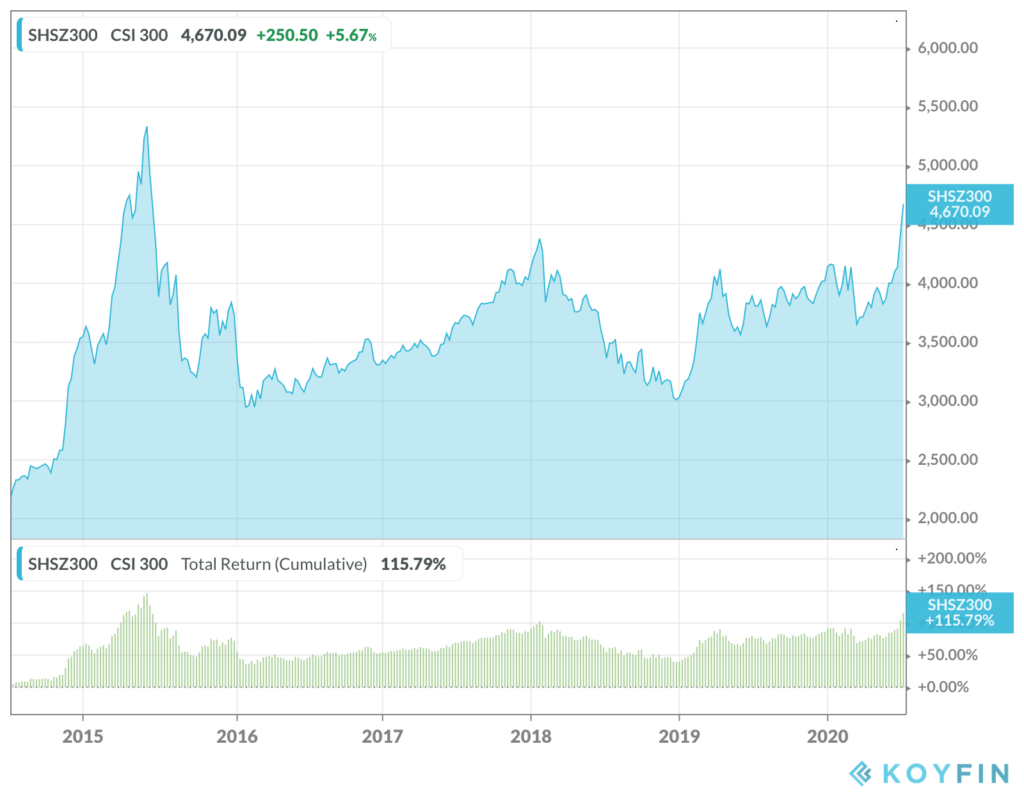 Jon Krinsky (Bay Crest) had a version of this chart in his weekend note: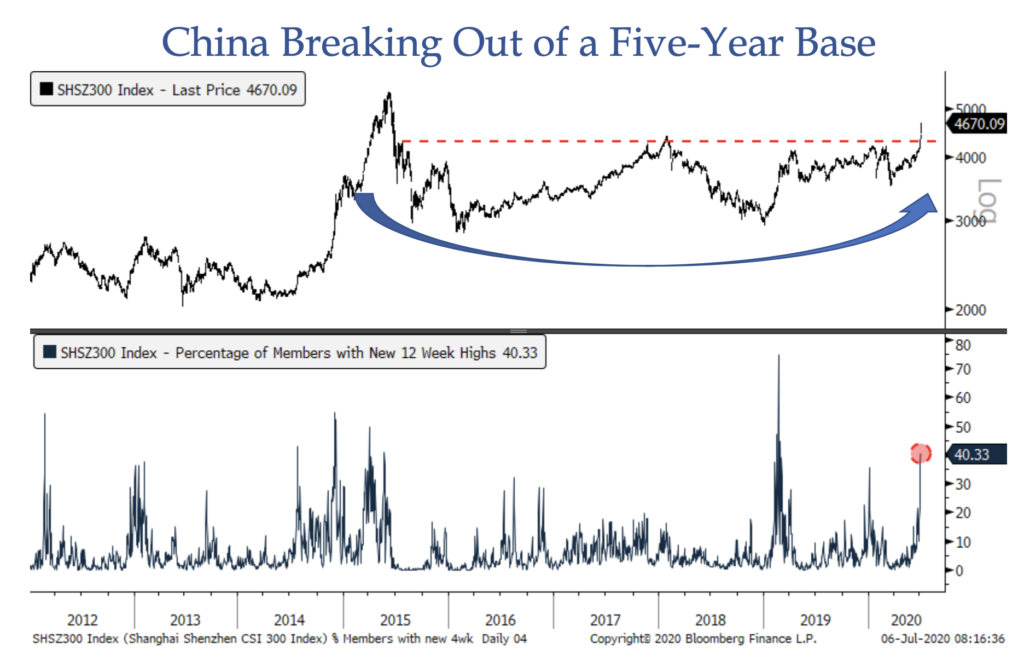 The rally is even more pronounced on a one-year chart of the Shanghai Composite: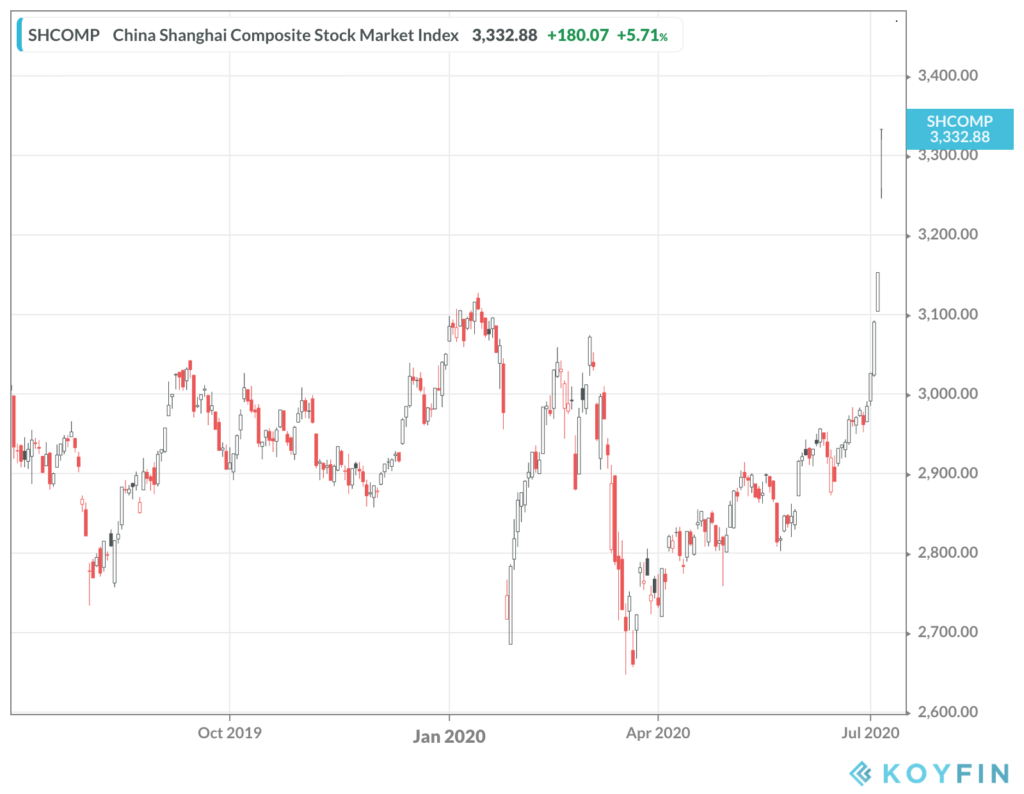 In comparison, the Dow Jones Industrial Average is still trading below its January 2018 "Trade War" top, which has been revisited since but still looms above the current trading level. Of course, the Nasdaq looks much better than the Dow.
China's consumers have now shaken off both the trade war's effects plus fear of coronavirus. We're still very much living with the consequences of both.
One other chart of interest…Chinese internet stocks versus the Nasdaq 100. The "software is eating the world" thing is not just a US stock market phenomenon. China was protective of its homegrown tech giants over all these years, keeping competition from Facebook, Amazon, Uber, Google and Microsoft at bay. You can see the results of that here: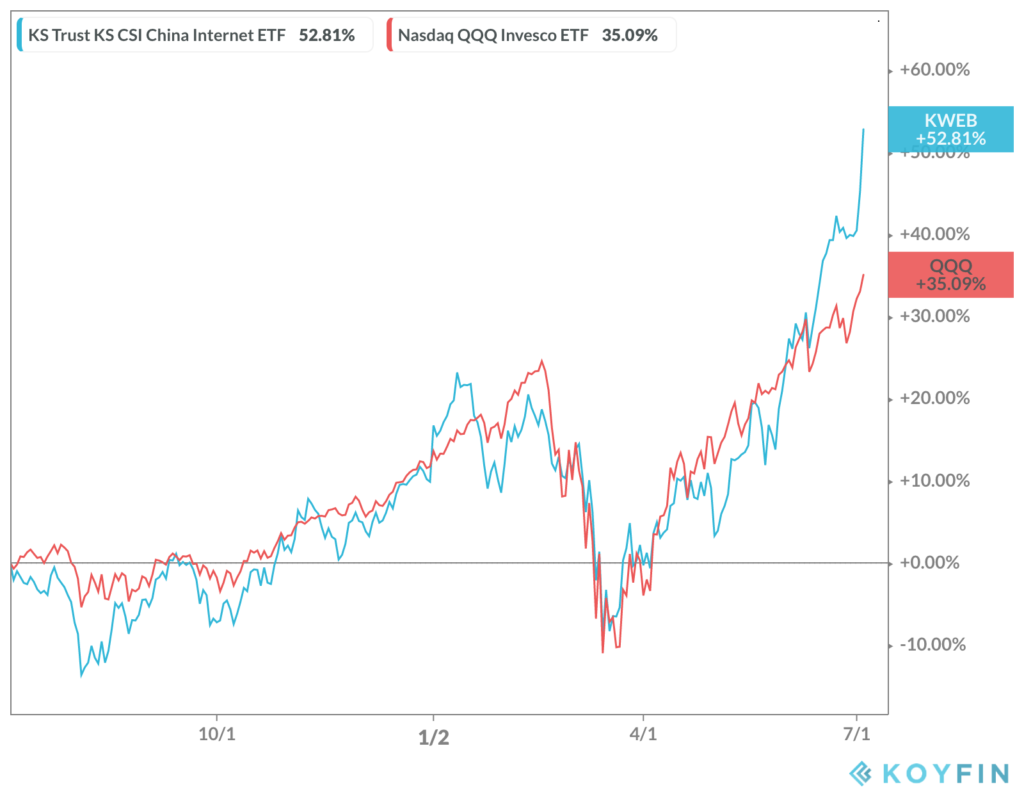 Asian countries seem to have done a very good job at containing the virus, establishing nationwide responses to the challenge of testing and tracing, and convincing their citizens to do their part via social distancing and masks. Their economies and stock markets are all either rallying to multi-year highs or getting set up to. It's been quite a long time since any international market has had a better three-year or five-year performance stretch than the US, frustrating investors with internationally diversified equity holdings. Perhaps this is the moment that frustration ends.