WSJ:
New applications for benefits edged lower by 58,000 to a seasonally adjusted 1.5 million in the week ended June 13, the Labor Department said Thursday. While it is the fewest weekly applications since mid-March, it also showed the pace of layoffs is no longer significantly easing.

The number of Americans receiving benefits payments fell by 62,000 to 20.5 million in the week ended June 6. Those continuing claims are reported with a one-week lag. A stable level of people on benefit rolls suggested that new layoffs are being offset by employers hiring or recalling workers as states have allowed more businesses to reopen in recent weeks.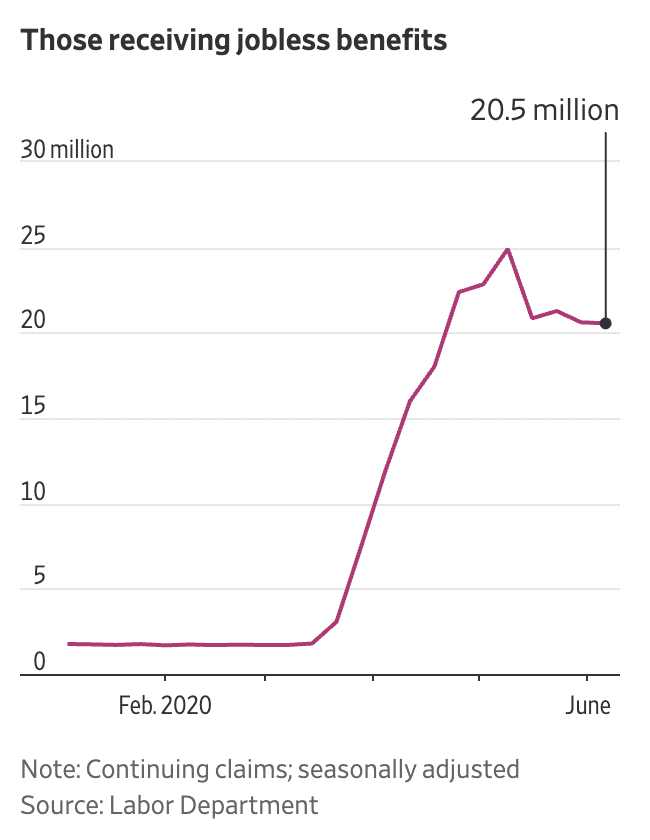 Josh here – So here's what we don't know:
How many of the 20.5 million people still on unemployment are waiting for the business they used to work for to reopen?
How many of those waiting will be rehired as each state's economy reopens, and how many will not?
How many of these businesses will never reopen again?
Will there be enough new businesses springing up to replace them?
What will be the effect on consumer spending / confidence when the extra $600 unemployment benefit rolls off at the end of July? Will enough people be back to work to offset that?
Will Congress extend that unemployment benefit with a new bill? If so, will it be $600 or less?
And those are just the questions we have around unemployment itself. There are many more questions surrounding the sustainability of the reopening. What happens in cities and regions that decide to take a step back if there's a resurgence, like we're hearing about in certain parts of Texas, Arizona, Florida, South Carolina et al?
I wish I had strong answers for these questions, or some historical examples to build upon, but I just don't. I guess I can take comfort in the fact that no one else does either. It's good to be prepared for anything, given the uncertainty – now more than ever.