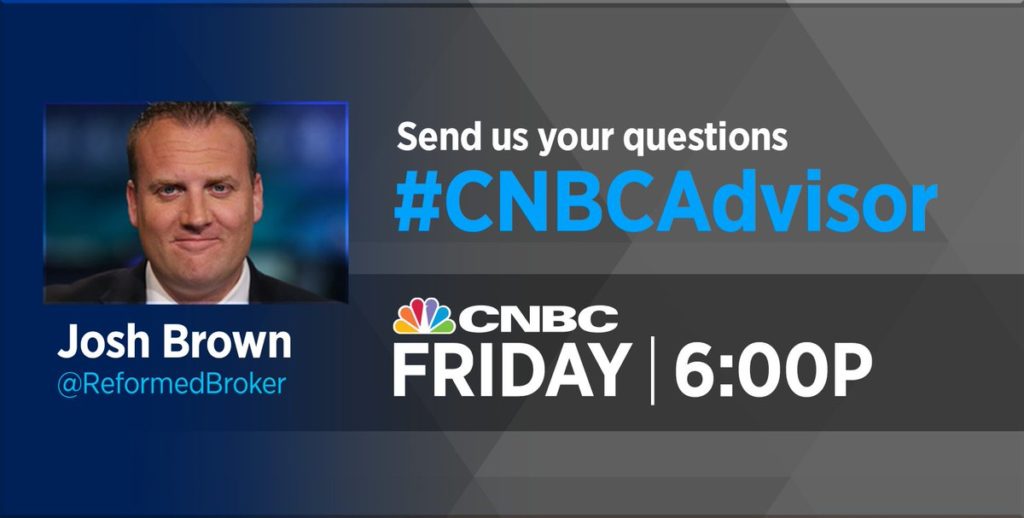 People have been saying for years that they wish there was a show on financial television about financial advice. On the network I am an on-air contributor to, CNBC, we do the best job in the world at covering markets and the breaking news that affects stocks, bonds, commodities, companies, workers, investors and traders. But there's a whole range of topics that people want to hear more discussion about, from portfolio construction to investment-related taxes to social security and insurance strategies to behavioral investing.
It's hard to have in-depth discussions about these types of things during market hours because stocks and bonds are moving, news is breaking and there is urgency elsewhere.
But in the evenings, when the trading day is done and the headlines have come and gone, that's when people have time to sit down and review their finances. Their expenses. Their cost of living. Their retirement planning. Their contributions to savings accounts. Their philanthropy. The financial legacy they want to leave behind. This is a whole new conversation for financial television but the audience for it is massive. There are 128.5 million households in the United States trying to make smart decisions with their savings. 55% of Americans own stocks, either directly or through mutual funds in IRAs and 401(k)s. They have questions. They're not sure who to turn to. They worry about making a mistake that can't be fixed. They are hardly taught anything about this stuff in high school or college.
We're going to try to fix that.
We're trying something new this Friday night at 6pm. A financial advice show. In order for it to become a regular thing, I need your help. We need questions submitted from the audience that we can answer on the air. You can help us bring these discussions to television in a way it's never been done before.
So, two things you can do:
1. Send an email with your financial advice question to cnbc.advisor@cnbc.com with the subject line: #CNBCAdvisor Question
2. Send a tweet to @cnbc using hashtag #CNBCAdvisor
One other thing – I'll have a special guest co-host for the show tomorrow night, who will be a financial planner skilled at answering these types of questions. We're announcing who that co-host will be shortly.
And please tune in! Tell your friends! The goal is to talk about interesting topics for investors and to give people confidence in the decisions they have to make. If that sounds like it's for you, we'll see you there! CNBC Friday night 6pm ET!