After the 9/11 attack, and partly as a result of the recession that was already underway before the event itself, the American consumer decided to stay home more. And staying home more led to a desire to improve the home. Or build a better home. Or repaint and refurnish the home. Or plan additions to the home. You get the idea. They called it the "nesting" trend on Wall Street. Some people called it cocooning. Futurist Faith Popcorn called it SUPERCocooning!!! – but that's why she gets the big bucks. How clever is that?
When people are afraid for their safety and out of work, or concerned about their economic prospects, they don't travel, they don't splurge on experiences and they don't care about what they're wearing. They will, however, use excess cash to fix up and improve their surroundings. Anyway, I think we're going to see something similar to what we saw at the turn of the millennium happen now – in real life and in the stock market. It started with glossy magazine fetishism, catching your eye from the newsstand or your friend's coffee table.
One of the more obvious signs of the nesting trend of 2001-2005 was the explosion in new home remodeling magazines (If you're in your twenties, google the term "Magazine" now, we'll wait for you to get back…
Here's the San Francisco Chronicle on Better Homes & Gardens, Fine Woodworking, et al:
They smoulder from the magazine racks at the checkout counter: revealing a curve here, a flash of scarlet there — something improbably sensual, deliciously unattainable. Tempting us to imagine some intimate perfection, these mouthwatering images flaunt what ordinary people never can hope to have.

Are these objects of desire the airbrushed bodies of fashion magazines, perhaps? Don't bet your subzero freezer. Try the designer-buffed surfaces of private residences.

Pages and pages of houses, houses and more houses.

They're called shelter magazines, and Americans, it seems, can't get enough of them. Nearly 100 titles are available in the United States (though many are regional), and that number is increasing as homes wield ever more influence over both our psyches and our finances. According to the Magazine Publishers of America, more than 40 new shelter magazines were launched in 2002.
Here's the East Bay Times interviewing an interior designer three years after 9/11, in San Francisco, thousands of miles away from lower Manhattan, where the attack actually happened:
Shortly after the attacks on the World Trade Center and the Pentagon, Livermore's Barbara Breen remembers business dropping dramatically for Creatively Yours, the home makeover service she founded in 1999 with Laura Leon-Maurice of Castro Valley. Then, after a few months of intense nesting, customers started calling again.

"People withdrew into their homes and stayed there," Breen says. "Then they started looking at their surroundings and saw all the things they wanted to change. Home life was suddenly much more important, and people wanted to make improvements even if they didn't have the big budget to do anything drastic."
So it wasn't a localized phenomenon, it was a national one. Lowered interest and mortgage rates fed into it, and eventually a housing boom was born when the recession ended, but we won't get into all of that. Let's focus on the immediate aftermath of 9/11 and the nesting trend.
As you can see in the table below, the 2000-2002 recession is not even a blip for the home remodeling market. In fact, if you subscribe to what I've laid out above, you realize that if anything, the recession acted as an accelerant: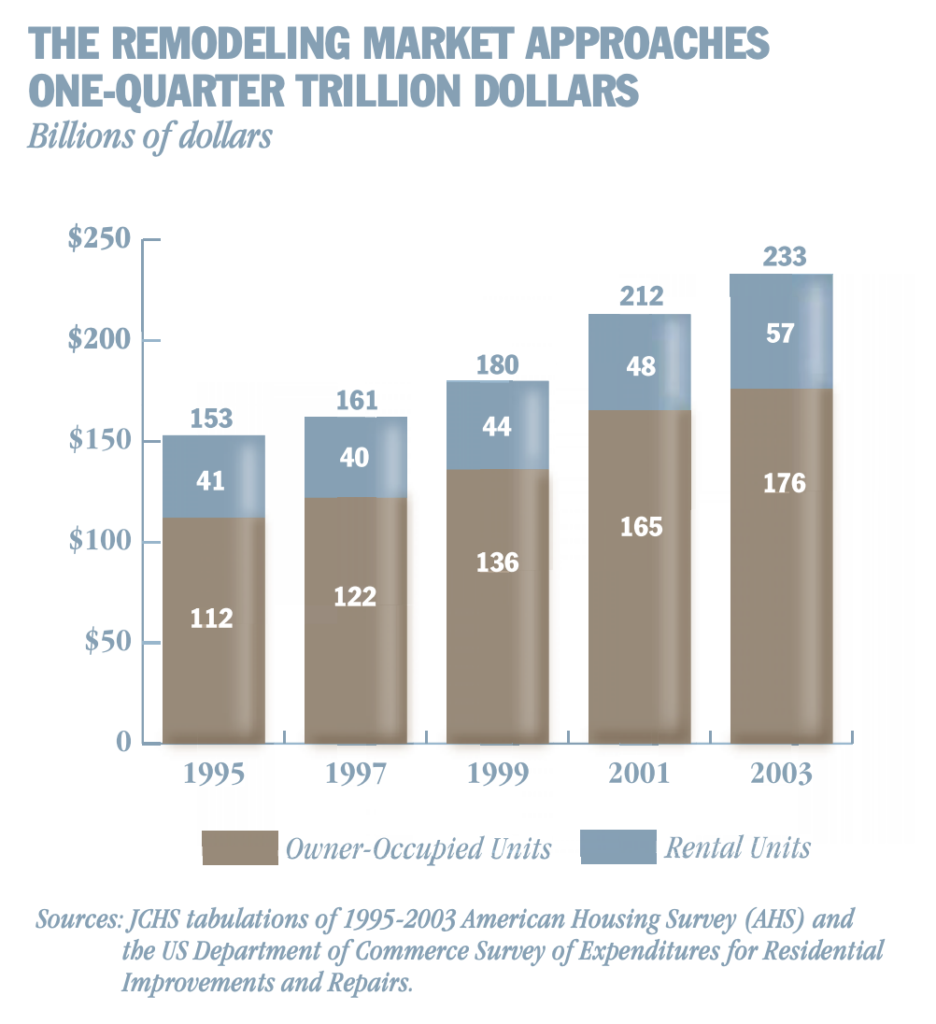 That's from the Joint Center for Housing Studies at Harvard University, so you know it's good.
Fast-forward to now. We are sitting around our houses and apartments for hours, days, weeks and months on end. I don't know why I said "on end" because there is no end. At least, not where I live. Governor Cuomo just canceled schools through the end of the year. Will the kids be back in September? How about next year? I don't know. You listen to his negativity for ten minutes each day and you want to crawl headfirst into a sleeping bag and zip it up behind you. But that's what's happening. Elsewhere in the country, we're technically "re-opening" in places like Texas, while the body count continues to climb and the infection count soars.
The White House is throwing in the towel, talking about dismantling the task force. Judging by the way the President helicoptered out of Atlantic City in his "businessman" days, with bankrupt casinos both metaphorically and literally collapsing in his wake, this latest retreat should come as no surprise. It's too hard. And the poll numbers are bad. Let the states' governors own this f***ing mess.
Okay, so we're going for herd immunity, I guess? Or a new lockdown in three weeks when the numbers overwhelm the hospitals? We'll see.
Either way, success or failure, there will be a bigger impulse to nest, all over America. Economically, emotionally, medically, you name it. We're going to be homebodies for the foreseeable future.
Renovation and home improvement is already about a $300-$400 billion business annually, depending on what types of remodeling you include.
Bank of America Merrill Lynch is out with some statistics on home improvement spending that prove my hunch about the next big consumer trend.
Based on their aggregated credit and debit card spending data, renovation is the only hard line retailing showing growth right now.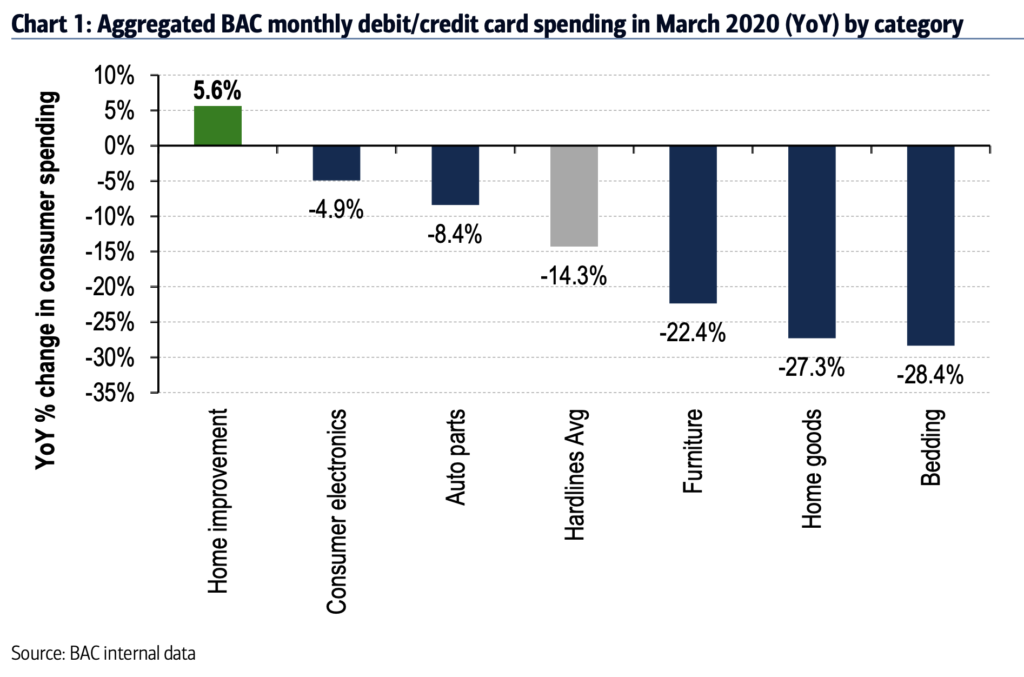 Here's BofA's Elizabeth Suzuki:
Home improvement was the strongest category in March According to BAC aggregated credit and debit card data, hardline spending was -14.3% YoY in March vs. +9% YoY in February. Although February's data was inflated by the inclusion of Leap Day, the March decline was impacted by the spread of COVID-19. Home improvement remained resilient, and consumer electronics declined only slightly, but other categories like furniture, home goods and bedding saw double-digit drops…And stayed strong in April. Working with the BofA Predictive Analytics team, we track daily aggregated BAC debit and credit card data for home improvement retailer. Over April 1-23, spending was up 6.5% YoY.
Elsewhere in the report, the research looks at how Home Depot and Lowes are not only selling a ton of paint and gardening supplies, but they're also taking market share because they managed to stay open as "essential" while smaller businesses could not. The rich getting richer is going to be a phenomenon we see in virtually all verticals as a result of this crisis but that's a broader conversation for another time.
Here's Home Depot and Lowes versus the S&P 500 off the March 23rd bottom: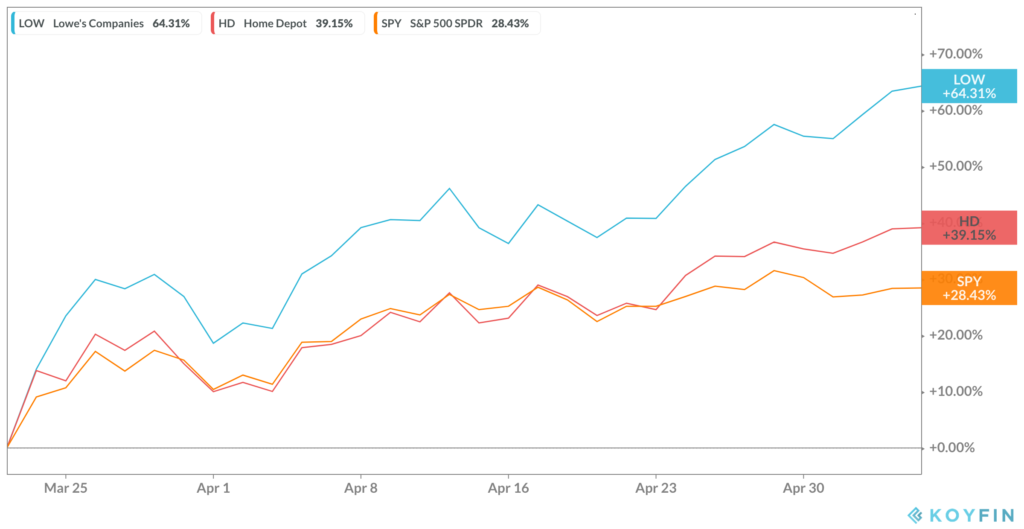 It's worth taking a look at Restoration, Whirlpool and some of the other remodeling names but to me, these are the two big ones. They've been leadership stocks and they should be – these are companies that are very well positioned for the thing that many of us are going to want to spend our time and money on for the balance of the year, as we hide from other people, stop traveling and dining out, and try to make things a little bit more…livable. For now.
Source:
Renovation Nation – The home improvement sector in pictures – bullish into 1Q earnings
Bank of America Merrill Lynch – May 6th, 2020