Let's not kid ourselves with this "earnings season" business – the week we're in now is the only week's worth of earnings that has any major impact on what the market might do.
Two weeks ago we heard from the large banks. A generation ago, we would buy or sell the S&P 500 on what they had to say, but not anymore. Traders aren't involved with their stocks now the way they once were and long-term investors in bank stocks have begun to regard them as regulated utilities. And regulated utilities rarely engender the kind of passion necessary to make bulls turn bears or vice versa.
Last week we heard from the retailers. There are really only seven or eight retailers that have any market cap whatsoever – Costco, Target, Walmart, Kroger, CVS, maybe throw in a dollar store or something. Outside of that, these are sub-$5 billion market caps and no matter what they say, it doesn't change people's minds about the direction broader markets ought to trade.
This week is different. It's the playoffs. These are the only earnings that matter to broad market sentiment and direction.
Facebook, Amazon, Apple, Microsoft and Google make up over 20% of the entire US stock market's total capitalization. Microsoft alone is almost the size of the entire FTSE 100, which is the Dow Jones of London. These five names are as large as the bottom 350 S&P 500 stocks combined, and almost as much as the entire rest of the developed market around the world. They are as big as thousands of other stocks combined from Berlin to Paris, Tokyo to Seoul. Take a look at this atrocity, a pie chart created by Michael Batnick, with a wink in his eye (so relax):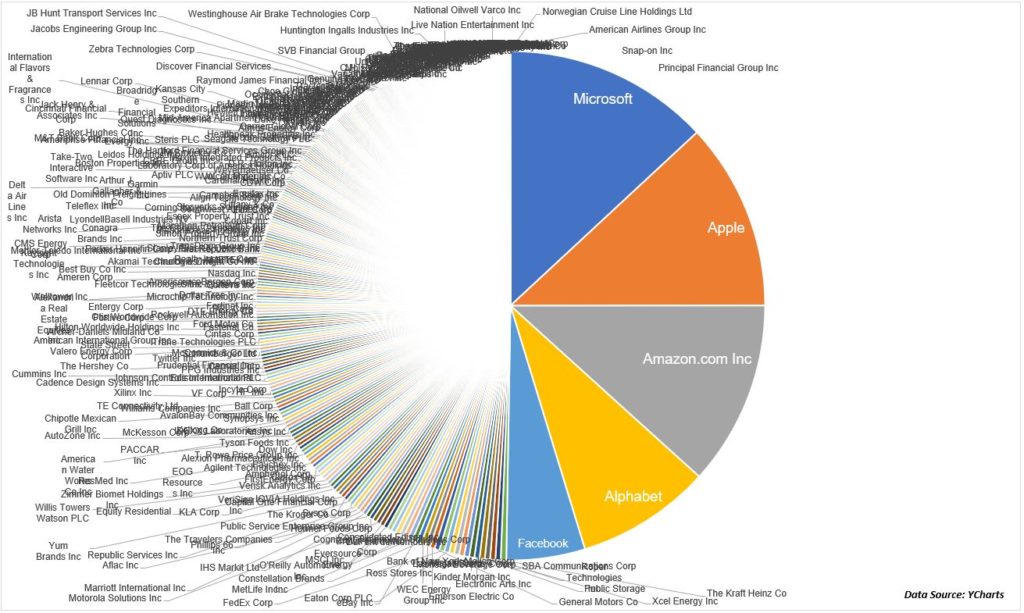 Tomorrow, Tuesday the 28th, we'll hear from Alphabet (GOOGL). Google's share classes are the 6th largest holding in the S&P 500, right behind J&J. Dozens of analysts cover the stock and expect earnings of $12.31 per share on revenues of $41.7 billion. How many other companies are there in the US (or the world) doing over $40 billion in quarterly revenues. Not many. Google's opinion of spending trends, advertising, etc outweighs almost anything you'll hear from anyone else, aside from maybe Facebook.
You're in luck, Facebook reports this week too – on Wednesday 4/29. Facebook is the 4th largest stock in the index with an almost 2% weighting. Analysts are looking for $18.5 billion in quarterly revenue and some insight into corporate advertising. We spend more time on Instagram than we do breathing oxygen. If they don't know what's going on, no one does. I'll be looking to hear about this Portal contraption, which they're spending big money to promote – they had a commercial in both episodes of last night's The Last Dance doc about Michael Jordan. They paid big money to license Queen's Under Pressure. The commercial works. Is anyone using the product? I don't need another screen in my house. Do you?
One question I have is how can it be possible that millions of businesses are shut down, but advertising rates and volumes are unaffected? Are the companies that are in a position to spend more on advertising now (grocery! deliveries!) picking up the slack? All of it?
Microsoft is up almost 30% in the last month. It's the largest stock in America by market cap and contributed 165 basis points of the S&P 500's return since the March lows (16.5%!). They report Wednesday the 29th. We've learned that the cloud is one of the most essential technologies in the modern world as a result of this crisis. We literally could not live, work, govern or communicate without it throughout the crisis. Microsoft's Azure is a duopoly with Amazon Web Services for cloud computing market share. Google is a cloud player, but it's a distant third. Most consumers have no idea that they're even using Azure all day when they interact with various sites and apps.
Apple is Thursday, April 30th. The second largest stock in America. Its monthlong recovery has contributed about 12% of the overall market's return from the lows. This morning they announced a halt in manufacturing for their flagship products due to weaker demand in the wake of COVID-19. I don't think anyone will be surprised by this. I also don't think anyone will be surprised when hundreds of millions of consumers continue to buy Apple products and services as the economy eventually reopens. In the meanwhile, Tim Cook & Co are sitting on an ocean of cash to wait it out. They're expected to report $2.79 per share in Q1 earnings on over $62 billion in quarterly revenue. The sheer size and scale of this business makes it almost foolish to be formulating an opinion of the S&P 500 based upon what oil companies and department stores are saying.
Finally, there is Amazon, also reporting this week on Thursday, April 30th. Analysts have them earning $6.34 per share on almost $72 billion in revenue. Another massive business that matters more than almost every other publicly traded company combined. What is there to left to say about the degree to which Amazon is crushing it in this environment? AWS is booming. Grocery is booming. Ecommerce is booming. Streaming video game content is booming. Prime video is booming. They're hiring hundreds of thousands of people this year to keep up with demand. Amazon has built its own version of UPS that could, in and of itself, be a standalone business worth over $100 billion according to one analyst. If Amazon sounds nervous about the current environment on this call or any subsequent call this year, then you have my permission to get nervous too. I doubt that's what we'll hear.
I was going to do this elaborate disclosure here about how I personally own shares of Amazon, Apple and Google, but then I realized that every investor in the country does too. These stocks are in every major fund, ETF, index and average – in size. You own them. I own them. Everyone owns them. They're in your 401(k), they're in your IRA, they're in your children's 529 Plan and in your index-linked variable annuity. They're the highest capitalized, most widely-held stocks in the history of the world. They are the market.
The good news is that investors are giving all of these massive companies the benefit of "looking through the valley" to the other side of the crisis. People are valuing these stocks based on the next ten years worth of their earnings power, and not the next ten weeks. When your balances have a collective $500 billion in cash, you get that benefit, that confidence, from the investor community. And if that confidence holds through this earnings week, it will matter much more to index performance than anything else we've heard from other industries has.
Which is why earnings season for the S&P 500 actually begins this week.
Now, if you'll excuse me, I'll be spending the rest of the day trying to figure out how Carmen Electra managed to find and use a time machine to appear on ESPN last night as though it's still 1998.