Obviously, this has become a political issue, with the President doing his sober, pre-prepared remarks at the 6pm press conference each day and then doing the theatrical version on Twitter, leaving himself the option of saying both things – "the governors and health professionals are in charge" and "LIBERATE US FROM THE DEMOCRATS." This is only confusing if you've just arrived on earth from another solar system.
Here's the Wall Street Journal looking at how a survey of how 900 voters feel on the topic: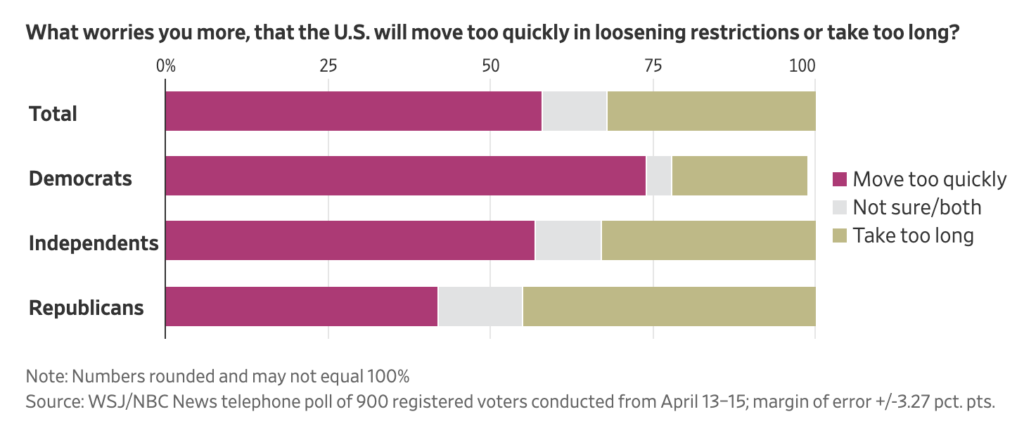 Views on when to reopen split along partisan lines, with 77% of Democrats expressing concern about opening too quickly, compared with 39% of Republicans. By contrast, 48% of Republicans are worried the U.S. will take too long, compared with 19% of Democrats. President Trump has expressed an eagerness to lift restrictions as soon as possible, though he also has laid out public-health guidelines for governors to follow as they decide when to lift constraints.
I wonder if this split is not just political but also a view into the personality types of people who've been drawn to one party vs the other…
My own opinion is useless – I find myself veering from optimism to pessimism about the reopening based on whatever the last article I've read or the last TV segment I've seen. I want my life back and the economy to start healing, but I also feel that a reopening that leads to an uptick in new community spread will make things worse – for the people who get sick and for investor sentiment.
Source:
More Americans Fear Lifting Coronavirus Restrictions Too Soon, WSJ/NBC Poll Says (WSJ)