As I mentioned in my piece the other day, the consumer is now singlehandedly holding up the US economy, representing almost 80% of activity and growth. Strong consumer confidence is based upon the wealth effect from booming 401(k) balances, the steady rise in wages (especially at the lower end these past few months), the tight labor market and low gas prices. The turbulence of the trade war has primarily hit agribusiness and manufacturing, which are both shrinking components of the overall labor market.
And one unsung factor that deserves more attention – the consumer's household balance sheet is in great shape in the aggregate.
In Michael Cembalest's huge 2020 outlook piece for JPMorgan Asset Management, he's got a section about why recession seems very unlikely for 2020, despite the well known concerns we've been seeing from CEOs in various surveys. At the end of the day, consumers have been affected by the trade war, but they don't seem to have felt the impact psychologically. If they're paying higher costs for things (and they are), it hasn't really registered. Lower tax rates and higher pay have offset it, as has the stock market boom for the 50% of Americans who have investment portfolios.
Here's a couple of charts I liked: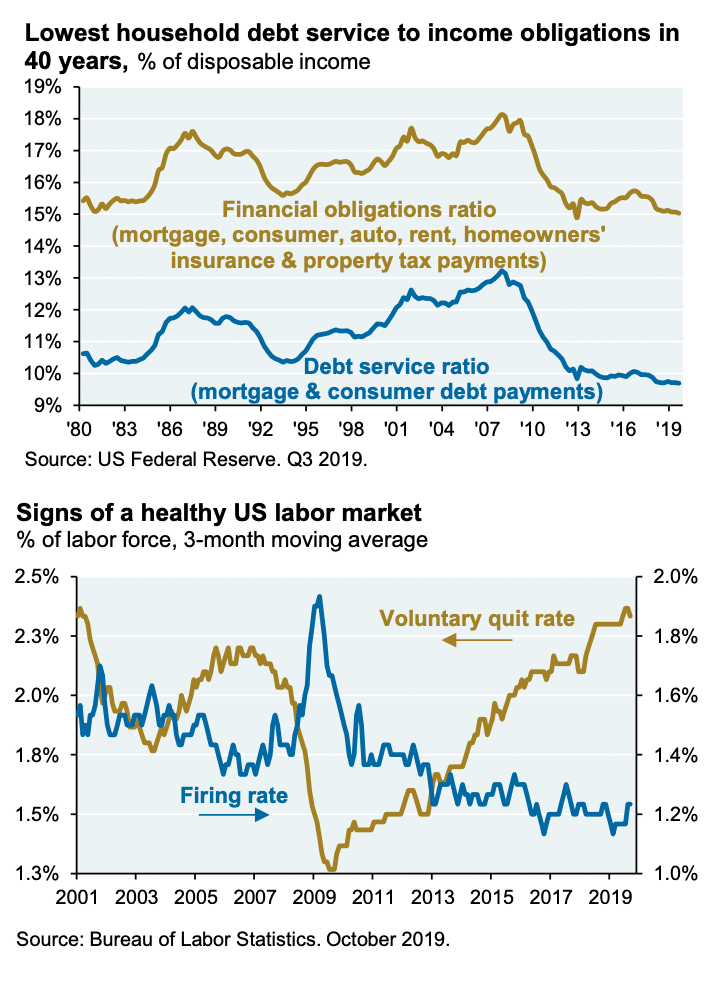 Michael says:
Most recessions occur due to Fed tightening in response to rising wage/price inflation, or due to a shock to financial conditions (debt/banking crisis, oil shock, global trade war, etc). On inflation, conditions outlined on pages 17-18 are likely to keep Fed tightening at bay for another year. After adjusting for structural changes in the US economy, the latest recession models now include business surveys like the PMI/ISM, core inflation, the shape of the yield curve out to 18 months, credit spreads and the private sector financial balance. Using this approach, US recession probabilities out 12-24 months are ~25%. On systemic shocks, the trade war dented CEO confidence, and 67% of respondents to the September 2019 Duke CFO survey believe the US will be in recession by the end of 2020.

However, the strength of US consumer balance sheets (lowest debt service obligations in 40 years) and in US labor markets (lowest unemployment in 50 years) offsets some weakness in manufacturing. While labor conditions are lagging indicators, the degree of strength suggests enough resilience to avoid recession due to the aftershocks of the trade war. So far, US consumers bore the primary costs of tariffs; however, a shift to domestically produced US goods, lower US importer profits, lower Chinese exporter profits and a declining Chinese exchange rate absorbed part of the cost as well.
Here are a couple more charts – wages rising (FOR EVERYONE) and a very manageable debt situation for households:

Josh here – Now, there are economists who say consumer confidence comes and goes concurrently with stock market wealth effects, and so we shouldn't think about it as a forward-looking indicator. I'll buy that to some extent. But for now, the stock market is making fresh highs and low borrowing costs are keeping home prices high – the two primary generators of whatever wealth effect might exist are humming along.
Source:
Eye on the Market Outlook 2020
JPMorgan Asset Management – January 2020