My Chart o' the Day comes from the incredibly insightful Ari Wald at Oppenheimer, who is considering the possibility that, globally, stocks are acting better than current sentiment about the global economy might imply. If you're more focused on the headlines than on price itself, you may have been missing this trend. Ari explains the implications…
The S&P 500 has rallied toward a test of its July peak (3,028), and although timing the next leg higher remains challenging, we think this setup is slowly developing. We've discussed key positives like the lack of investor enthusiasm, stabilized interest rates, an oversold economy, as well as renewed seasonal tailwinds, and this week we focus on the improvement in global participation too. Currently, 59% of the stocks in MSCI All-Country World (ACWI) are trading above their 200-day average. Readings between 60-80% have been followed by above-average S&P returns over the next 6-12 months since 1995, and we'd ideally like to see a higher-high vs. May's print (69%) similar to the action in 2016. We believe incremental improvement in Europe, E.M., and US small-caps are the pillars for this to occur.
And here's his chart, which contains tons of interesting information…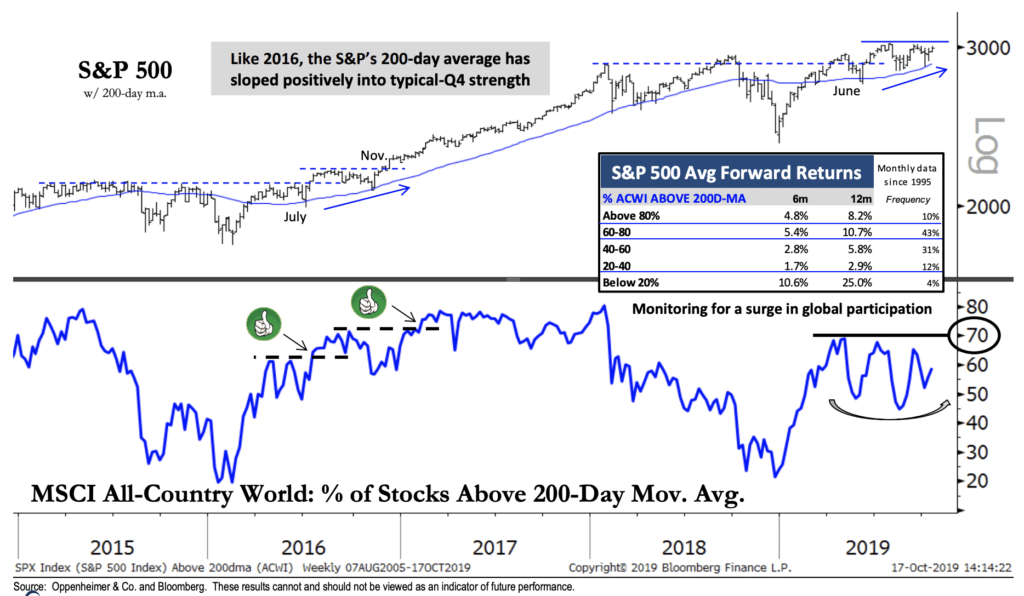 Josh here – when stocks around the world begin to make their move higher in concert, some interesting things happen during the course of the follow-through. Ari's look at the next 6 and 12 month returns for the US stock market deserve consideration.
Source:
Three Charts Central to the Global Bull Case
Oppenheimer & Co – October 19th, 2019