Ethan Harris is the global economist at Bank of America Merrill Lynch. Following the course of the trade war with China and all of the associated developments has become something of a necessity for market participants, even if they've concluded (as I have) that no one has an edge on what will happen next (or when) and that tensions could go on for years to come, with temporary pauses, re-escalations and setbacks along the way.
This is Harris today:
Even if there is a partial deal in the near term, US-China tensions are likely to re-escalate. There is no shortage of pressure points. How will the US respond if China retaliates to the blacklisting of its tech companies? How will China react if the US continues to escalate the tech war? Finally, what about the December 15 tariffs. In. our view, these products come last because they target the most visible consumer products—phones, laptops, apparel, shoes and toys— that also have very few non-Chinese import substitutes. It is possible that they will be addressed in a partial deal, but the US might prefer to keep the threat of these measures alive for now. In that case pressure will build again as we get closer to that deadline. Other complicating factors include the impeachment inquiry, the escalating protests in Hong Kong and the tensions between the NBA and China.
Here's a helpful graphic looking at the next shoes to drop…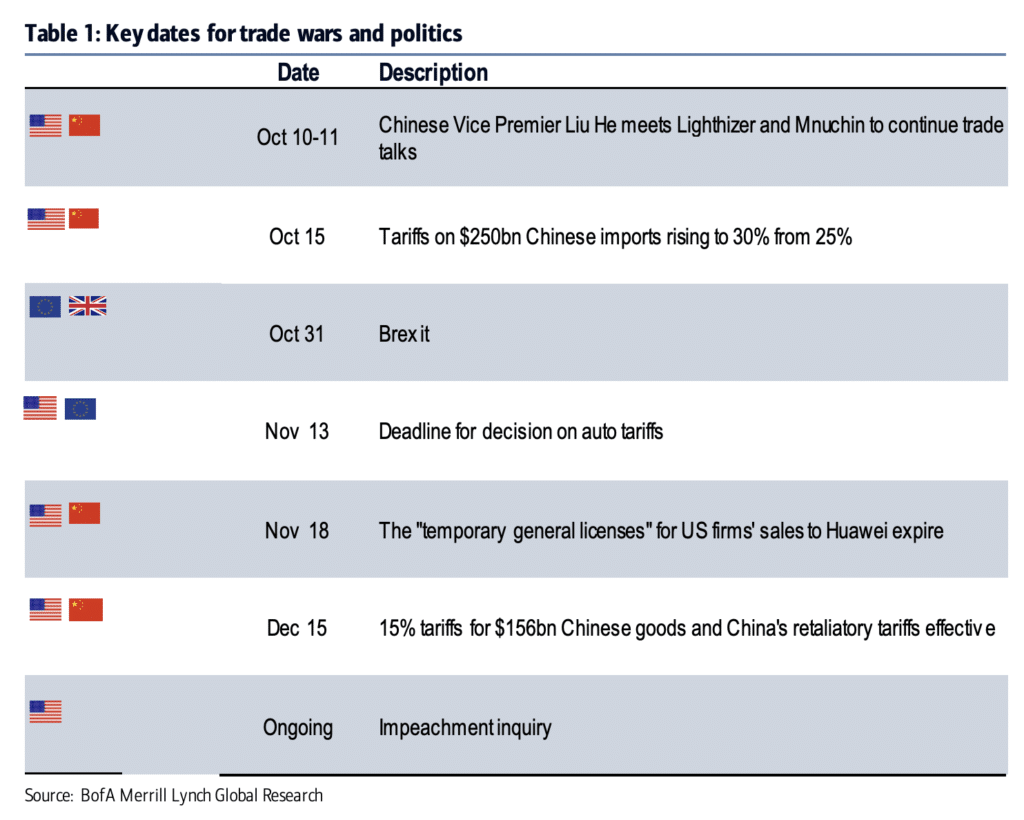 Josh here – worth pointing out that those Dec 15th new tariffs are going to hit some of the more visible stuff that consumers buy directly, like iPhones and clothing at the mall. Also, the timing couldn't be worse, two weeks before Christmas.
Source:
Time for a "Trade War Tracker" 
Bank of America Merrill Lynch – October 11th, 2019