And these children that you spit on
As they try to change their worlds
Are immune to your consultations
They're quite aware of what they're goin' through

– Bowie
We held a coming out party for the next generation of financial advisors.
It was called Wealth/Stack and for three glorious days, the most energetic, enthusiastic and dedicated young advisors in America came out to meet, talk and write the industry's future together. If you were in attendance, you will never forget it.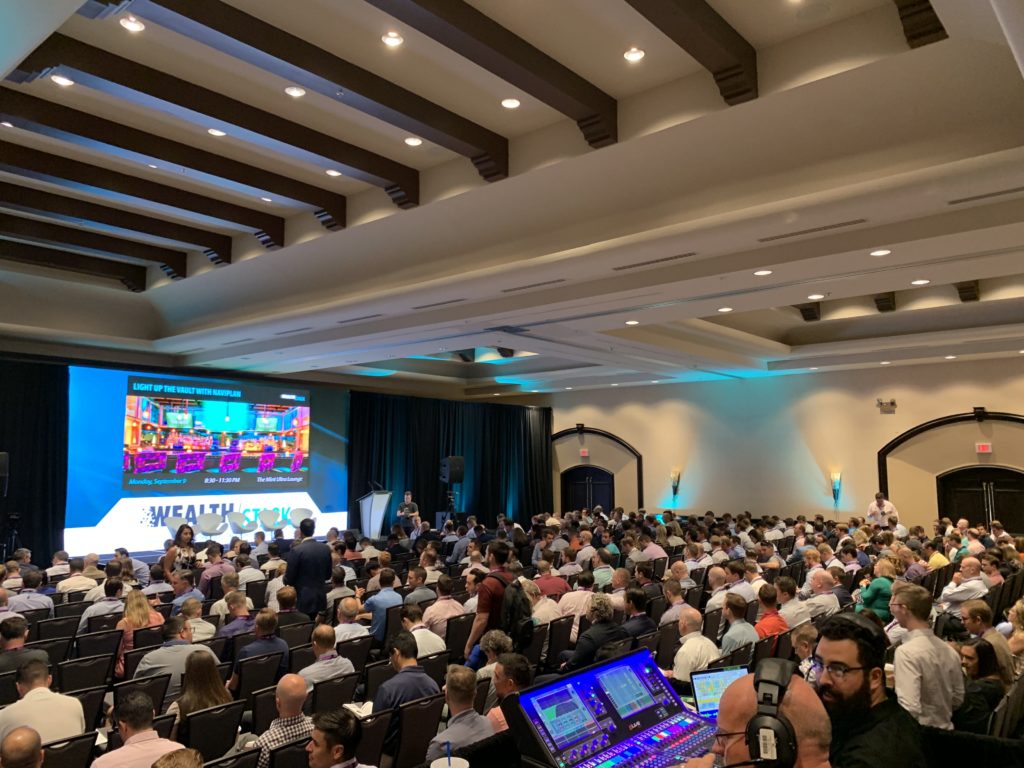 There were hundreds and hundreds and hundreds of advisors and planners in attendance. They came from all over the country. They were there to get better at their chosen profession. It's what binds us all together as a group. There are lots of differences in this crowd about business models, investment philosophies, compensation structures, messaging, client service, marketing, etc – but what everyone has in common is that they want to improve. They want to give their clients the best advice and service they can deliver. It's a wonderful ideal to see financial services professionals coalescing around.
Although Barry, Michael, Blair, Ben, Tadas and I were on stage and the curators behind much of the content, this was not a conference about us. It was the best and the brightest people in the advisory space having a big dialog about how best to serve clients, nurture employees and build great businesses. It was absolutely incredible.
And I know there were some bitter people – competitors in the conference business or "thought leaders" who felt left out. One guy even wrote a review of Wealth/Stack without even having gone to it! He couldn't make it because the exact same week he was holding an event of his own, a fact that maybe should have been disclosed somewhere in his critique. Sad! I try not to take these things personally. None of what he said had any connection to the reality of the event, so the people who were actually there mostly laughed about it.
But the reviews of the people and presenters who did attend were off the charts. Most of what people enjoyed about Wealth/Stack was the transfer of knowledge and information from those who have already been successful to those who are first starting out. We had one of the most youthful events I've ever seen in this business, with an executive from one of the giant asset management firms asking me "Where did you find these people? They're so young and excited to be here!" She was right. It was a whole 'nother environment than what you'd normally see at a conference featuring financial planning and advice.
We're doing the best we can to combine accomplished veterans with young people who want to learn, information with entertainment, networking with education. It may not be perfect in your eyes, but this was the first time out and people loved it. We are immune to your consultations. This is now the way it's going to be going forward.
And if this makes you bitter, maybe it's time to step aside and let the next generation take their place in the world. If this makes you want to lash out blindly out of jealousy or a feeling that you've lost relevance, then maybe book a flight and come see for yourself next time. There are young advisors looking for guidance from people my age and older. Mentoring is what we're supposed to be doing.
If Wealth/Stack looked like there was too much fun and excitement on social media, then boy are you going to be triggered by Wealth/Stack II…
Or, you can be a part of it. We're a big tent and the content is driven by what the attendees and panelists have to say, not by me or my colleagues. Barry and I didn't even do a presentation; we took turns interviewing two of the industry's most accomplished financial planning executives, and asking things the audience would want to hear about. We're the facilitators at this thing, not the headliners.
And yes, there will be a next time. We had a hundred people standing in every session this go-round, so the event we're planning for next September will be for a crowd over 1,000.
Eric Balchunas from Bloomberg came out and did an excellent job capturing the vibe at Wealth/Stack for his podcast 'Trillions'. If this short podcast episode were all that survived decades from now and was the only document left attesting to the event, I would be fine with that. He interviews a bunch of people who attended from various corners of the industry and really gets to the heart of what we did there, and why.
Listen here:
or here:
We'll see you next September.
Watch my opening remarks here:
Josh Brown's Opening Remarks at Wealth/Stack (YouTube)