My Chart o' the Day comes from LPL Research chief strategist John Lynch and it looks at the phenomenon of negative-yielding debt. Lynch notes that "Unfortunately, the global search for yield has now morphed into a scenario in which fixed income investors, or lenders, attempt to 'potentially lose less' rather than 'earn slightly more' than the value of the loan extended."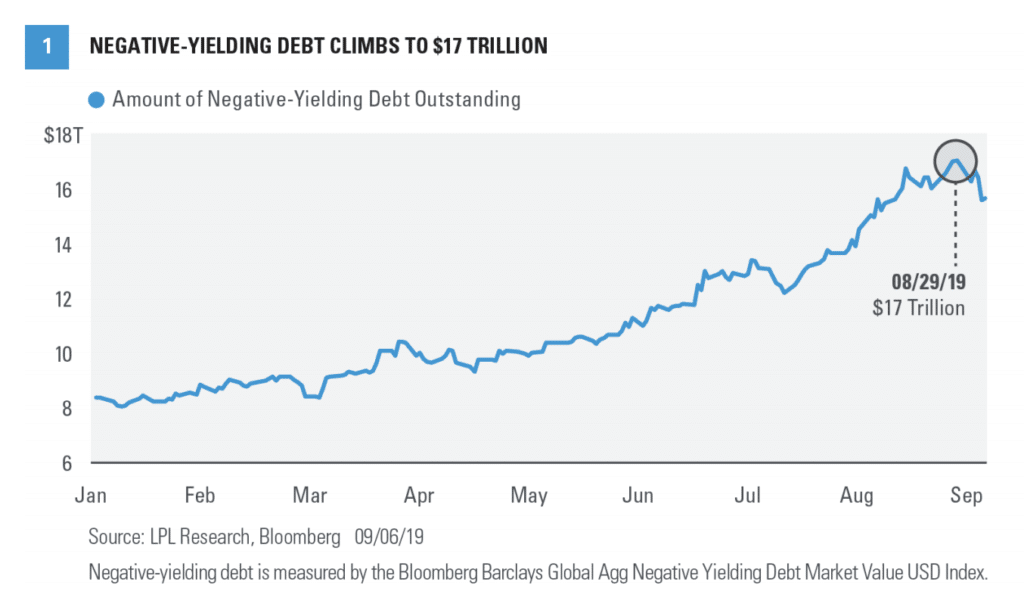 Hitting $17 trillion, this pile of bonds that charges you the investor interest seems to have taken a pause from growing larger – for now. As for the question of whether or not US Treasury bonds will ever sport a negative yield, Lynch says never say never, but he thinks the Fed takes overnight rates down to 1.5% and then stops, barring any unforeseen liquidity crisis or recession arising in the near term.
So, is that it? Have we seen the peak of this phenomenon? As is the case with most blog posts titled in the form of a question, you won't be getting a definitive answer from me here either. But what would positively-yielding dividend paying stocks be worth if that did happen? I would tell you the answer is substantially more than the multiples we pay for them today.
I'd like to see the stock market climb – but not because we end up in a deflationary hellscape like Japan.
Source:
THE CURIOUS CASE OF NEGATIVE YIELDS
LPL Research – September 16th, 2019