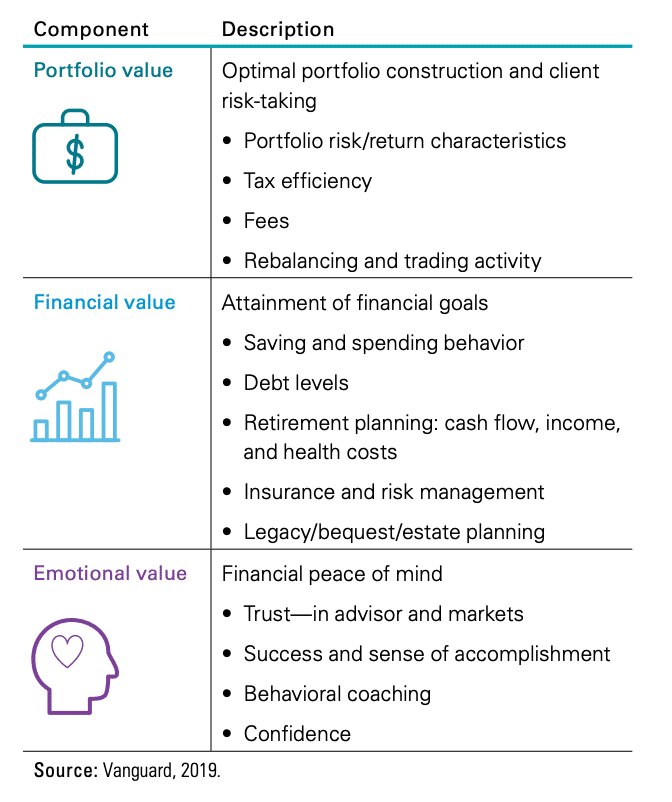 I'm just going through the latest piece from Vanguard about an internal study they've carried out among their self-directed investment clients who've migrated over to financial advisors. It turns out that these investors were significantly more likely to shed the "home country bias" within their equity allocation, to have a higher allocation toward equity risk overall, and to be holding less cash – excessive cash proportions being emblematic of a lack of investor confidence overall.
When they asked clients to assign value to the different aspects of having a financial advisory relationship, the firm found that:
Financial outcomes: To determine the value of advice on an investor's ability to achieve a financial goal, we calculated the forecast success rates of a sample of Personal Advisor Services clients who have established a retirement goal. Eight in ten have an 80% or greater probability of achieving a secure retirement, while two in ten are at risk.

Emotional outcomes: To explain the importance of financial advice on an investor's sense of well-being, we developed an estimate for the fraction of value arising from emotional elements such as trust in or a personal connection with an advisor. Based on a survey of more than 500 PAS investors, emotional outcomes account for 45% of total perceived value. Another 55% of value is associated with functional aspects of the relationship, such as portfolio management, financial planning, and other services.

The advisory industry is increasingly interested in clarifying what constitutes value for investors and how to assess value for money paid. Our framework demonstrates the importance of defining value in the broadest sense, going beyond portfolio outcomes to include both financial outcomes and emotional well-being. In time, the industry will need to develop widely acceptable and comparable measures that encompass all three of these dimensions.
Josh here – that 55% / 45% ratio between emotional outcomes and functional aspects is probably what I would have guessed without having seen the survey, based on my own experience over the last 20 years. I would also add that this ratio undoubtedly shifts back and forth based on the volatility (or lack thereof) in the investment markets at any given time. I would also mention that, on an individual basis, there is probably a lot of skew among households depending on where they are in the life cycle and how proximate their retirement is.
Advisors themselves are highly aware of the multi-faceted approach to advice that clients are now looking for in the modern era. It's something they've always understood, despite the fact that so much of the focus is on portfolio management in the media. In a closed office with no TVs on and no scrolling ticker tape, the conversations that take place between advisor and investor are very far away from things like Sharpe Ratios and economic trends and all the rest of it. Portfolios are a means to an end in real life, not a recreational activity to solve boredom or cure the fear of missing out.
Check out the whole thing here:
Assessing the value of advice (Vanguard)