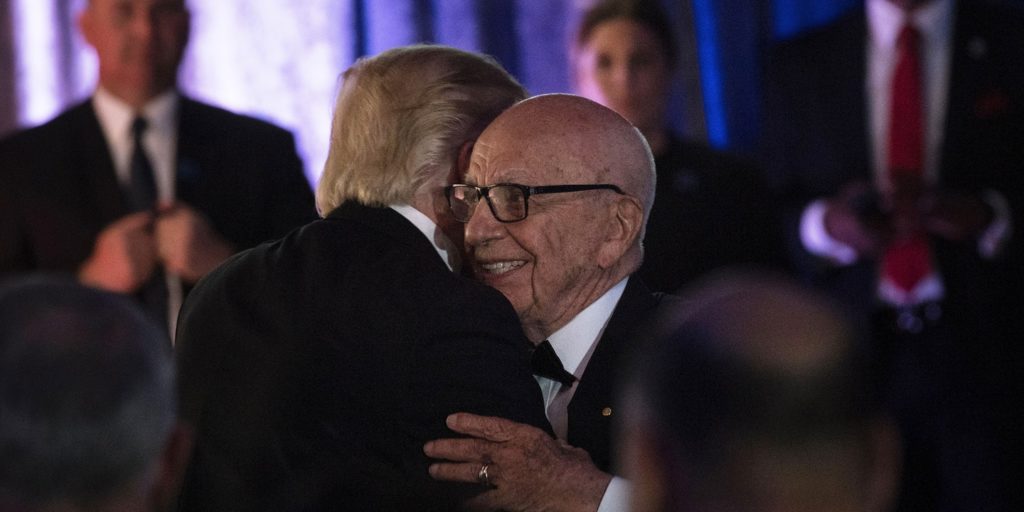 "cut the shit." 
Yesterday I tweeted about how difficult it is for an incumbent President to win reelection with an economic slowdown happening in the back half of their first term. It's basically impossible, regardless of party or whatever else might be going on.
There have been 19 incumbent Presidents since 1900 who have sought a second term. Fourteen of them got it and five lost. Of the five that lost, one was a strange situation in 1912 where Teddy Roosevelt ruined it for incumbent Howard Taft by cutting the party in half. But in the other four cases, it was the economic downturn that doomed Carter, Ford, Hoover and George H.W. Bush. Bush's case is the most interesting, because the guy actually presided over a wildly popular war that we had won with ease just a year prior. Didn't help – the S&L Crisis and related recession created an opening for Bill Clinton and Bush became a one-term President.
Rupert Murdoch has made a huge investment in Donald Trump. He's devoted all of the non-hard news primetime coverage of American politics toward defending President Trump – defending his every gaffe, every impulsive whim, every non sequitur pronouncement, every vile and disgusting act of deliberate cruelty. If you've read your Shakespeare, then you remember the part where MacBeth realizes he's in too far to turn around – "I am in blood Stepped in so far that, should I wade no more, Returning were as tedious as go o'er." He had killed a lot of people leading up to that. Murdoch may have reached the point where he can't turn off the monster he's created and can't go back now.
But that's not stopping him from weighing in, via the Wall Street Journal Editorial Board, and seeking to protect his Frankenstein from self-immolation. It's clear that he's seen enough of the punch-drunk Tariff War being waged by the White House against China and is starting to watch the dominos fall as a result of it. You can't bring China to its knees without also destroying Europe and this, in turn, hits both Corporate America and the US consumer – two constituencies that are key to the reelection (and the profitability of Fox News and Murdoch's other interests around the world).
Read today's op-ed from the WSJ Editorial Board with this background in mind…
Wednesday's market moves are an omen of the future, not destiny. The key to avoiding the worst is to restore a sense of policy calm and confidence. Stop the trade threats by tweet. Call a tariff truce with China, Europe and the rest of the world while negotiations resume with a goal of reaching a deal by the meeting of Pacific nations in November. Someone should tell Mr. Trump that incumbent Presidents who preside over recessions within two years of an election rarely get a second term.