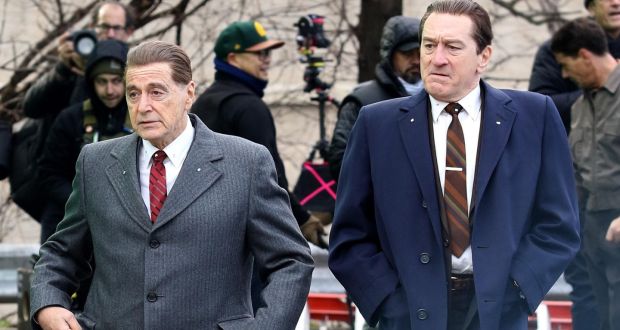 A couple of years ago I read this amazing book about the guy who actually killed Jimmy Hoffa. He may have also been involved in running the mob guns to Dallas in the plot to take out JFK as punishment for his RFK's savage prosecutions just after organized crime figures helped the Kennedys win the election. The story of this hit man was filled with incredible moments and anecdotes – from the WWII period, where he killed an uncountable number of German soldiers through the 1970's era of Teamster strikes and union ultra-violence.
The book is called I Heard You Paint Houses, and it was written by a former prosecutor turned true crime investigator who spent years and years interviewing the subject, Frank Sheeran, about his life's work – "painting houses" with the blood of the mafia's enemies. The chapter in which Sheeran claims to have done the solo hit on Crazy Joe Gallo in Little Italy was so riveting I had to read it twice.
What I didn't know at the time was that they were about to start making this book into a movie. On every page I was like "THIS SHOULD BE A MOVIE!"
And to get Marty Scorsese teamed up with Robert De Niro, Joe Pesci and Al Pacino? An absolute dream come true. That's Pacino up top playing Hoffa, along with a de-aged De Niro playing his right hand man turned assassin Frank Sheeran. Pesci is playing "The Quiet Don," a real life mob boss from Pennsylvania who was the guy behind the guy for decades, pulling strings and making things happen in cities all over America (I'm probably going to read this book next).
The trailer for the film, which Netflix spent $175 million making, hit this week and everyone's talking about it. If Casino, Goodfellas and Godfather are in your pantheon (and how could they not be?), you're going to love this:
The movie will get a brief theatrical run later this year so that it can qualify for the Academy Awards and then it will be exclusive to Netflix. I think it's going to be a big deal.