My Chart o' the Day this weekend comes to us from Jonathan Krinsky at Baycrest Partners, who's out with some significant insights about the week that was.
He looks at the possibility that both the dollar and bond prices have hit a high and are now about to roll over. A drop in USD below support, which appears to be imminent, would have all sorts of implications for the recent breakout in gold extending and for the potential of emerging markets stocks outperforming US stocks. A drop in bond prices (rates going up) could mean a reversion in the bond proxy rally (REITs and Utes) and a boost for the banks and brokerage stocks.
Here's a quick insight that's worth passing on about the broader market, now that we've just seen a new S&P 500 high this week…
The SPX recovered all of its May losses, and made a marginal new all-time high this week. Over the last 18-months it hasn't been making the new high that's been difficult, it's been holding the new high.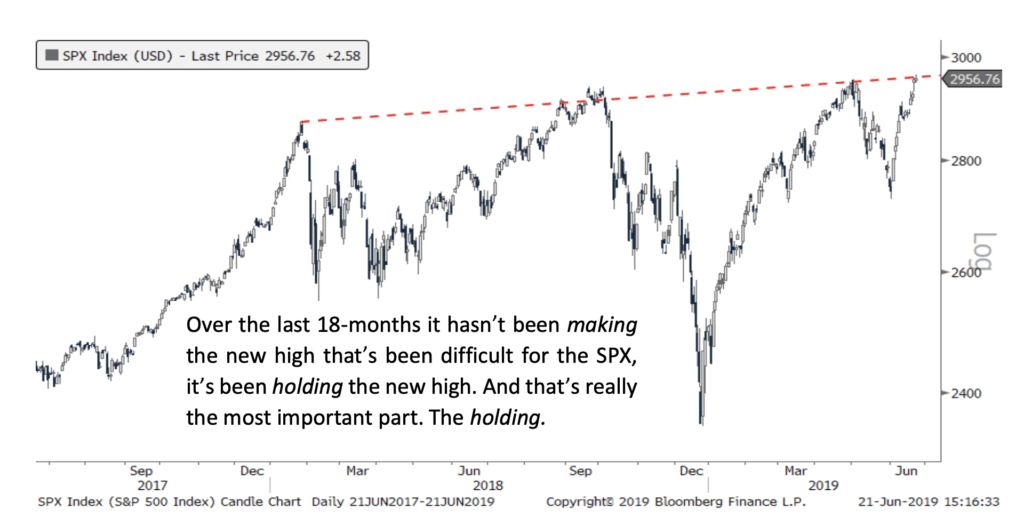 Well…will it hold? The last several attempts at these levels have been met by vicious sell-offs shortly afterward. But, as my friend JC Parets reminds us, triple tops are extremely rare. The third attempt usually gives you good odds that a high will stick. This isn't voodoo, it's buyer and seller psychology.
Source:
Silver Linings Playbook
Barcrest Partners – June 23rd, 2019