Ari Wald comments on the negative, nasty, no good week for US stocks. The S&P 500 fell 4% over five days, just a few sessions after everyone was worried about a melt-up. What a country! Ari notes that despite the damage we've just witnessed, the long-term trend is still intact and upward-sloping (which is nice).
Anyway, here's what the technician sees as a probability worth considering…
Notable about the 4% decline in the S&P 500 is that the drop coincided with an over 50% rise in the VIX—triggering what we define as a buyable VIX spike. Spikes in the VIX typically occur around short-term market lows and we've found it's a more compelling signal when trend is positive. We define a VIX spike as a reading that is 50% higher than its 3m low, this helps normalize for different volatility environments, and we consider the S&P in an uptrend when the index is above its 200-day m.a. Since 1990, the S&P has averaged an 8.2% gain over the next 6 months when this signal of selling exhaustion is registered vs. a 4.3% gain during any 6m period.
And here's his chart / table: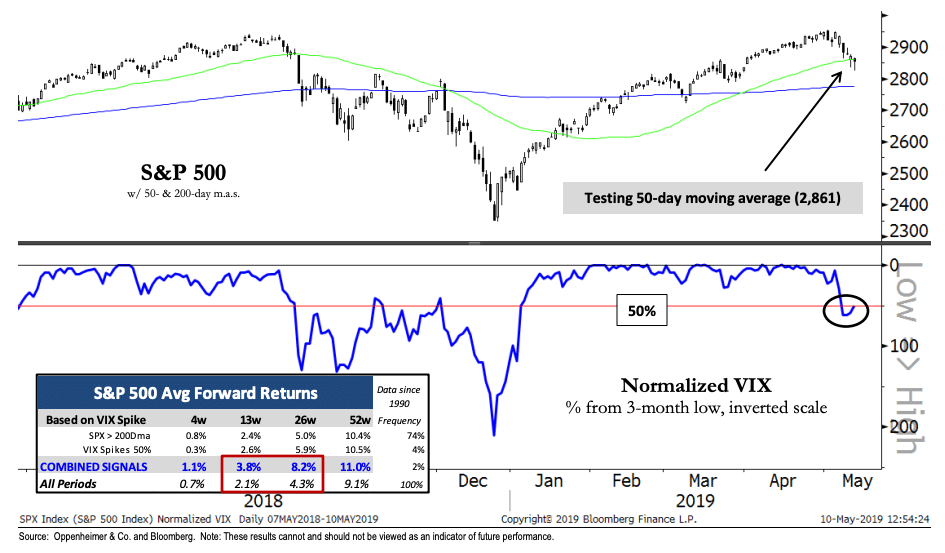 Source:
Opportunities and Risks 
Oppenheimer – May 11th, 2019