I invented the mini-podcast. All the financial industry and investment-oriented podcasts are an hour long or more. I think that's because the person whose podcast it is feels bad about asking a guest to come on and then cutting them short. Some podcasts should be an hour – Patrick O'Shaugnhnessy interviewing Michael Mauboussin, for example, or Barry Ritholtz interviewing Ray Dalio, or Michael Kitces interviewing Ric Edelman.
But most podcasts are too long and not every guest has an hour-plus worth of stuff you want to hear. However, the format persists. I think it's just something that's become a tradition – to interview each guest for an hour and change – even though that's not what the listener actually needs or wants from every conversation.
A year and a half ago Michael and Ben started the Animal Spirits podcast. Almost no interviews or guests, just the two of them and the best topics of each week for investors. They slay it every time, I think it's the best podcast in finance. It's usually between 30 and 40 minutes, but that's the perfect length because rather than having a guest recount their entire career, they're jumping from one topic to the next quickly. In any given episode, you could hear their takes on dozen to two dozen items and ideas. That's awesome. There's a reason why every young person or even college student who is interested in markets is listening to these guys each Wednesday when the episode drops. Kids are coming up to me to talk about Animal Spirits at every conference I attend.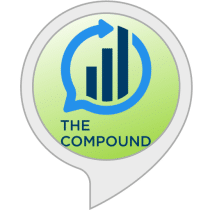 Anyway, my big idea about podcasts is that, just as blogging was eventually shortened to tweeting but there was plenty of room for both, I think voice is going to slim down from one hour standard podcasts to bite-sized podcasts that hit a single subject and then end. I think, in the future, we will all be driving or walking around with our AirPods in listening to a voice version of Twitter, with miniature, bite-sized podcasts playing on a reel. I just made the first one.
It's called The Compound Show and it's meant to deliver somewhere between 5 and 10 minutes of information during the average episode. It's also an Alexa app – "Alexa, play The Compound Show!" –  where there is a ten minute limit on audio content, so that acts like a nice governor.
You'll hear a few different types of things on The Compound Show as we experiment. Sometimes you'll hear the bloggers and researchers who work at Ritholtz Wealth discussing their latest content or some new development they've come across in the data or in the markets. Sometimes, you'll hear a phone conversation between various members of the firm discussing something interesting that we think people should know about. Sometimes it will be the audio from our popular YouTube channel Talk Your Book interviews. And sometimes it will just be a straight up rant.
You can play the latest episode of The Compound Show mini podcast below:
Smaller and more focused podcasts / skills are the future, in my opinion. And voice in general is going to wash over the web like a tidal wave.
People love to read our posts but they don't always have time or the ability to look at a screen. We want to give them a way to listen to our content on their headphones, while they're driving or when they're interacting with the smart speakers that are now dotting every room of their homes.
I hope you'll subscribe to The Compound Show mini podcast and make it a part of your listening routine. It'll be quick and to the point and absolutely killer.
Enable the skill on Alexa here
Subscribe in Google Play store here