I posted this on Friday, March 6th, 2009: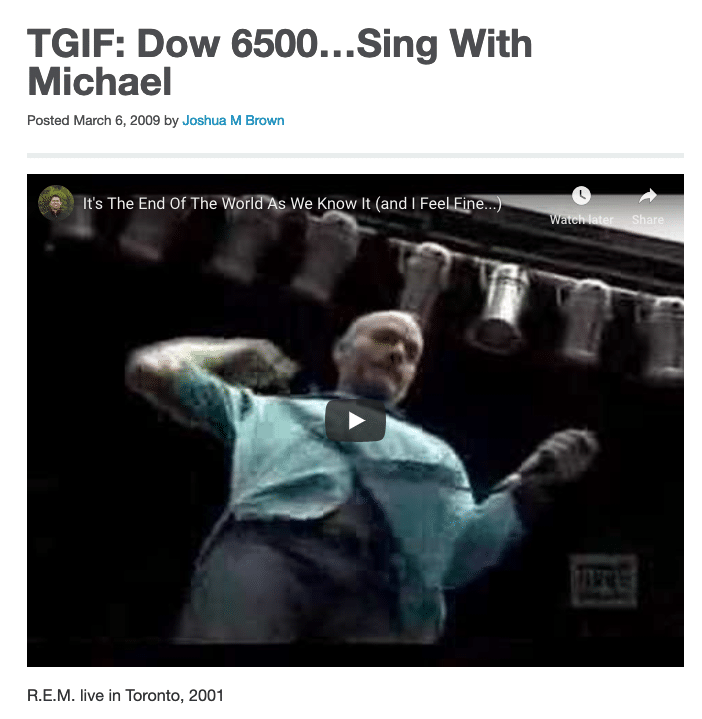 It's so perfect. I had completely given up. My business was effectively dead (retail brokerage, so dead in more ways than one) and the only clients I had left were people who really liked me and vowed to stick it out. But most of them were tired of taking my calls and hearing me say "it will be all right." I had people say "Well, at this point I'm assuming it all goes to zero anyway, so might as well stay in and see what happens." I was like "Fuck it, if that's what it takes to keep people calm, I'll just agree." I was 32 years old with a two year old daughter and my wife was due to give birth to my boy in three months. I had zero money in the bank and no idea how I'd be able to pay the bills – this is what life is like for a commission-based broker who decides to stop trading for clients until the dust settles. What a shitshow.
The S&P 500 had fallen 57% from its peak in October of 2007 and the world truly felt as though it was coming to an end.
Little did I know (little did anyone know) that the coming Monday morning – March 9th, 2009 – was going to be the bottom. Like, the bottom. Definitive bottom. I think we were up something like 40% off the lows in just a few weeks time from there. And still, no one believed the worst was truly over. "Tradeable rally" was the buzzword du jour. BTFD (Buy The Fucking Dip) didn't become a market meme until later that year, and even then it was only ever said in a derisive, sardonic way.
There was widespread disbelief that we could be going up permanently, that the stock market had reset and was now in "well, it's not as bad as we thought" mode. Nobody waves a checkered flag to tell you "this is it." Recoveries are a matter of people waking up to opportunity and shaking off the fear, one investor at a time.
By the way, it's ironic that people used to accuse "the media" of being bull market cheerleaders, because, in truth, they were the absolute worst in the early years of the recovery. They had just gone from a subscription cable or print model to a click model, and under the click model the only way to win is to get the most people clicking. And nothing gets people clicking like fear. Every day for five years there were a thousand posts and articles and TV segments about how the rally was a headfake and things were worse than ever.
The columnists and newsletter people who drove that narrative know who they are. I won't name names.
Anyway, here we are ten years later. Take a look at what's gone on since March 9th 2009, via the Los Angeles Times (I have some quotes in this new article):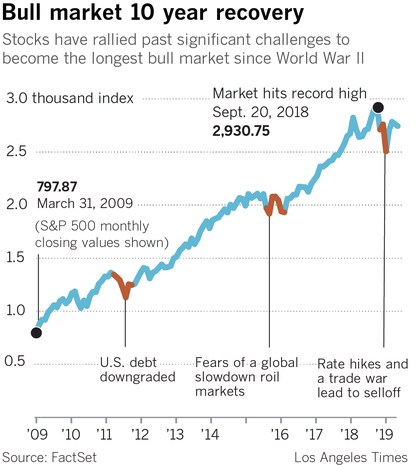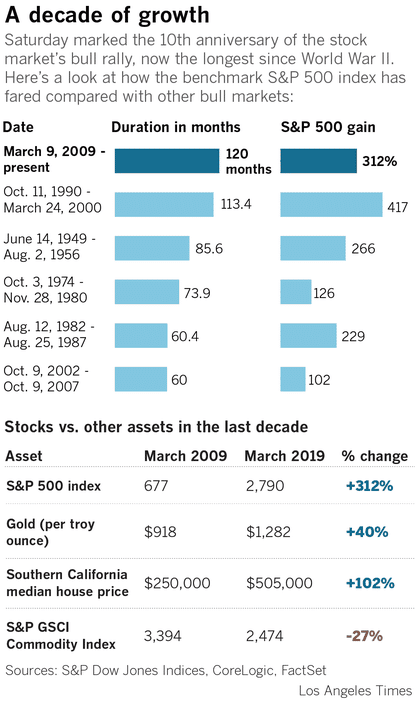 US stocks have only had one down year (including dividends) since March 2009 and that year was 2018. The gains have been very good, although not great in comparison with previous bull markets.
And, as I always like to do, let me use these last few sentences reminding people that if we are in a new secular bull market, then it began in the spring of 2013 when the S&P 500 finally took out the 2000 and 2007 prior high, and stayed above. Which means that the secular bear market which began in 2000 continued for 13 years and that this secular bull market only began six years ago. 2009 was the bottom of the 2000 – 2013 bear market in the same way that 1974 was the bottom of the 1968 – 1982 bear market.
We had 20% drawdowns (cyclical bear markets) in the fall of 2011 and December of 2018, so we've reset twice. Additionally, the average stock had suffered a drawdown of close to 30% during the oil crash of 2015-2016, so many of us are referring to that as yet another cyclical bear market even though the indices themselves hadn't come down that much (thanks to Big Tech).
But here we are. March 9th has dual significance for me personally – it was the bottom for stocks after an incredible, life-changing, world-altering crash in 2009 and it was also the day Biggie was shot in 1997. In the early morning hours of that day, a black Chevy Impala pulled up alongside the car carrying Christopher Wallace, the greatest rapper of all time, and its driver fired four shots from a 9mm into the side of it. He was taken to Cedars-Sinai in Los Angeles and pronounced dead in the emergency room. BIG was 24 years old.
The date March 9th will be unforgettable for me for as long as I live.
Read:
This bull market has hit the 10-year mark. Will it keep raging or will bears spoil the party? (Los Angeles Times)