I was reading Savita's note this weekend about how the US stock market is off to its best 2-month start since 1991. We're back up to the 2800 level in the S&P 500 where stocks have failed three times now.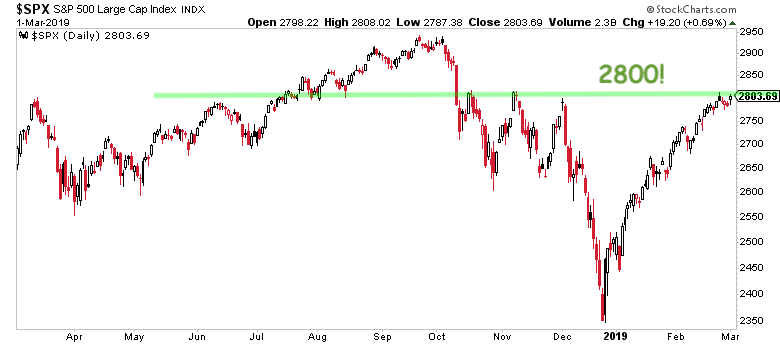 But the difference this time around is that breadth is getting stronger as we approach. The NYSE advance-decline made a new high last week. Every one of the 11 sectors in the S&P 500 index posted positive returns in February. The year-to-date rally is being led by industrials (!), which are up 18% on the year, followed closely by technology and energy stocks. The Russell 2000 (small caps) ourperformed the S&P 500 large caps while the equal-weighted S&P 500 also beat the cap-weighted index.
All of these details mean that, beneath the surface, the market is extraordinarily healthy. And this has taken place as full-year earnings estimates have fallen. Which, to me, means that expectations are now more reasonable and there's a lower bar to beat.
If you're an internals guy or gal, this is the very best set-up you could ask for.
The Equity & Quant Strategy team at Merrill looks at the potential implications for such a strong start to the year (bold is me):
Robust Jan-Feb return points to a strong 2019 The S&P's 11.5% gain year-to-date (YTD) represents the best Jan-Feb total return since 1991, and compares to an average Jan-Feb return of +1.5% and a 58% hit rate of positive returns since 1928. A positive Jan-Feb has historically led to a positive year 87% of the time since 1928 and an average +16.8% total return, compared to a 54% hit rate and 3.7% average return when returns were negative in Jan-Feb.
Okay, 87% is a big number.
Here's the caveat. No one can reliably tell you when we're in the 87% of the time where stocks will follow through into year end for a positive return or when we're in the 13% of the time, where it doesn't work out that way. The odds look good, but nothing is a given. Even if I told you that stocks finished the year up 100% of the time after running up in the Jan-Feb period, you could say, "That's great Josh, but things that have never happened before happen all the time, and data going back to 1926 is not even a hundred years."
And this is true.
Source:
Best two-month start since 1991
Bank of America Merrill Lynch – March 1st, 2019