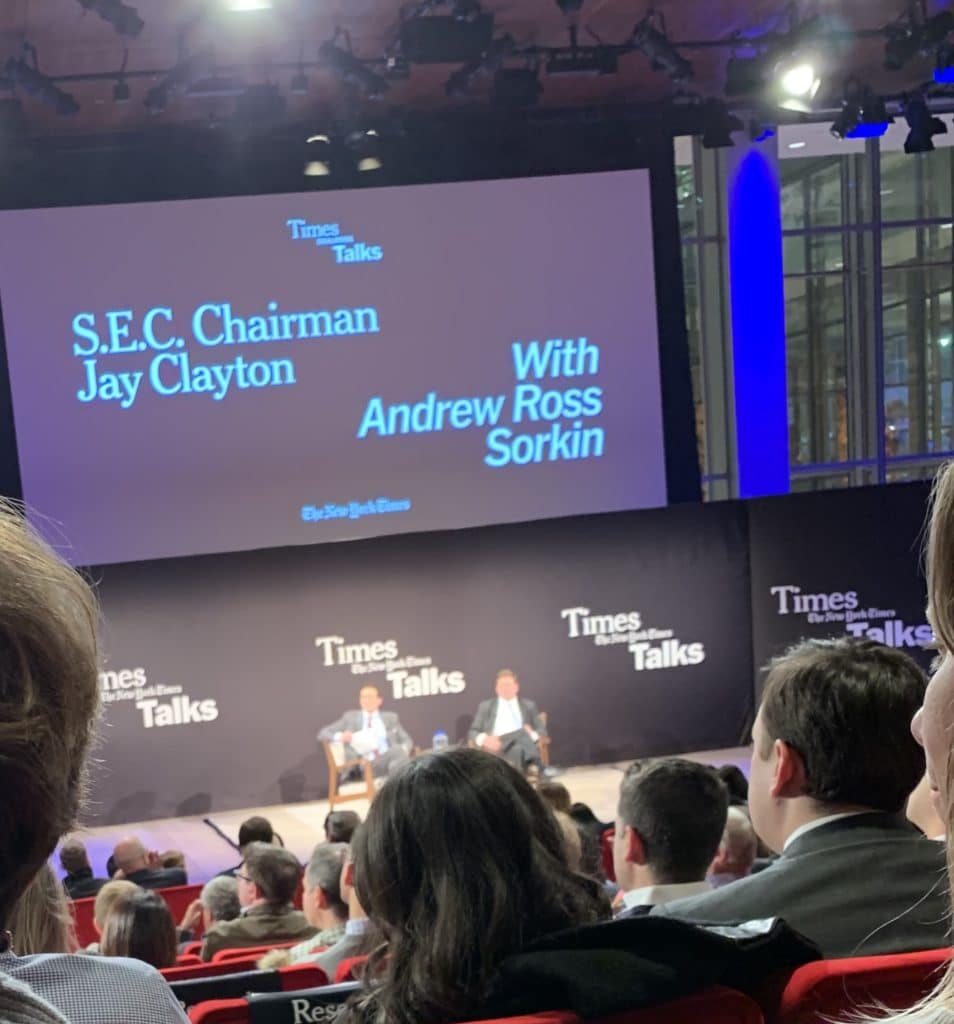 Last night I had the pleasure of attending a talk put on by Andrew Ross Sorkin and the New York Times in their auditorium on 41st Street. Andrew's special guest was Securities and Exchange Commission Chairman Jay Clayton and the conversation was about blockchain technology, crypto currencies, distributed ledgers, initial coin offerings and a lot more.
I want to say a couple of things about what I saw and heard at the event…
We are in good hands with both of our Jays. As regular readers know, I'm not a Trump fan. However, between his Fed Chairman pick, Jay Powell, and his choice for SEC Chairman, Jay Clayton, I feel that the investor class and market participants in general are in good hands. Jay Clayton is an accomplished securities and corporate attorney and genuinely has an affection for our capital markets and an appreciation for the rules he's been sworn to uphold.
Clayton is open-minded…: We have a commissioner who is open to the idea of new technologies being used within our markets to make trading more efficient, and who has taken his time to learn about all of the optimism and skepticism surrounding crypto currencies. He's done the research himself and is completely engaged in the subject matter.
…but he's also a constructionist: In one of my favorite exchanges of the night, when asked about whether or not our regulatory capabilities were up to snuff in the age of blockchain, Jay shared his view that the people who created our current securities laws in the 1930's were geniuses. These rules have withstood the test of time and have been in place to foster the growth of our economy to more than $20 trillion. "I think the new technologies ought to be able to adapt to our rules, we shouldn't change our rules every time there's new technology." He's speaking generally about the two main types of rules the SEC enforces: Those dealing with the offering and sale of securities to the public and those dealing with the secondary markets that securities trade in.
Bitcoin is a currency, not a security or a commodity: His view of what Bitcoin actually is makes perfect sense to me. If it were more enterprise-like, meaning under the control of a small, select group of people, then you could call it a security, but it's not. No one decides what happens with Bitcoins because they're so widespread and out of the control of any one individual or group. So, from that standpoint, Clayton says they look most like a "non-sovereign" currency. They're not a commodity because they have no use other than as a medium of exchange. Gold and silver actually have industrial uses or can become jewelry. The only thing Bitcoin can be used for is buying, holding (hodling) or selling – therefore, the SEC's rules for security trading ought not apply to BTC, although that changes if BTC becomes part of investment products / services/ funds on registered exchanges or sold by registered persons.
ICOs are securities: By any reasonable stretch of the imagination, people offering an ICO for sale are making a claim that people investing their money have the potential to earn a return on the enterprise. Therefore, they are undoubtedly securities. My opinion is that last year was a crime wave, the consequences of which are only now beginning to be felt by those who sold these coin offerings. Clayton didn't go that far in his remarks last night, even when Andrew introduced the fresh headline about Floyd Mayweather and DJ Khaled being charged in one of these schemes.
Elon Musk: "We view that matter as being settled." Believe me, Andrew tried to get more. Wasn't happening.
Clayton's prerogatives: He did talk about the need for penalties to act as deterrence and for bad actors to be removed from the playing field. These remarks were made generally, not about ICOs specifically. Combined with "getting investors who've been wronged their money back," you could say that these are the Chairman's three big priorities for his tenure.
"We're open for business": Jay Clayton had some really interesting stuff to say about his business-friendly attitude as the head of the SEC, and why he feels the way he does. Andrew introduced the comment made by the founder of Blue Bottle Coffee after selling his company to Nestle. When asked why he sold out rather than going public, he said "Everything that I've seen and read, it seems like a way of living in hell without dying." Clayton remarked that thinks about this all the time. He thinks about the fact that twenty years ago there were 8,000 public companies and now it's more like 4,000.
He says that there are multiple factors at play, starting with the fact that a manager at a public company may have to spend 20 to 30 days of a quarter working on things related to being listed, while a non-public competitor maybe spends 3 to 5 days on compliance. He sees that as a huge advantage for the private company over the public company. He wants to streamline the process of filing and to reduce the burden of reporting where it wouldn't potentially harm investors. He's also thinking about the massive discrepancy between the largest company in the S&P 500 and then the 100th largest – should companies worth $15 billion be regulated and scrutinized to the degree you would a company worth a trillion dollars? Jay Clayton clearly wants markets to be fair, orderly and transparent, but he's willing to be more creative about you accomplish that without making it hell for the companies who've been listed there.
I came away very impressed with our SEC Chairman. I think he's got a really good sense about how important it is to provide a level playing field for all constituents in the securities markets – investors, investment professionals, exchanges, brokers, agents, traders, savers, issuers, fund sponsors, etc. He said early in the night that he doesn't view his role as "voting" on securities, but rather as the head of an agency that makes it safe and fair for others to cast their votes.
***
After the conversation, some folks in the audience got on the microphone to ask questions. But as you know, none of these were questions, they were either statements to show everyone how sophisticated the speaker was about crypto or advertorials to raise awareness about the projects they were working on. That's how it works at a crypto-themed event, but Clayton took it in stride, doing his best to give answers to the non-questions and declarative statements.
I bounced and headed up to the private dinner Andrew hosted for the blockchain cognoscenti at Le Bernadine Privé. It was awesome – some of the smartest, most accomplished people in the crypto and blockchain field debating all of the issues Clayton spoke about and the latest developments for the space happening all over the world. I threw some punches but mostly listened. I'll have more to say on this dinner in a subsequent post. My thanks to Accenture, the New York Times and Andrew Ross Sorkin for having me in the mix.