My Chart o' the Day comes to us from my pal Ari Wald, technician at Oppenheiner & Co, who takes a look at the 30 largest stocks and finds enough to like to be supportive of a year-end rally. Ari notes that last week's gap above the 200-day in the S&P 500 could serve aa decent enough support for continued run.
Here's his glance at the biggest stock on earth, Apple, which is still in a breakout, despite October's tumult…
Key takeaway: AAPL checks all of our boxes. Shares are correcting in an uptrend and supported by top-down tailwinds based on our view that the Technology sector is a prime candidate to be a key driver of the S&P 500's secular advance over the coming years.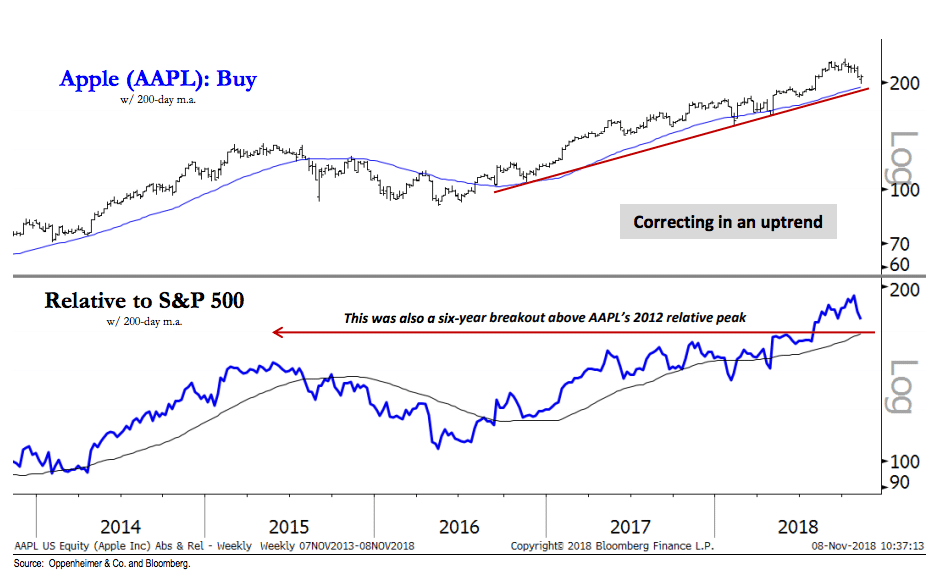 Josh here – Apple is one of the largest influences on the price-weighted Dow Jones Industrial Average, it's also enormously important to both the Nasdaq 100 and the S&P 500. Additionally, it's owned in both growth and value funds, dividend and buyback funds, tech sector funds and consumer-driven strategies. Needless to say, it'll be the stock to watch as November grinds on.
Source:
The Blue Chip Report
Oppenheimer & Co – November 10th, 2018