Tomorrow is election day and it's looking like we'll end up with a small victory for Democrats in the House of Representatives while the GOP hangs onto the Senate for another two years.
Here's Bank of America Merrill Lynch on why gridlock could be a modest positive…
Our base case view of a split Congress could be supportive of equities, as markets historically do well under gridlock (nothing done, nothing undone). A Republican hold could be more near-term positive as it could suggest more pro-growth measures (e.g. further individual tax cuts or making select tax cuts permanent), but could be longer term bearish due to the stronger dollar, tighter monetary policy and widening of the deficit.

Equities: Gridlock is good

Markets generally do well under gridlock. A modest infrastructure bill might see bipartisan support, which could lift Industrials and Materials. A Republican sweep could be equally positive for the overall market as gridlock, as a coordinated Congress could move to enact pro-growth measures. These could include another round of individual tax cuts, or making select tax cuts permanent. But repeal and replace of ACA would likely be up for grabs, an overhang for Health Care. The impact here would likely be risk-on and certain sectors would be more likely to benefit. But the stronger USD expected under this scenario could hurt S&P 500 earnings, and if rampant growth results in tighter monetary policy, equities could end their bull run the way they have tended to historically at the hands of the Fed. Meanwhile, a Democratic sweep could increase the risk of congressional investigations. And while this scenario is currently not on the table, in the event of impeachment proceedings, it could be classified as an exogenous macro "shock." Since 2010, shocks have driven a 6% peak to trough decline, but the market has generally recovered much of the initial selloff. A longer term risk of a Democratic sweep could be a potential reversal of tax reform, which has contributed double-digit earnings growth to S&P 500 companies.

The US equity market generally does well following mid-term elections both in the near and long-term. On average, S&P 500 annual returns following a midterm election have been stronger than overall annual average market returns since 1952 (Chart 3). The best consecutive three months of the mid-term year are October, November, and December. The S&P 500 has been up 86% of the time with an average return of 6.4% during 4Q of the mid-term year.
and here's the chart: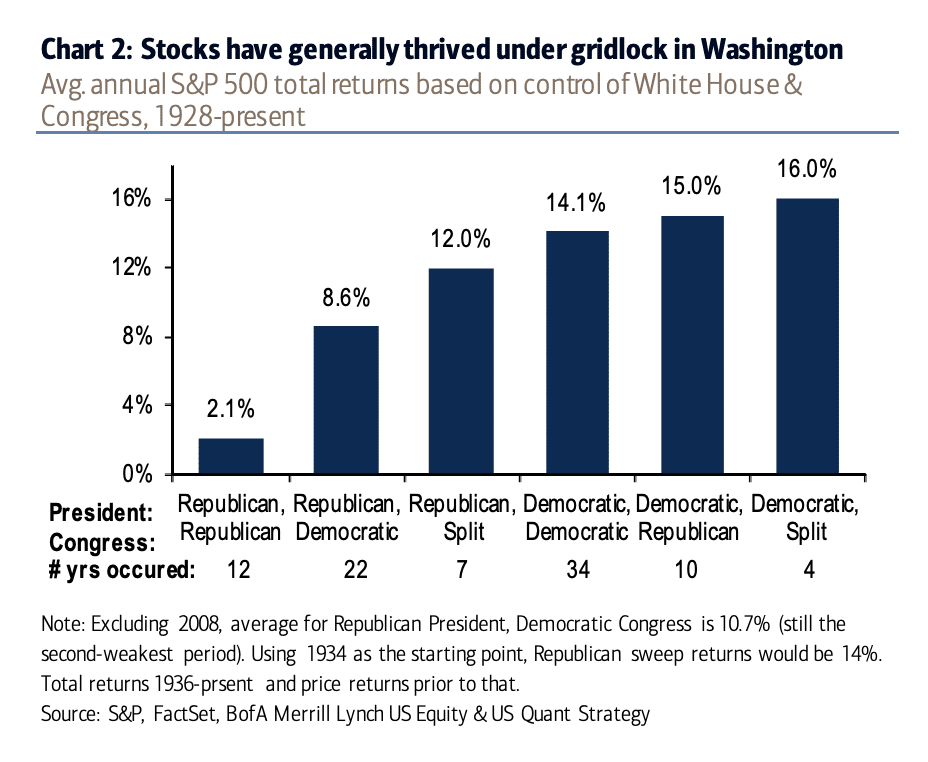 Source:
2018 midterm election update
Bank of America Merrill Lynch – October 31st 2018