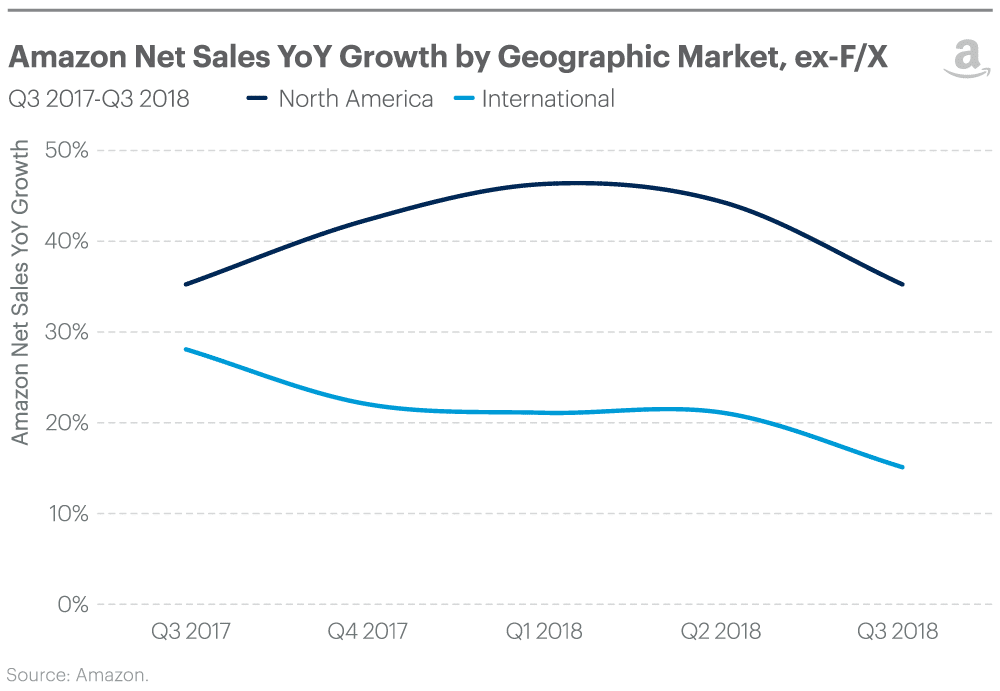 There are two ways to think about what Amazon's "disappointing quarter last week may be telling us. I put "disappointing" in quotation marks because this is still a company doing $50 plus billion in sales every 90 days. But still…it was a fairly un-Amazonian report given the heights this company has been scaling since 2013.
The first way we can interpret is that (putting on my shocked face) trillion-dollar companies cannot grow as voraciously as $300 billion companies can. The only rapidly growing part of Amazon this quarter was the newly created advertising business, which has become increasingly important to the bull case despite the fact that it didn't really exist until recently.
The second way we can think about it is that Amazon has now fully milked the opportunity in its core ecommerce verticals and is now hitting the wall as it looks for growth elsewhere.
Here's L2 on the latest numbers…
Amazon's core e-commerce business (reported in quarterly earnings as "Online Stores") slowed to 11% year-over-year growth in Q3, down from 22% a year ago. This is surprising, especially given that Prime Day sales are reported in Q3. So what's happening?

It appears that Amazon is beginning to saturate the US e-commerce market, particularly in well-established categories such as books and electronics. Less developed categories such as fashion and groceries are more competitive, with a greater number of legacy retailers building up their own e-commerce operations.

Opportunities abroad are looking bleaker as well. Emerging markets such as China and India have been heralded by Amazon's management team for years as the firm's next big opportunity, but disrupting those markets has proved challenging. Revenue from Amazon's international business grew just 15% YoY, down from 28% a year ago.
Of course, Amazon still has other levers to pull – getting its existing customer base to spend and do more with them is just one example. Getting more deeply into health care and finance is another possibility.
What do you think? Let me know in the comments here.
Source: