I really liked Ari Wald's weekly chart book for Oppenheimer this weekend.
Ari is arguing that the put/call ratio has jumped to a pessimistic extreme auguring well for a short-term buying opportunity. He does not believe the downturn in market breadth (NYSE advance-decline line) has put in enough time to serve as confirmation that the top of the 2016-? cyclical rally has peaked.
For my Chart o' the Day, here's an interesting look at the current market environment versus the last time we traded through the midterm elections in 2014…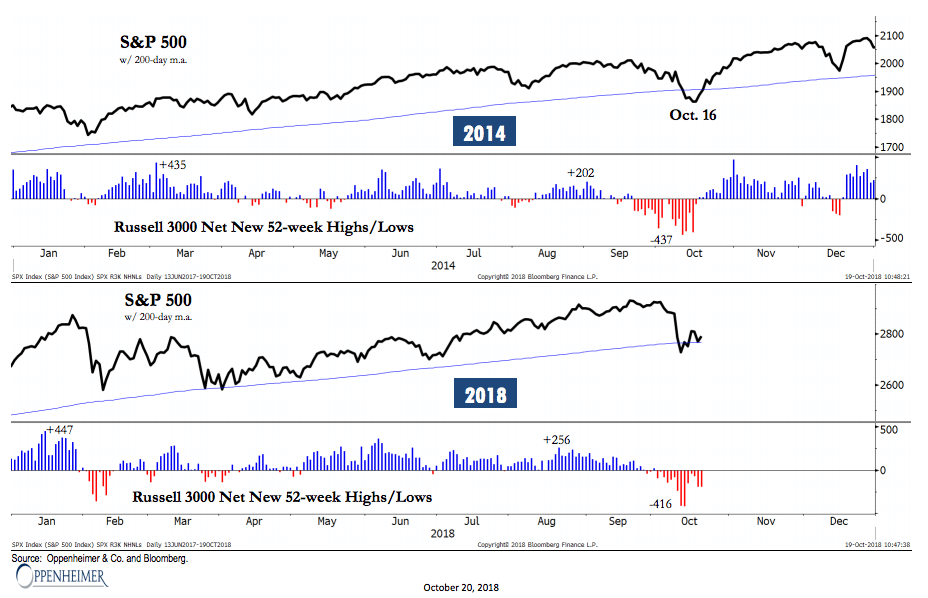 Here's Ari:
Reminiscent of the 2014 Midterms

During the 2014 midterm cycle, the S&P 500 experienced a bout of volatility on Ebola-induced fears ahead of the elections. Looking back at that period, the index pierced its 200-day moving average in October 2014 for the first time in two years before rallying into year-end (note: 2013's post-election advance pararrels 2017's strength). Internal breadth was similar too: the NYSE A-D line had peaked in July 2014 and the number of net new highs dropped sharply during October's volatility. We show this comparison to refute the idea that current conditions argue for imminent disaster. Still, similar to October 2014, there's longer-term warnings that warrant monitoring.
Source:
Historical Review of Breadth at Major Tops
Oppenheimer & Co – October 20th, 2018