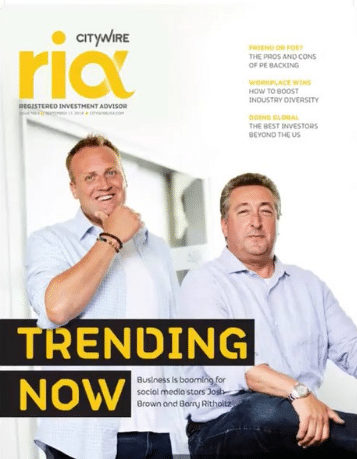 (Barry and I got our big closeup this week, see below for details!) 
Things are a bit slower in New York today because of the Jewish high holidays, so queued up this post with some stuff for you to catch up on.
Michael and I both read A World Lit Only By Fire by William Manchester and were blown away. Our video review comes out on Sunday, which gives you plenty of time to read it and let us know what you think on Facebook or YouTube. Follow or subscribe and you'll get the alert.
Ritholtz Wealth Management on Facebook
The new Animal Spirits came out overnight and it's awesome. Ben and Michael cover taking advice from billionaires, a new ETF that seeks to quantify technical analysis, whether or not low income households should buy lottery tickets and a lot more. You should be listening to this weekly, I guarantee you it's one habit that will definitely make you smarter.
Borrowing from the Future (Animal Spirits, Episode 47) 
Congratulations to our friend Patrick O'Shaughnessy of O'Shaughnessy Asset Management on two full years of his Invest Like The Best podcast, definitely one of the best podcasts out there. I'm honored to have been a guest on the show twice. Patrick's breadth and depth of knowledge combined with his innate curiosity and a global web of connections make this thing a must-listen.
Check out the newest episode, Trail Magic, and you'll be hooked.
I thought this Bloomberg story was fascinating, and I'll be talking more about it later on. Just this idea that everyone has become so short-term (they were always short-term but now it's exacerbated) is so under-explored. If you're an active portfolio manager and you're seeing assets yanked away from your fund and your firm month after month, you know your only salvation is to at least match the benchmark. And not annually, but, like daily.
It's absurd and it's leading to massive herding. Look at geographic over- and underweights right now – PMs around the world are all plowing into US stocks, the most expensive large equity market on the planet. If their timeframe is year-end because they're trying to keep their jobs, maybe it will work. Incentives explain almost everything.
Investors Are Going All In On The Global Divergence Trade (Bloomberg)
Finally, this week Ritholtz Wealth Management was the cover story for Citywire's RIA Magazine.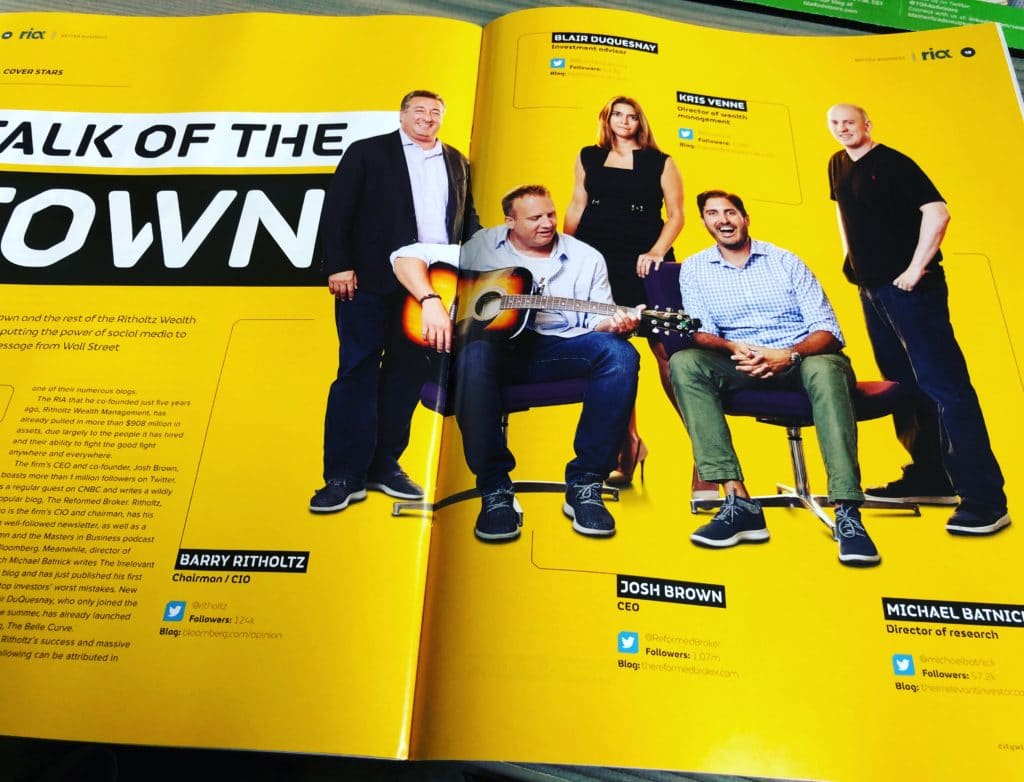 We were really proud to have been featured, especially considering the fact that this month marks our fifth anniversary as a firm. You can check the whole thing out here:
Back later…