Let's put a pin in this for now, but remember it when the time comes.
At a certain point in the near future, the amount of assets invested passively will cross above 50% and the actively invested fund assets will cross below. That's up from like less than 10% from when I began working in the industry 20 years ago.
I was just saying to Michael "can you imagine the uproar when it finally breaks above half"? People are going to go bananas. The takes will range from "It's headed to 100%" to "The economy will be be destroyed by this" to "COMMUNISM!" and everything in between. Get long hysteria futures if you want to play along at home.
Moody's researchers take the current trend and forecast that the crossover takes place at the end of 2021. I think sooner. Here's their chart, which I nicked from Jeff Kleintop at Schwab (his commentary below)…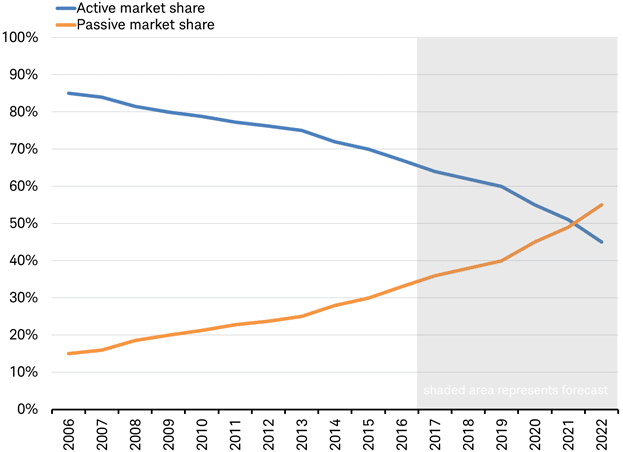 It is unknown if the rise of passive investing presents a vulnerability to the system, but there is no doubt it represents a change. By extrapolating the trend in passive investing, Moody's Investor Service forecasts passively invested assets to exceed those actively invested by the end of 2021.

Passive investing is a strategy typically implemented by holding securities in line with their representation in an index, offering a diversified and low-fee portfolio. However, some fear that the mechanical investment rules of passive investing may give rise to distortions in the pricing of individual securities and might reduce diversification while amplifying investors' trading patterns on the overall market.
Put the gun down.
"Passive" can mean pretty anything these days – from a rules-based smart beta fund at iShares to a Vanguard product based on the MSCI World Index to a factor strategy that reconstitutes every three months. No need to sweat the details. The real story is that people like things that are computerized, standardized and cheap these days – as opposed to relying on fallible humans, faith in institutions, expensive and prone to random happenstance.
"Passive" and "indexing" and "quantitative" and "rules-based" scratch that itch. And financial intermediaries, the driving force behind fund selection and asset allocation, are here to scratch those itches for their clients.
May as well accept what has now become inevitable. You don't have to agree with it or like it.