You could have spent the post-crisis period obsessing over one thing or the other: the Federal Reserve or Corporate Earnings.
If you chose to obsess over the Fed starting in 2011, then you wasted hours and days and probably weeks of your life for nothing.
The Fed kept rates low and pursued quantitative easing until the data told them they could stop. They gradually removed quantitative easing via a tapered asset-buying program, then stopped buying assets completely, then began to slowly raise rates. None of this was miraculous or mysterious – they told you what they were going to do, they told you what data they were going to be guided by and they told you how they would eventually exit.
If you chose to focus on corporate earnings instead of the macro hysteria, you probably made yourself a lot of money. With the exception of the oil crash of 2015-2016, they pretty much grew the entire time year-over-year, during every quarter.
I took a chart from the Wall Street Journal's story about earnings growth this morning and I overlayed some annotation about whatever the Federal Reserve was up to at a few given moments.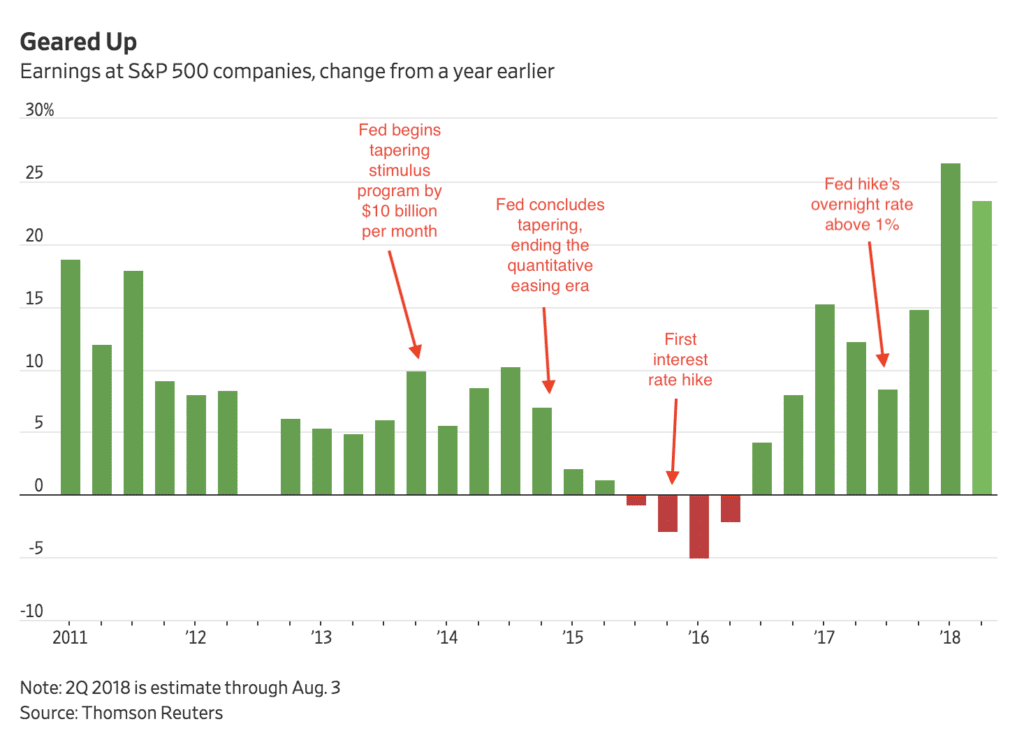 Josh here – During the period of time captured by this chart, the S&P 500 rose 161% on a total return basis. The Nasdaq 100 rose an astonishing 255%.
All you had to do was not get caught up in all the Fed obsession and just ask a basic question: Isn't it possible that stocks are going up because they deserve to, because profits are growing?
While other people focused on "market manipulation" conspiracy theories, the investor focused on investing would have been counting their gains pretty much every quarter, in-line with the improving business prospects of the stocks that comprise the markets.
The way it's supposed to be.