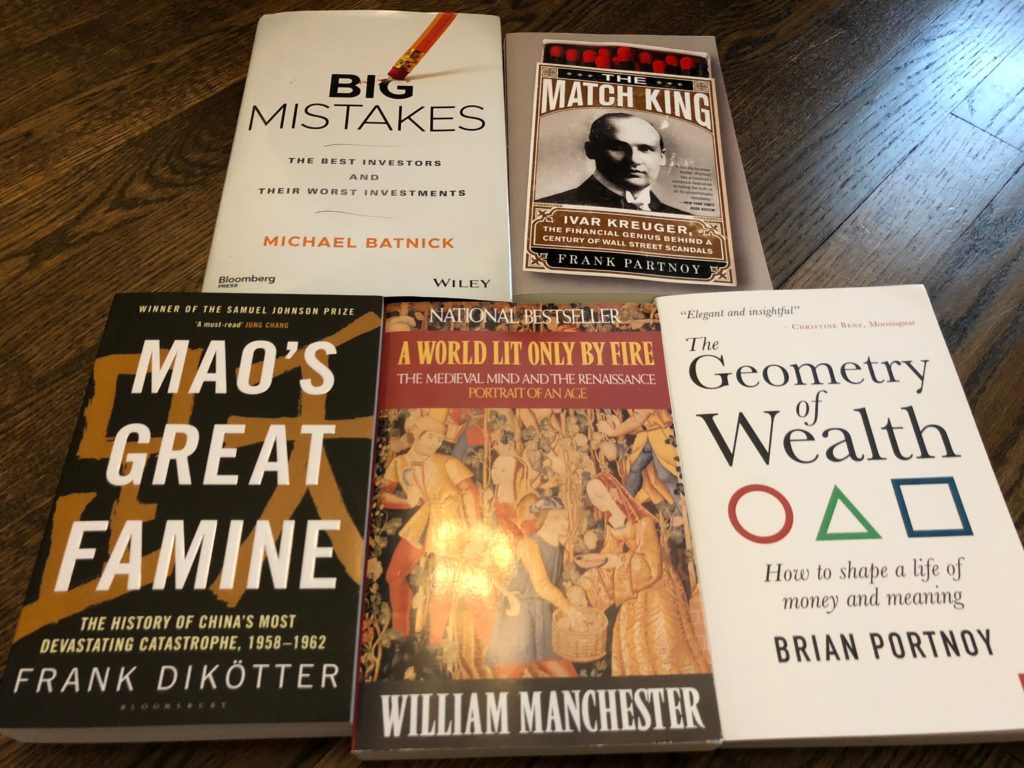 Last summer, when the kids went away for sleepaway camp, I attempted to tackle seven books – roughly one per week. That proved to be a bit too ambitious. My schedule was every bit as absurd as it is during the rest of the year and the social life down here on the water really picks up between June and September.
This summer I'm going with five, which gives me a bit more wiggle room during the seven weeks I spend without the kids. It also gives me more time to read carefully and deliberately without the clock ticking, which is the way it should be when you've got a great book in your hands.
Below, the links to buy them yourself in the order I'll be reading and blogging about them.
1. I've started with my partner Michael Batnick's Big Mistakes, which everyone is raving about already. He's really done an excellent job making powerful points in short chapters without any fluff or filler. This is the book that should be in every investor's hand right now, from beginners to professionals (especially professionals!).
2. My friend Jim Chanos mentioned this book on the recent podcast interview he did with Barry as one of his favorite all time stories of fraud and corruption on Wall Street. It's called The Match King by Frank Partnoy and it examines the incredible true story of Ivar Kreuger, "the financial genius behind a century of Wall Street scandals". Considering the fact that Jim is the smartest guy I've ever met, I had to add it to the queue immediately. There's still so much market history I don't know that well, but understanding the past is incredibly important for my education, and yours as well if you seek to be a truly informed investor. Really looking forward to this one.
3. Now we're going to take a detour for a little bit of world history…I'll be reading Frank Dikotter's acclaimed book about one of the most jarring and consequential events that many people in the west simply haven't really learned about. It's called Mao's Great Famine: The History of China's Most Devastating Catastrophe, 1958-1962. I've been on a China kick all year and this one fits the bill. You can't understand the present version of capitalism blended with socialism and authoritarianism put into place by Deng Xiaoping without grasping what came before it.
4. My pal Brian Portnoy is a really good writer and he's done something very important in his new book The Geometry of Wealth. Portnoy's mission was to tell the story of how investing has become the key to underwriting the kind of life you want to lead, a means to the most important end you can think of. Brian is an expert in behavioral finance and he's written something that's both relatable and sophisticated at the same time. A few of my colleagues have already read it and they've got great things to say about it.
5. My final selection this summer is a national bestseller and something I probably should have gotten to awhile ago. It's called A World Lit Only By Fire: The Medieval Mind And The Renaissance, Portrait Of An Age by William Manchester. This is another Chanos recommendation and it's going to fill in a lot of blanks for me about how we lived in the days before industrialization and electricity. Once Gutenberg's printing press arrived and the written word became available for the masses, the world was never going to be the same. I think the internet will be looked back at as something similar in terms of its revolutionary impact. This book looks at the first mass awakening that ultimately leads into the Age of Enlightenment and Reason.
I hope you can pick a few of these up and come along with me for the ride. I'll be posting my book reactions here all summer as I finish each one up.