I'll be the first to tell you that looking at any 5 month or 5 week period is not especially meaningful in terms of a long term portfolio, so please don't take what I'm about to say as an encouragement to focus on a 5 day period.
Okay, with that out of the way, I think it's important to point out that during the current spike in volatility, precipitated by emerging market currency fears and then reinforced by concerns over Italian politics, a diversified portfolio has been doing what it's meant to do. It works as advertised.
What a difference a week makes. Six or seven days ago, the predominant meme on The Street and in the financial media was "why bother owning bonds if rates are rising and economic growth is accelerating?" Michael and I even did a video about it.
Long-term oriented investors know better than to extrapolate a rising rate trend in the short-term and trash their asset allocation over it. But many investors are not getting the right guidance. Either they're making portfolio moves based on soundbites from TV or they're being catered to by brokers, for whom the phrase "I'd like to make a change to my holdings" is music to their ears when a concerned client call comes in.
Here's a look at the S&P 500 and the MSCI All Country World Index ex-USA ETFs – representing the global stock market – versus the long-term Treasury bond and intermediate-term Treasury bond ETFs over the last five days…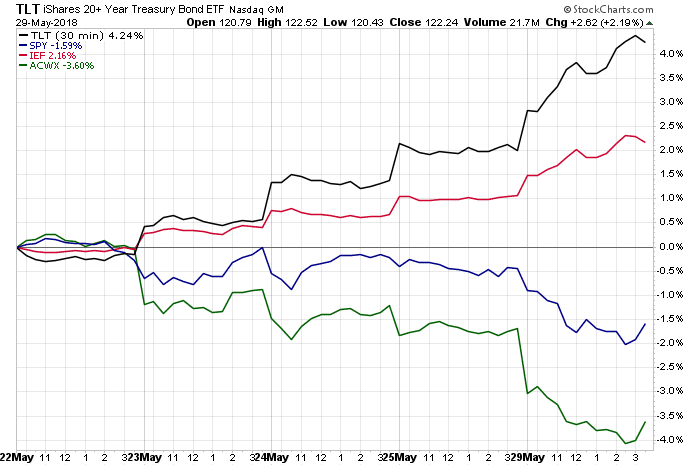 As you can see, investment-grade bond holdings in Treasurys helped to offset the sudden swoon in the equity side of people's portfolios. Now of course, this is a week's worth of activity and things could change. It should also be pointed out that everyone's got a different weighting to these asset classes, so just showing lines on a chart does not represent anyone's actual performance. It's not likely that most investors have equal-weighted these four things.
But the point I will make is that the investment markets offer us the opportunity to give up some potential upside so that we can avoid some potential volatility when an event hits the headlines. This takes maturity and an acceptance that the events that affect investment markets can and will come from out of nowhere. Since this makes it impossible to weight a portfolio toward just one outcome with any confidence, most investors are better served by weighting a portfolio for all potential outcomes and to focus on durability rather than being right.
This is not a message that sells well in the brokerage world or the 2-and-20 world.
But that's how you know it's the truth.