There are many investors who look up to Warren Buffett and several well-known managers who emulate parts of his investment style. But there will never be a next Warren Buffett, because he is a miracle. His timing on this earth, and the environment in which he grew up, and the advantages that he enjoyed, and the education he'd recieved, and the people he'd met along the way who would influence him – none of this stuff is replicable.
Ben Carlson tackled this topic last week so I won't repeat all of the reasons why it's not replicable…
The reason giving and/or receiving career advice is so difficult is because very few people have a "normal" career path. Trying to emulate what someone else did to get where they are most likely won't get you to the same place.

Plus there's the fact that so much of what transpires career-wise can be impacted by unexpected relationships, networks, decisions, or the randomness of life.
It's important to remember this the next time someone comes along and they are anointed "The Next" anything. They aren't going to be. It's almost a guaranteed letdown and it may even signal some sort of top for the person or subject at hand. Because narratives and life don't work the same way. There's rarely a symmetrical, satisfying story arc that can be foreseen in advance. Joseph Campbell doesn't run the stock market. Something like the Buffett / Berkshire anomaly is so far off the charts that you'd need to possess a childlike naïveté to even consider the possibility of a repeat.
These didn't hold up particularly well…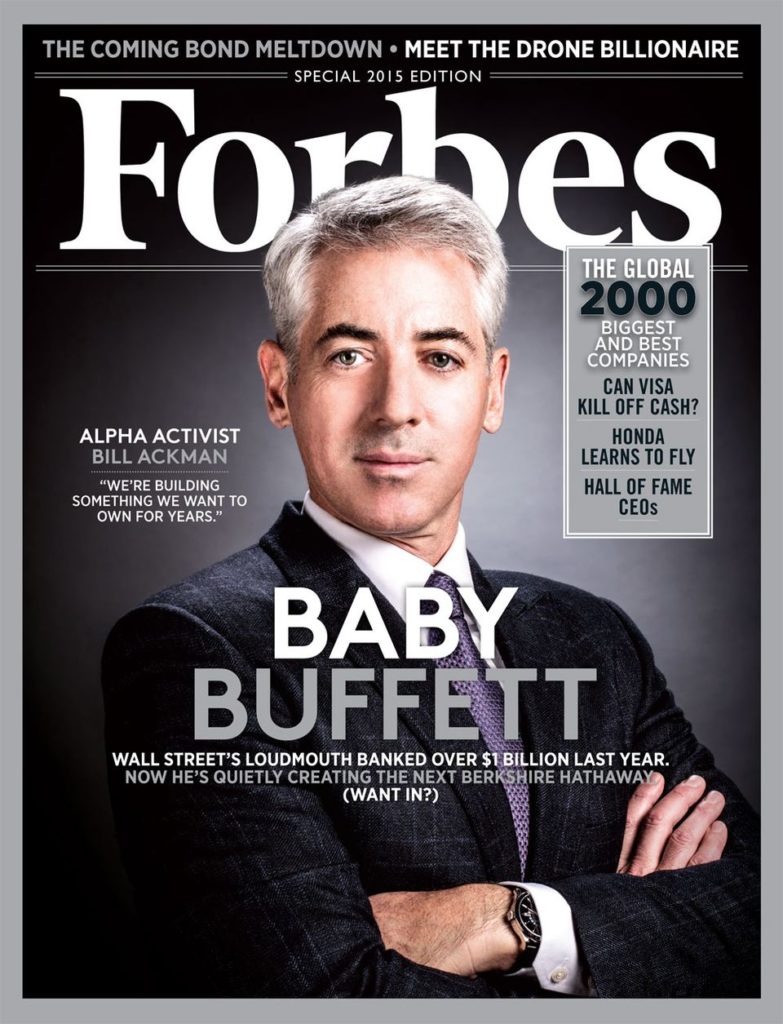 Ackman's cover story, which I'm sure was titled by an editor or a reporter, came out at the end of 2014 headed into 2015. That year, in his own words, his fund, Pershing Square, suffered its "greatest peak-to-trough decline and worst annual performance ever" and finished down 9.1% net of fees. It then finished 2016 down 13.5% in an otherwise raging bull market, trailing the S&P 500 by 25%. He then went on to lose another 4% in 2017 with the S&P up another 24%.
Buffett's had stretches where he's trailed the market too (the dot com boom sticks out) – but never anything even close to this degree, and he's never lost money in a bull market.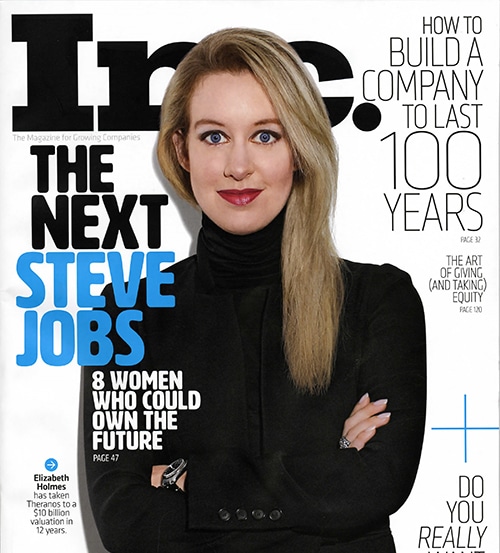 The above Elizabeth Holmes cover of Inc Magazine came out in October 2015, with the then 31 year old having raised some $700 million from investors based on scientific claims about a diagnostic technology that were never truly vetted or verified. Two and a half years later, the SEC was charging her with widespread fraud, accusing her of exaggerating and outright lying to her shareholders. Her firm, Theranos, has practically collapsed.
Just like there is no Baby Buffett, there's definitely not a Next Steve Jobs.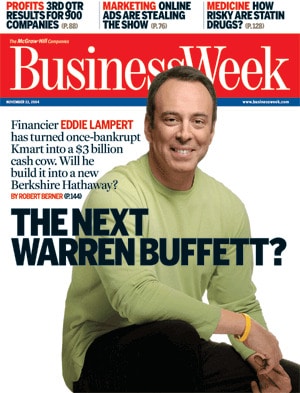 And then there's the case of Eddie Lampert, who was famously called the next Warren Buffett around the time he was rescuing K-Mart from bankruptcy and smooshing it together with Sears. The move would turn out to be one of the most ill-fated mergers in American history. The combined entity has since seen its store count shrink from 5000 to 1000 and more than 200,000 people lose their jobs. The company has been crushed to a market valuation of just $250 million from almost $30 billion a decade ago, and a crippling amount of debt will most likely end this thing in the near future.
Warren Buffett has, for the most part, stayed out of retail over the years, other than positions in Walmart and some of the small scale stuff he's done with furniture and candy. Lampert parlayed his success with the AutoZone chain into a controlling stake in two of the nation's very worst retailers, and he somehow made them significantly worse from there.
Repetition is difficult in this business and the replication of past success stories is impossible. Warren Buffett is nearly 90 and Steve Jobs is dead. They changed the world and made fortunes for millions of people along the way. It's perfectly natural that we should want to see new versions of them come along, but its not realistic to expect them to arrive – or to think we'll be able to recognize talent and ability like that in advance.
Last night, Vanity Fair writer William Cohan released the first in-depth interview with Lampert in fifteen years. It's a fascinating story that every investor should read and remember the next time someone's being lauded as the next Warren Buffett. This undoubtedly will happen in the future, usually on the heels of some magnificent year for someone that looks as though it's about to be repeated.
Read it here:
"THEY COULD HAVE MADE A DIFFERENT DECISION": INSIDE THE STRANGE ODYSSEY OF HEDGE-FUND KING EDDIE LAMPERT (Vanity Fair)