It's always hard to tell whether or not people will follow through with these sorts of memes…
This is the cover of the new Bloomberg Business magazine: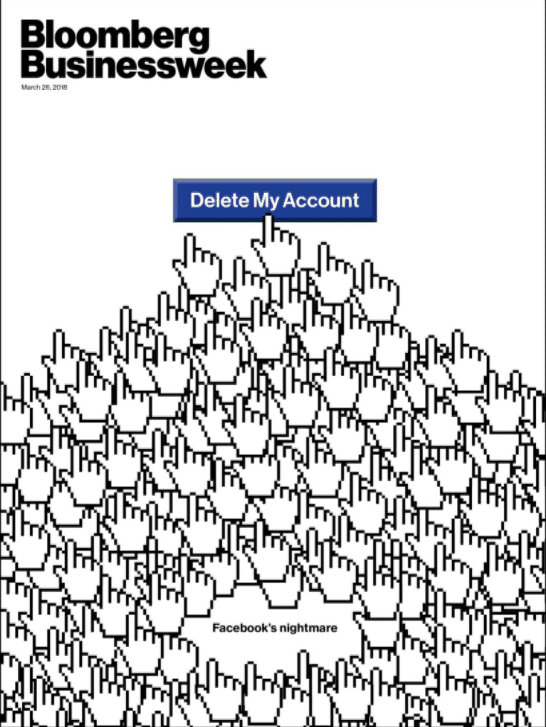 And here is the accompanying story from Paul Ford.
This tweet is getting a lot of attention this morning. Brian Acton is one of the founders of WhatsApp, which sold itself to Facebook a few years ago for billions of dollars. It's safe to say he is now out of the circle of trust…
It is time. #deletefacebook

— Brian Acton (@brianacton) March 20, 2018
Facebook stock has already lost $60 billion in market value since the Cambridge Analytica thing became national (international) news. That's the equivalent of one Tesla or three Twitters. My take on the controversy here: It Takes Two
Here's a three year chart of FB with 200-day moving average. Would you buy this chart?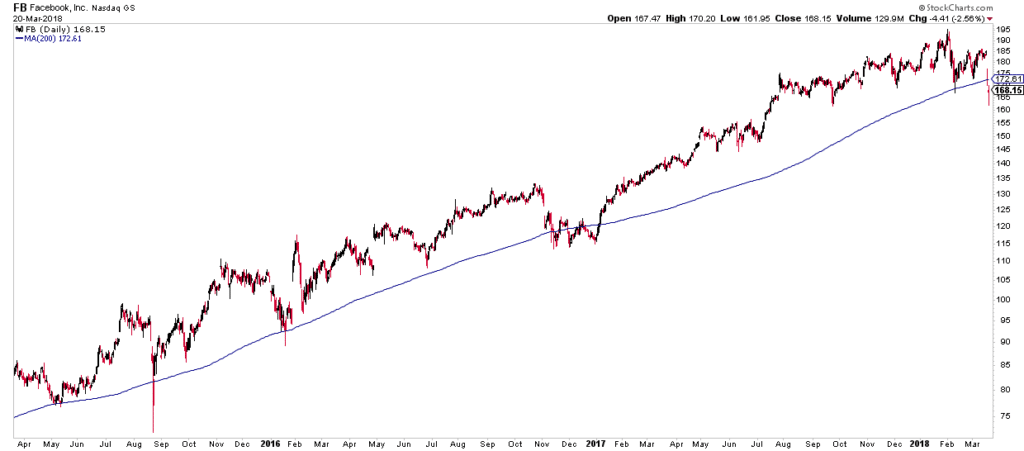 Previous violations of the uptrend turned out to have been false moves, with short-sellers being punished shortly after for assuming too much. But those times were different than this time.
This time, the company actually seems to be in crisis, the FTC is investigating whether or not they violated their own privacy settings / terms of service. Governments in Europe are up in arms. The long awaited potential entry into China has probably been vaporized (no way Beijing wants a service providing a way for third parties to warp its citizens' minds – that's their job). Civil suits and potential fines could be massive – along with the potential for new rules and regs that cost an arm and a leg to comply with, along a concomitant business model change that could render the company's ad platform less profitable or effective.
Another big question – can the Nasdaq or the S&P 500 shake off a half-trillion dollar index component going through something like this?
The closest parallel I can think of is when the Feds (and Europe) went after Microsoft for bundling its web browser with the operating system, creating an anti-competitive empire across PCs around the world. As new web browsers came along to challenge Internet Explorer and new operating systems emerged (Linux, Mac OS), it became a moot point, but the damage was done. The trial, brought by the Justice Dept and the attorneys general of 20 states, began in the summer of 1998 and the judgment of the court came in the summer of 2000 – Microsoft was found to be an unlawful monopoly and was ordered to be broken up. A subsequent settlement did away with the break-up order a year later, but it didn't matter.
Here's the ten years post Microsoft judgement – between 2000 and 2010 the stock was the epitome of dead money. The overall US stock market hadn't done much either, of course.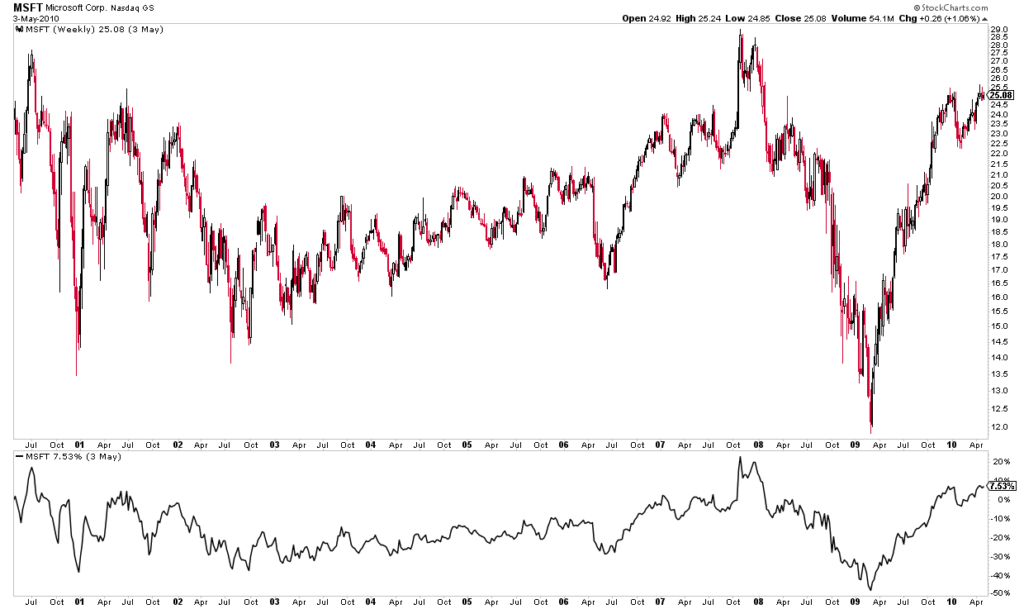 So if you're long Facebook stock, the question you have to ask yourself is whether or not, given all of the headwinds, there is a reason that investors will take it higher than the current $485 billion valuation. I don't know…?
And if you're long the market in general, or the tech sector, you have to ask yourself if we're closer to the beginning of this dustup or the end. Facebook is currently just over 5% of the triple Q's and Google, also under the microscope, is another 4.9%.