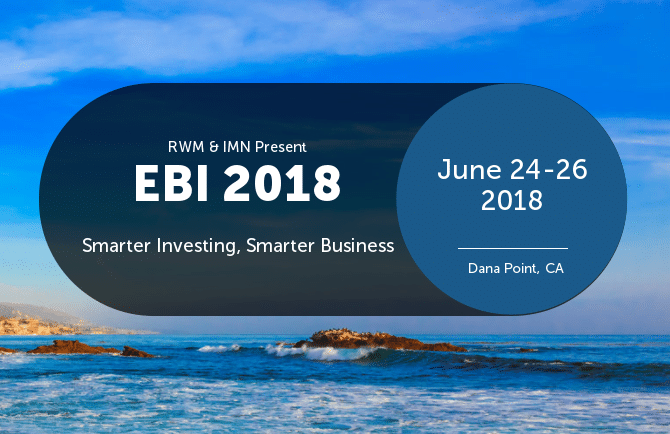 I'm very excited to make the first announcement about our June conference in California. The EBI West event is doing a bit of a pivot in terms of content thanks to overwhelming input from the institutions and advisors who've asked for more practice management and organizational content.
We're going to be packed with investment insights and portfolio construction sessions, as usual – with an added emphasis on the business of running an investment business. The new tagline, Smarter Investing, Smarter Business is geared toward professionals who not only want to keep up with the latest trends in markets and products, but also with the changing environment for growing and scaling a firm.
It's going to be amazing, just like last year's sold-out event. I want to see you there!
As usual, The whole Ritholtz Mafia will be appearing on stage (Barry Ritholtz, Chariman & Chief Investment Officer, Ritholtz Wealth Management, Josh Brown, CEO, Ritholtz Wealth Management, Michael Batnick, Director of Research, Ritholtz Wealth Management, Ben Carlson, Director of Institutional Asset Management, Ritholtz Wealth Management).
And then the speakers we're announcing right now – warning: this list is ridiculous:
Ken Fisher, Founder/Chairman, Fisher Investments
Gerard O'Reilly, Co-CEO, Dimensional Fund Advisors
Joe Davis, Global Chief Economist and Global Head of the Investment Strategy Group, The Vanguard Group
Mike Lombardi, Host, GM Street, The Ringer
Ryan Holiday, Author, The Daily Stoic
Paolo Sironi, Thought Leader, IBM Watson
Robert O'Leary, Managing Director & Co-Portfolio Manager, Oaktree
Rajath Shourie, Managing Director & Co-Portfolio Manager, Oaktree
Chris Philips, Head of Vanguard Institutional Advisory Services, The Vanguard Group
Robin Wiggelsworth, US Markets Editor, FT
Deborah Fuhr, Managing Partner & Co-Founder, ETGFI
Jodie Gunzberg, Managing Director, Head of US Equities S&P Dow Jones Indices
Brian Rice, Portfolio Manager, CalSTRS
Lisa Huang, Director of Quantitative Investing, Betterment
Larry Swedroe, Principal, Buckingham Strategic Wealth
Linda Zhang, CEO, Purview Investments
Meb Faber, CIO, Cambria Investments
Jillian DelSignore, Head of ETF Distribution, JP Morgan Asset Management
Nir Kaissar, Columnist, Bloomberg Gadfly
Jerome Schneider, Managing Director, PIMCO
More information below:
EBI 2018 is a part of the Global Indexing & ETFs conference. 

This June 24-26, EBI 2018 returns to the West Coast at the fabulous Monarch Beach Resort in Dana Point, California. The event will once again bring together institutional investors, financial advisors, asset managers, index providers, ETF issuers, technology experts and industry thought leaders looking to improve their investment decision-making process.

The program will build on the success of our 2017 gatherings, which featured impressive speaker rosters, including such industry luminaries as Cliff Asness (AQR), Tim Buckley (Vanguard), Jim Ross (SSGA), Liz Ann Sonders (Charles Schwab), Jeffrey Gundlach (DoubleLine), Michael Mauboussin (Credit Suisse), Eduardo Repetto (Dimensional Fund Advisors), Rob Arnott (Research Affiliates), Jason Zweig (The Wall Street Journal), and Meir Statman (Santa Clara University).

The idea of investing in an evidence-based way is sweeping the nation now, as strategies based on data take precedence over the old intuition-based methods of the prior generation. The trend increasingly appears to be a secular, rather than a cyclical one, as organizations and institutions rethink all aspects of their processes and philosophies. By incorporating more reason and less guesswork, money managers and investment advisors are able to paint a more realistic picture of future outcomes and potential challenges to their investors.

At EBI 2018, you'll hear from some of the investment industry's leading practitioners and thinkers about where the industry is, and where we're headed. Every professional who attends should be able to go home with innovative ideas and new ways to tackle old problems.
Register now for early pricing: