Paul Tudor Jones was interviewed by Goldman Sachs this past week and offered a mega-bearish take on the bond market and, by extension, all risk assets. He's spent most of the post-crisis period picturing the right time to short bonds and interjecting worrying ideas about the bull market in equities, and none of it has really played out.
But maybe now it's his time to be right?
One thing you have to say about PTJ is that he's a very interesting and intelligent communicator of macro ideas and concepts, having been trading at a high level for more than three decades. I thought this analogy, between the Fed and General Custer at Little Bighorn, was a fun way of framing the end of the world:
Let me describe to you where I think Jerome Powell is right now as he takes the reins at the Fed. I would liken Powell to General George Custer before the Battle of the Little Bighorn, looking down at an array of menacing warriors. On the left side of the battlefield are the Stocks—the S&P 500s, the Russells, and the NASDAQs—which have grown, relative to the economy, to their largest point not just in US history, but in world history. They have generally been held at bay and well-behaved, but they are just spoiling to show their true color: two-way volatility. They gave you a taste of that in early February. Look to the middle and there waits the army of Corporate Credit, which is also larger than ever relative to the economy, as ultra-low rates have encouraged it to gain in size, stature, and strength. This army is a little more docile right now, but we know its history, and it can be deadly when stressed. And then on the right are the Foreign Currency Fighters, along with the Crypto Tribe, an alternative store of value that only exists because of the games central banks are playing; the opportunity cost of Crypto is so low, why not own some? The Foreign Currency Fighters have strengthened by 10% over the past year. Compounding the problem, they have a powerful, ascending leader, the renminbi, to challenge the US dollar's hegemony as the reserve currency. All of these forces have been drawn to the battlefield because of our policy experiment with sustained negative real rates.

So Powell looks behind him to retreat. But standing there is none other than Inflation Nation, led by the fiercest warmongers of them all: the Commodities. He might take comfort that he is not alone on the battlefield. But then he looks over at the Washington, DC, fiscal battalion and realizes they are drunk on 5% deficit beer. That's what Powell is facing, whether he recognizes it or not. And how he navigates this is going to be fascinating to watch.
Elsewhere in this issue of Goldman's Top of Mind there were some more nuanced views about why rising rates would actually be okay for the economy and stocks – and why rates probably won't be rising substantially from here anyway.
And by the way, this might be the best annotated interest rate chart I've ever seen (you may click to embiggen):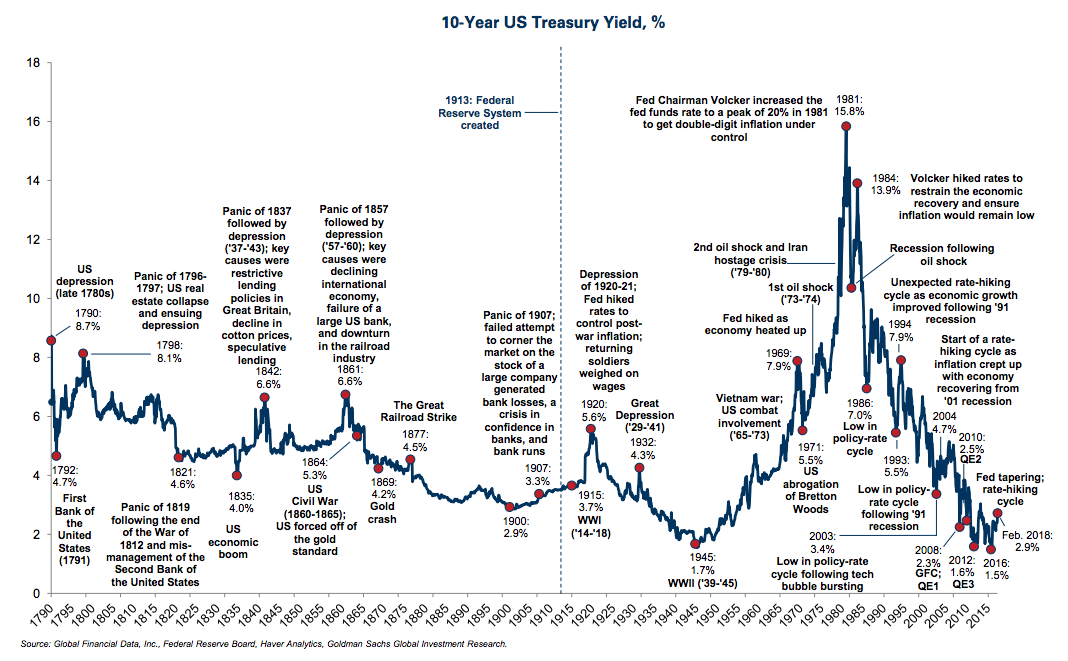 Source:
Top of Mind: Has a Bond Bear Market Begun
Goldman Sachs – February 28th, 2018
Soundtrack:
Links: