Economist Adam Posen of went on TV this morning and called the proposed Trump tariffs "straight up stupid," "incompetent" and "misguided." So I guess he's not a fan.
Posen is the president of the Peterson Institution for International Economics and served at the Federal Reserve Bank of New York in the mid-1990s, also currently sits on the panel of economic advisors to the U.S. Congressional Budget Office.
More via CNBC.com:
"Steel is just a tiny input in the U.S. gross domestic product (GDP) — which is why it's so crazy. You mess up your entire trading system for an industry that has a total of 80,000 jobs," Posen argued. 2015 census data showed roughly 140,000 Americans employed in steel mills, contributing $36 billion to the national economy.

By comparison, steel-consuming industries, which experts believe will be hardest hit by the tariffs, employ 6.5 million Americans and add about $1 trillion to U.S. GDP, according to the census.
Yesterday, the market's verdict was equally negative. US steel stocks, which are tiny in the overall indices, gained a little over $2 billion in market cap. The S&P 500 overall lost nearly $350 billion. That's inline with Posen's take on the relative benefits of protecting one industry at the peril of endangering all the others.
More than 70% of the S&P 500 companies' revenue and profit comes from their trade overseas. Now European, Asian and Latin American officials will be taking meetings to come up with their responses should the tariffs become law. It doesn't have to mean the end of the world but it certainly doesn't appear to be a net benefit to the US economy and, depending on the retaliation, it probably won't become a net benefit to the world at large.
The President's world view on trade comes from the 1980's and is now highly dependent on whomever has his attention at the moment. Shortly after the election, dairy farmers in Wisconsin claimed that imported milk from Canada was harming them. It only took a moment for the President to publicly threaten the Canadians over the issue. Fortunately, his attention span didn't carry through because Canada is among our most fair and balanced trading partners each year.
When Gary Cohn steps out of the room and a metals exec steps in, you get something like what we saw yesterday. Here's an inside take from the New York Times:
The White House has been on the brink of announcing steel and aluminum tariffs several times in the past eight months, including in June. In recent days, the president appears to have grown impatient for action.

Supporters of the tariffs have begun broadcasting televised ads in recent days during programs that Mr. Trump has been known to watch. One such ad ran on Fox News minutes before the president's Twitter post on Thursday morning.
So that's how easy it is.
Fortunately, we may have an ace in the hole.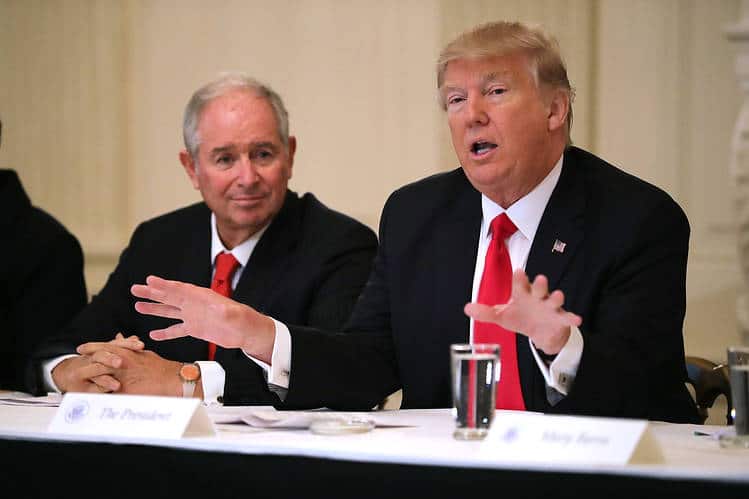 Donald Trump's most trusted advisor in all things business, and the man he probably most admires, is Blackstone's Steve Schwarzman, the private equity billionaire who runs Blackstone. Schwarzman is also a major league Sinophile and has already invested $100,000,000 in order to improve US – China relations and defend America's relationship with them from unruly, potentially destructive rhetoric.
"I thought it was inevitable that China would be on that list of groups to be angry at. They've been a huge winner through globalization. Jobs have moved around the world, but to Asia, in particular in China, as the largest beneficiary," he told reporters during the launch of a recent scholarship program he set up in Beijing.
Schwarzman has a lot to lose from a global trade war. However, he has the president's ear and was serving as the chairman of the now defunct White House policy forum until Trump's dalliance with the Nazis in Charlottesville last summer.
If you're an investor or a business person, you can only hope that Steve gives Donald a call to mitigate this thing before it actually goes into effect and the damage begins. On our side is the malleability of the president's mental state and belief system from one moment to the next. He's floated plenty of trial balloons before, on a range of subjects, that were not followed through on.
Soundtrack:
Links: