So, it's official – we've had a stock market correction, according to the universally agreed upon definition of a 10% drawdown from the recent high.
From the New York Times, a recent history: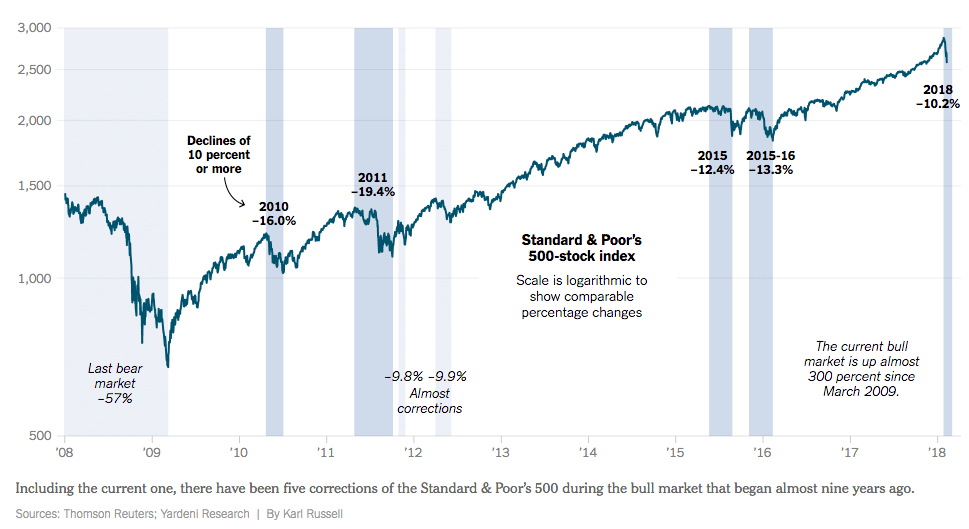 Too soon to know if this correction will turn into a bear market (regarded by most as a 20% drawdown). My director of research Michael Batnick notes that of the fifteen true corrections from record highs since 1928 (prior to this one), ten turned into full-blown bear markets while five did not.
More importantly, stocks have spent 55% of the time since 1928 in a 10% drawdown, so it's fair to say that we're in a completely normal environment.
The only thing that's abnormal is the speed with which this 10% drawdown took place. Here's my pal Ryan Detrick of LPL:
So this is the first time in history the S&P 500 went from a new all-time high to 10% correction in 9 days or less.

But note, still above 200-day MA, yield curve is actually higher this week, and credit spreads haven't widened this wk.

Those are major positives under surface.

— Ryan Detrick, CMT (@RyanDetrick) February 9, 2018
Perhaps we deserved that speed of decline. The S&P 500 chart was ridiculously extended to the upside.
Here's Mike's tweet and chart illustrating this:
A 10% decline and the S&P 500 is still 2% above its 200-day moving average. Shows how extended stocks were. pic.twitter.com/WVQyM2ZcAU

— Michael Batnick (@michaelbatnick) February 9, 2018
Now, the good news:
54 million Americans are actively contributing to 401(k)s, in 550,000 plus corporate retirement plans across the country. Should current levels stand, next week they'll be adding to their accounts from their Feb 15 paychecks en masse. They'll be able to buy 10% more of the stock mutual funds they allocate to without doing anything. This is fantastic for everyone who is funding a goal years out into the future.
As for investors who are currently in retirement and drawing on their investment accounts to meet living expenses – provided they have planned well and allocated according to these plans, a 10% normal drawdown in stocks should not have any material impact beyond the merely psychological.
And for those who've been hurt disproportionately due to excessive risk taking, leverage or poorly constructed portfolios, it serves as a perfect wake-up call that they may need to consult a professional on either their plan, their portfolio or, most likely, both.
Namaste.
Soundtrack:
Links: