The global stock markets and economies are boomin. No other way to put it.
Here's my friend Steve Russolillo's lede from the Journal this weekend:
Stocks around the world have staged one of the best-ever starts to a year, a synchronized rally that has only gained momentum following 2017's sharp gains.
In the U.S., the S&P 500's 7.5% rise so far in January is its biggest since 1987. In Asia, the Shanghai Composite has already surged 7.6%, surpassing last year's gain. Hong Kong's Hang Seng Index is up 11%, rising on all but two days this month. And in Europe, the German DAX and France's CAC 40 are up 3.3% and 4.1%, respectively.

Strong corporate earnings and improving economic growth world-wide have fueled the gains, with the new U.S. tax law, which cuts corporate rates to 21% from 35%, bolstering optimism. The weaker U.S. dollar has been a boon to emerging markets and the recent pickup in Treasury yields has prompted a rotation out of bonds and into stocks, further propelling equity markets, investors say.
What's happening here is now happening almost everywhere. It's a global phenomenon. Look at yields, economic data and stock prices in Europe, same story. Japan crashed through a stock market high not seen since 1991 the other day. Chinese stocks (MSCI) are up 60% year over year. No one is cherry-picking, these are the biggest markets / economies in the world all getting their shit together at the same time.
Here's Peter Goodman at the New York Times noting that the largest economies on earth are all growing in sync for the first time in over ten years:
A decade after the world descended into a devastating economic crisis, a key marker of revival has finally been achieved. Every major economy on earth is expanding at once, a synchronous wave of growth that is creating jobs, lifting fortunes and tempering fears of popular discontent.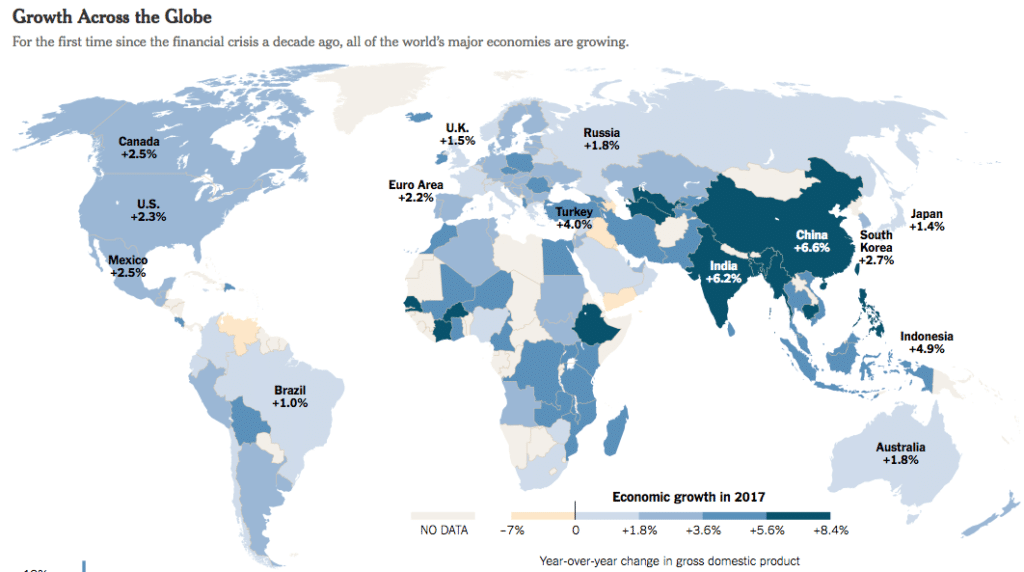 That's a lot of blue.
Barron's has a great interview about US stocks specifically with Neuberger veteran Marvin Schwartz, who's seen it all and stays encyclopedic with the details. His earnings outlook and valuation case is worth keeping in mind:
Are tax reform's benefits already baked into stock prices?

Partly. All last year, we were led to believe that if tax reform passed, it wouldn't take effect until Jan. 1, 2019. Not a single portfolio manager or analyst revised their 2018 earnings estimates. Now, earnings estimates have suddenly been revised upward. It is dramatic. The consensus estimate for 2017 operating earnings is $132, up from $119 in 2016. That means the S&P is selling at 21.2 times 2017 earnings, which usually makes people like me nervous. But in 2018, the consensus estimate is for $153, a 16% improvement, which is very realistic and, in fact, a little conservative because normal earnings without tax reform would be up 8% or 9%, given 3% GDP growth. Now the multiple is 18.3 times. For 2019, the estimate is $165, which is 17 times. In 1998-99, when technology stocks drove the S&P 500, it was 28 times.
So should we be buggin out and thinking it's too good? Gambler's Fallacy.
Jon Krinsky at MKM had some research out this weekend taking on the "too good" meme, a piece called Rewriting the Record Books:
Every day it seems as though the market breaks another record. It has now been almost 400 trading days since the S&P 500's last 5% drawdown, 308 days since the last 3% drawdown, and 99 days since the SPX last had a 0.60% down day. All of those are the longest streaks in the SPX's history, which dates back to 1928. What is notable about most of these extreme stats, including overbought conditions, is that historically they rarely mark the end of the uptrend. So while we can certainly expect some moderation or pause in the uptrend, any weakness is likely to be followed by further price highs. This week we highlight one buy and sell idea from each of the 11 GICS sectors.
One way of thinking about this is to look at 5% drawdowns from the peak, which we haven't seen happen in forever. Historically, is there precedent for such a boomin tape?
Here's Jon again:
The S&P 500 has gone nearly 400 trading days without a 5% drawdown from its 52 week highs (closing basis). That surpasses the next longest streak from 1995-96 (394 days), making it the longest streak in the history of the SPX back to 1928. While we are clearly well "overdue" for a 5% drawdown, the more important takeaway is that none of the prior longest streaks marked a major top in the market. In fact they primarily occurred within the strong bull markets of the 1950's 1960's, and 1990s.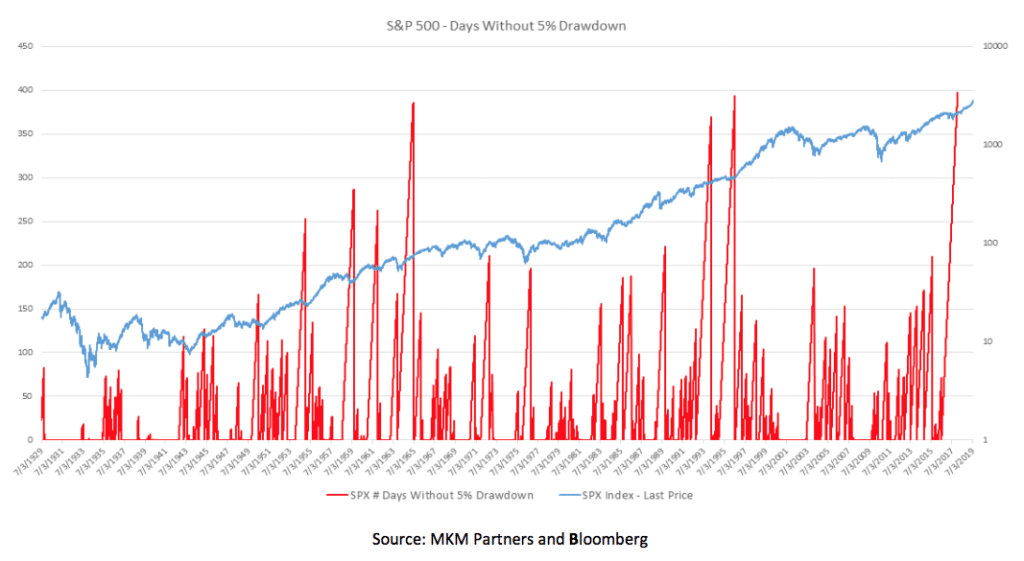 Josh here – So we get these stretches and they don't go on forever – but they are not in and of themselves sell signals or representative of a major top. At least, not in the past they haven't been. But since we're breaking records to the upside, why not consider the fact that we can write some new ones if and when she breaks lower.
Maybe this will be as good as it gets. Jon's watching for a break below the 5-day moving average as a first clue (just a couple of down days ought to do it). Hasn't happened yet in 2018.
The Boom hasn't let it.
Soundtrack: 
Links: