1976.
Nike founder Phil Knight sits alone watching the start of the Montreal Olympic mens marathon event. The number one contender is Frank Shorter, who will be wearing Nike running shoes. Knight thinks this is going to be his company's – his baby's – coming out party as a serious supplier of athletic gear. It doesn't quite work out that way. As shorter takes the track, he's wearing the shoes of Nike's most hated competitor.
And I switched from soda to vodka. Sitting in the dark, clutching a cocktail, I told myself it was no big deal, in the grand scheme of things. Shorter didn't even win. An East German surprised him and took the gold. Of course I was lying to myself, it was a very big deal, and not because of the disappointment or the lost marketing opportunity. If watching Shorter go off in shoes other than mine could affect me so deeply, it was now official: Nike was more than just a shoe. I no longer made Nikes; Nikes were making me. If I saw an athlete choose another shoe, if I saw anyone choose another shoe, it wasn't just a rejection of the brand alone, but of me. I told myself to be reasonable, not everyone in the world was going to wear Nike. And I won't say that I became upset every time I saw someone walking down the street in a running shoe that wasn't mine.

But it definitely registered.

And I didn't care for it.
There's probably a way to be an entrepreneur and build a company without getting so emotionally entangled in it, but I wouldn't know anything about that. While reading Shoe Dog, Phil Knight's autobiography, there were times I could relate to him and times where I couldn't. But in this passage, it's like he's speaking the words directly into my soul. When I hear about a prospective client who ends up working with another investment advisory firm – which only happens rarely – I have an almost physical reaction to the news. "What???"
I understand that we don't have a local office in every market (yet), and that there are other great advisors in the industry, but still…It makes absolutely no sense. It definitely registers. And I don't care for it.
No one is doing what we're doing, the way we're doing it. CFP-driven financial planning work, an essential blend of strategic and tactical portfolios – informed by a hundred years of evidence – created and managed in-house, a client service model incorporating the most practical insights from all of the academic and real world behavioral finance literature, fantastic people, cutting edge technology, etc. In my mind, there are no other options and we have no competition, once you see how we operate.
It might be unreasonable to believe that everyone who should be a client must be a client. But I can't help feeling that way. There may be entrepreneurs who can handle this bit of dissonance, but not me. And not Phil.
It's my favorite thing about the book.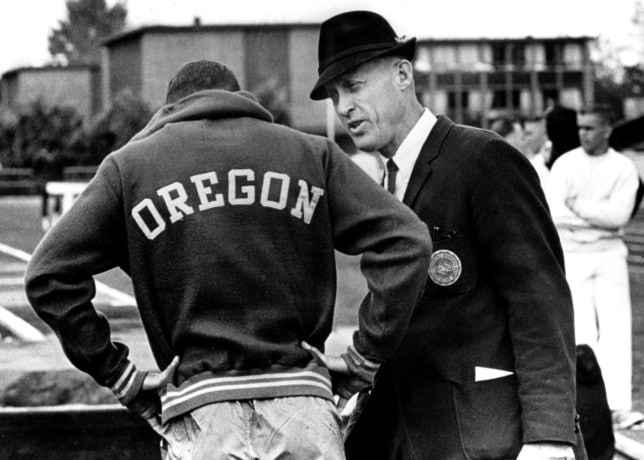 Knight's mentor (and Nike innovator) University of Oregon track and field coach Bill Bowerman
I also love the fearlessness. The willingness Knight and his early employees had to be oddballs, defy industry conventions and do things their way – risking everything because they knew they were right. Knight's hero, General Douglas MacArthur, sets the tone: "You are remembered for the rules you break."
I think of the premise we're building our firm on – tell the clients the truth, not what they want to hear. And tell it a thousand different ways on our blogs, at our events, in meetings, on phone calls, across the world wide web. And know that the best clients will be those who would prefer the truth once they figure out that the alternative – Wall Street's eternal promise of reward without risk – has never worked out for them. We habitually break the cardinal rule of the investment business by admitting how little we can predict about the future. We break it gleefully and at every opportunity.
Shoe Dog starts in the 1960's, with college track star Phil Knight traveling the world in search of, well, something. And it takes us through the early 1980's, at which point Nike becomes the most successful shoe company in the world, going public at a monster valuation (only a week before Apple's IPO!). The book isn't a victory lap, because it all takes place during the struggle to build the company. There's almost nothing in here about the last three decades during which Nike reigns over the entire planet. Tiger Woods gets two mentions, in the final chapter. Michael "Air" Jordan pops up in a single anecdote.
Instead, the book is a paean to startups. It's part historical, part spiritual and part memoir. Knight takes a masochistic delight in recounting his mistakes, his misjudgments, his inability to stay out of debt and the endless series of setbacks that routinely threatened everything he'd built. Imagine having two banks fire you as a client, the US Treasury department coming after you for $25 million, a supplier becoming your number one competitor, employees who were just barely playing with a full deck, investor revolts, commercial lawsuits and on and on, when all you want to do is make the best shoes you can for the athletes you love.
Knight finds the success he'd been craving in the end, but it comes at a price. Friends become enemies, a father-son relationship doesn't survive, and the whole concept of work-life balance goes out the window in service to the man making his dream come true. His biggest regret is that he can't do it all over again, and live in these moments one more time. Despite the aforementioned trials, he would go through them all anew if he could, just to be back in the race – a race he already undisputedly won.
This is a book you simply have to read if you're in your own race right now, building something with an unknown future because you believe it has to work. I think I came across this story at the perfect time for me. It may be the perfect time for you as well.
Get the book here: