"People have gotten really used to 1.5% inflation. The service economy and wage pressure are going to gradually continue to put upward pressure on interest rates. It's not a shock story; it's more like we're going to wake up in six or eight months and the Fed will be saying, 'I think we're there.' "
This is a guess, but I have a good nose for these things given how much exposure to the business news and media I take in every day…I think one of the big themes for investors in 2018 will be Inflation. You may not remember that term, it's been out of use since mid-2008, but yes, it's still a thing.
Barron's did its final cover story of the year on the possibility of inflation returning. I don't think they did a great job talking about the hedges and opportunities for an environment like that, but they ably cover the new concerns people are now starting to take seriously.
The concern for stocks, as illustrated below, is that higher inflation, past a certain threshold, has had a depressing effect on multiples. This becomes important when you consider where multiples currently stand relative to historical averages. It's possible to have a scenario where earnings growth is fine throughout 2018 but the P in PE ratio offsets that by contracting. Especially if profit margins come under inflationary pressure – or if market participants begin to think they will.
See the chart: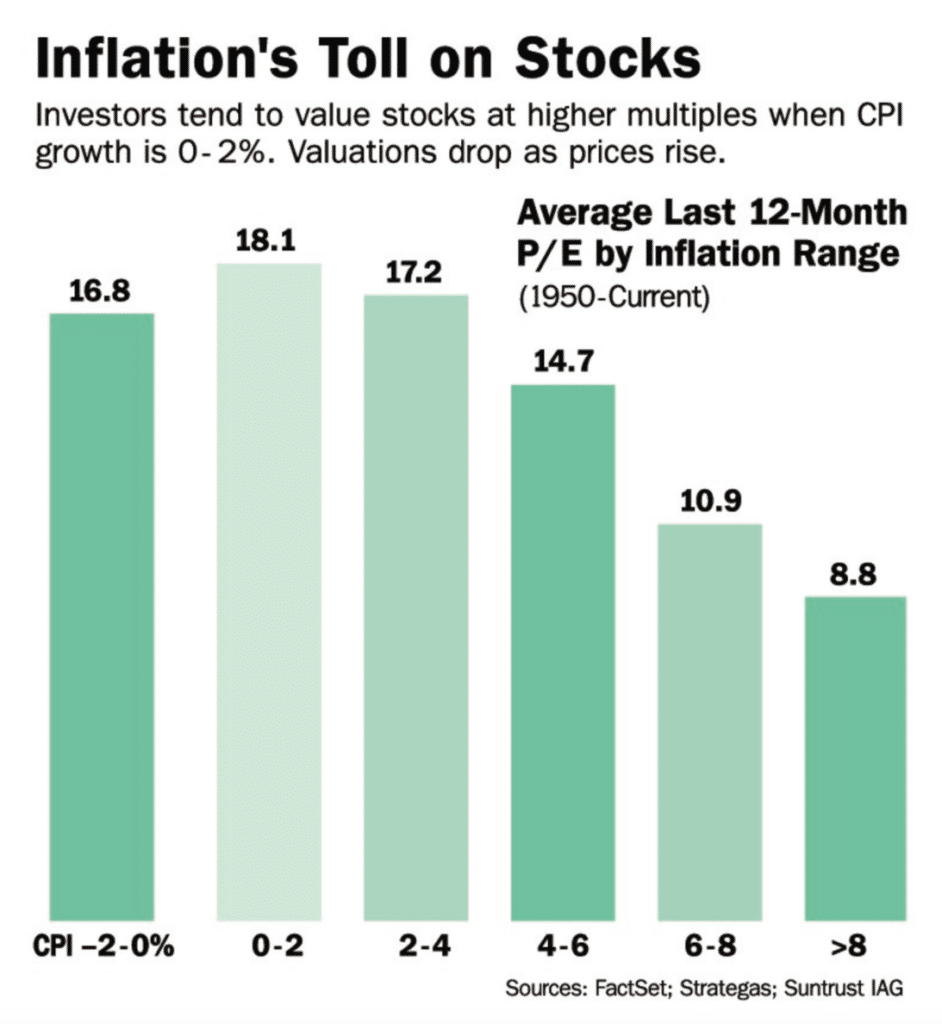 In today's Wall Street Journal, the lead economics story is about wage hikes now being forced upon companies, not by government writ but by necessity, in cities where the labor market is tight.
In U.S. cities with the tightest labor markets, workers are finding something that's long been missing from the broader economic expansion: faster-growing paychecks.

Workers in metro areas with the lowest unemployment are experiencing among the strongest wage growth in the country. The labor market in places like Minneapolis, Denver and Fort Myers, Fla., where unemployment rates stand near or even below 3%, has now tightened to a point where businesses are raising pay to attract employees, often from competitors.
Wage growth has been elusive when looking at the labor force collectively because retiring boomers at the top of the pay scale have been retiring while their replacements have been kids coming in at entry-level salaries. But when you follow the pay of a given individual, looking beyond the collective, wage growth has been a bit better.
You saw the S&P 500 Materials sector, which is tiny, stage a remarkable run into the end of the year. Those stocks were rallying with the commodities they are largely tethered to.
I follow the Bloomberg Commodities Index over the GSCI for a sense of that part of the markets – the BCOM gives a higher weight to metals and agriculture and a lower weight to crude oil, which tends to dominate other commodity indices and, as a result, provide a less useful picture of the whole.
The BCOM staged a furious rally into year-end, with a record-setting 12 day run into the close of 2017.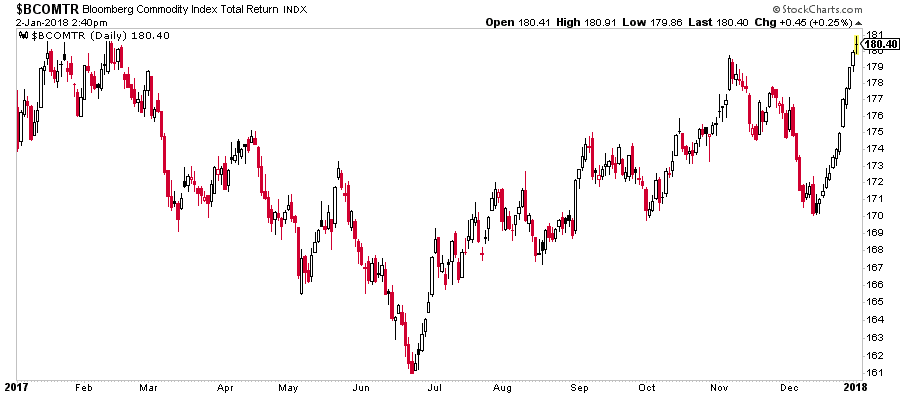 Despite it's two-year streak of positive returns, the first back-to-back years of gains in a long time – we've seen commodities underperform the S&P 500 in each of the last seven years. This is an unbelievable run of negative relative returns. The space has been left for dead, both in terms of assets in related funds / market caps as well as in terms of sentiment. According to my research director, Michael Batnick, one dollar invested in the S&P 500 turned into $2.47 since 2011. In commodities, one dollar turned into .55 cents over the same time frame!
So if this is the year that the "I" word becomes less absurd a premise, commodities could make it three in a row to the upside. That's about the point where you see asset allocators begin to show some interest again. It's been awhile.
Later this week, I'll talk a bit about commodity exposure in portfolios and a new fund I've come across that might be of interest for people thinking this way.