Forty years.
That's how long I had managed to go without losing my wallet. It had never happened to me in my entire life.
Until two weeks ago.
That's when I arrived in Chicago after a 7 am flight from JFK and realized that my wallet was gone. Not in my pockets, not in my bags, nowhere. I almost doubled over in shock in front of the McCormick Place Hyatt at the moment of realization.
There I am, in another city, on business no less, without any cash, credit cards, identification. My lucky joker card and the photo of my little girl as a baby that I've been carrying around everywhere I go all these years – gone. I felt like less than a person for a whole day. It sucked beyond belief. Imagine having to get on stage in front of 2700 people to speak at a massive investment conference, and be the only loser there without a drivers license or a dollar in my pocket.
Here's the punchline – the panel I was appearing on was called "Financial Disruption" – and there I was, the most financially disrupted motherf***er in town.
My passport arrived via USPS overnight at the hotel the next day, as did my replacement American Express card via UPS. Okay, some semblance of normalcy, but still the self-loathing…God, I hated myself that day.
And then the most amazing thing happened.
A Facebook Messenger alert. I never check Facebook messages for my public profile. They're linked to my verified page, so there's a lot of spam that comes in through there.
But this message is different. It's from a guy who picked my wallet up at JFK, googled me, found my firm's address and mailed it back to me! I had to re-read the message twice before I could believe it. I thanked him profusely.
People at my office confirmed that the wallet arrived last week. The $400 cash I had in it was still there, along with my license and credit cards and the little photo of my baby girl and everything.
And this note: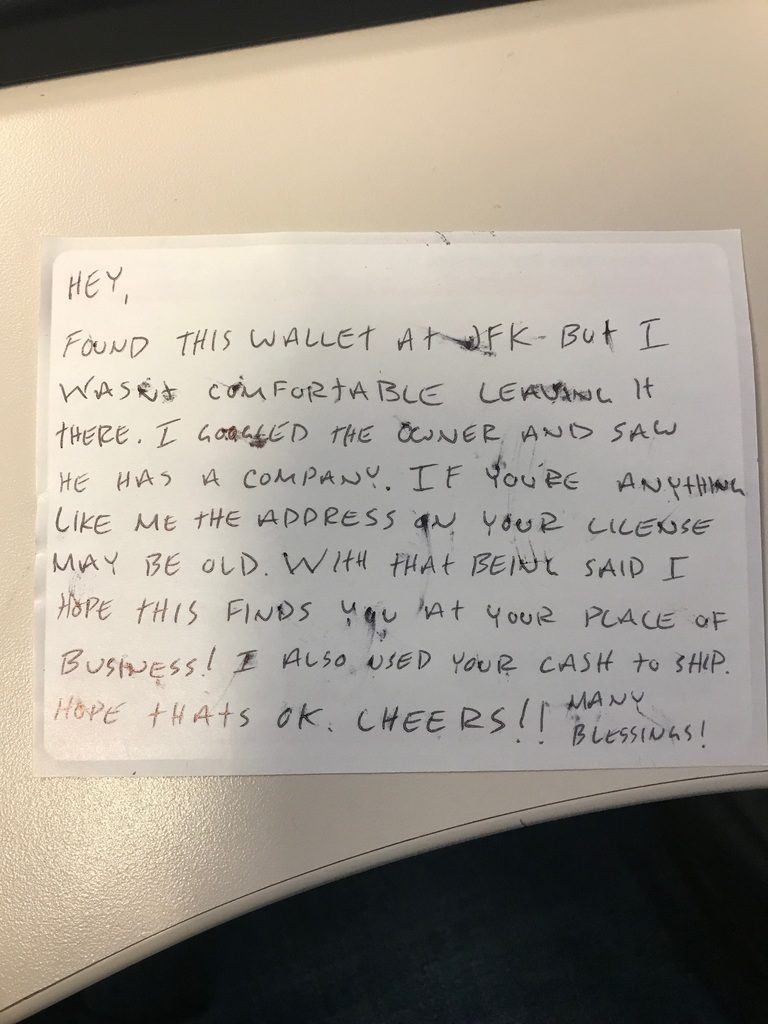 So here's what I want to say…
Not everyone who had found this wallet would have done what this gentleman has done. Some would have just kept it and taken its contents. Others would simply have dropped it off with at the airport's lost and found window to be done with it.
But then there are people out there who go out of their way to help perfect strangers, because they feel it is the right thing to do. There are people like this guy, who make the world a better place. There might be more of them out there than you'd think, given all of the bad news and harsh rhetoric we encounter every day.
Don't fall for it. Don't give in and let cynicism overtake you.
Never give up on people.
Many blessings!
***