Long-time readers know that one of the few market "indicators" I have any use for involve internals or what the technicians call breadth. I don't necessarily trade on it, but it informs my thinking about how strong or weak a price trend is. During an advance, you want to see more stocks going up than are going down, which is intuitive and not especially insightful. Things get really interesting when the internals disobey the primary trend and leadership narrows down. And by interesting I mean concerning.
What we've been seeing this winter has been textbook bull market behavior beneath the surface. The 52-week high list has been broadening, not narrowing, and highs are outpacing lows. Some market observers have pointed out that the popularity of indexing and ETFs may have blunted this particular indicator, but I don't think we have any way of quantifying that, so I don't focus too much on it.
Here's Oppenheimer's Ari Wald:
Several important internal breadth indicators, like the NYSE Advance-Decline line, are "confirming" the S&P's rally and indicate broad-based participation, by our analysis. We think this argues against a major top.
And some charts, which you may click to embiggen…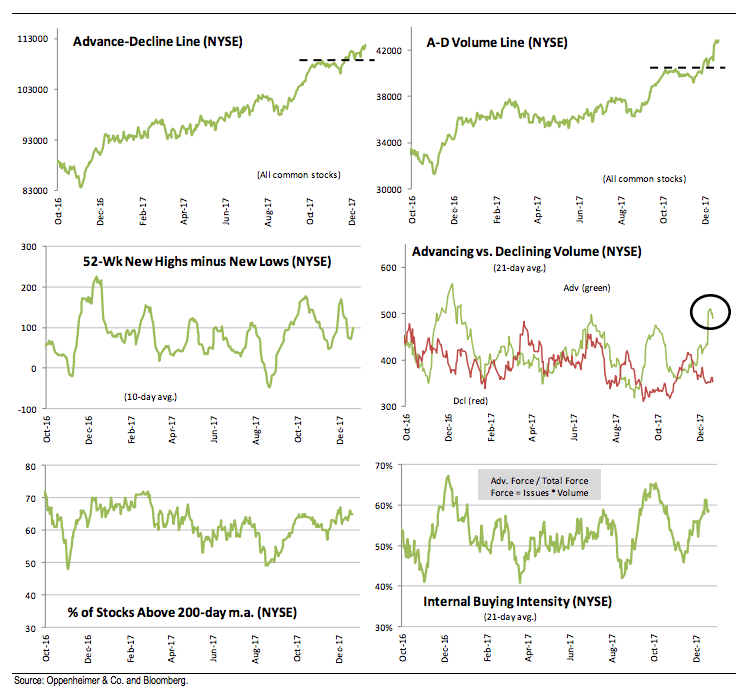 Josh here – tax reform has probably helped the internals, because sectors like energy, the refiners, the drillers and other ne'er do wells from 2017 finally got a lift. Retailers were probably the most buoyed by tax reform as they currently pay the highest average tax rate of all industry groups (30% according to the Wall Street Journal).
When the dogs of the year pick up a head of steam and join the broader advance into year-end, it's not bearish.
Source:
Technical Analysis: Inflection Points
Oppenheimer – December 23rd, 2017