I like to look at relative charts whenever I hear people say that such and such sector has already made its move or has come "too far too fast."
The explosive action in the financial stocks these past two weeks as tax reform moved from a maybe to a definitely is getting a lot of attention. There's a re-rating of these stocks taking place now that three Fed interest rate hikes in 2018 look more realistic and economic surprises to the upside continue apace.
I found Ari Wald's take on the bank and brokerage stocks to be very helpful in terms of context. Technically speaking, the Oppenheimer technician sees financials as the best set-up into next year among all the sectors, even technology…
Highlighting Financials as our top sector idea for 2018, rather than Technology or Industrials, is simply to stress that this could finally be "it" for a sector that's achieved a 17% gain over the last 10 years vs. an 82% gain for the market. By "it," we're talking about an 8-year relative base that is showing signs of breaking higher again following the initial post-election breakout in Q4'16. Our main concern is that oscillating interest rates could create temporary periods of weakness, but the sector's broad-based internal strength (e.g., Banks, Brokers, Security Exchanges, Asset Managers, Insurance) makes the risk worthwhile, in our view. Buy ideas include BAC, BLK, BRK/B, C, CMA, GS, JPM, MS, PNC, WFC which constitute over 50% of the Financials SPDR (XLF). For a source of funds, we recommend selling AIG.
Ari's chart looks at the S&P 500 Financial Sector SPDR (XLF) on its own – and then relative to the S&P 500 (as always, you may click to embiggen):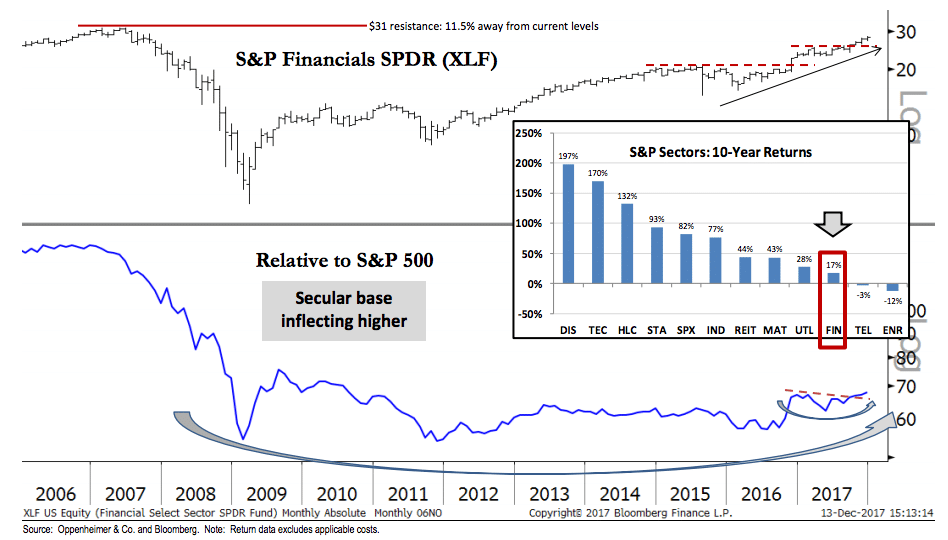 Source:
Technical Analysis: Inflection Points 
Oppenheimer – December 16th, 2017