This morning's WSJ Daily Shot had an important suite of charts in it that illustrate the differences between net worth improvements for US households. The difference between median and mean improvement is stark, as are the differences between different percentiles of households. In order to have felt the recovery thus far, one needed to have financial and real estate assets – a lot of them, actually…
As discussed previously, while Americans' net-worth is climbing, …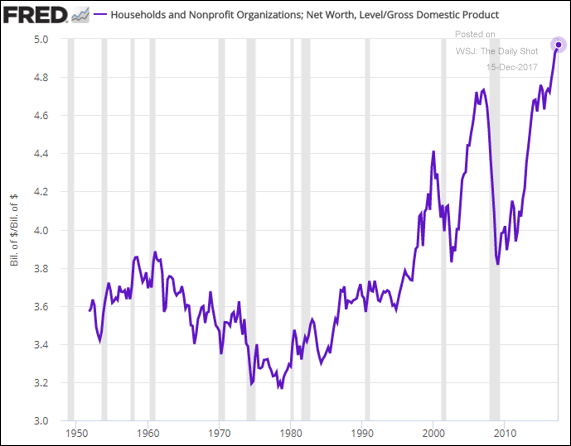 … the improvements have been highly uneven.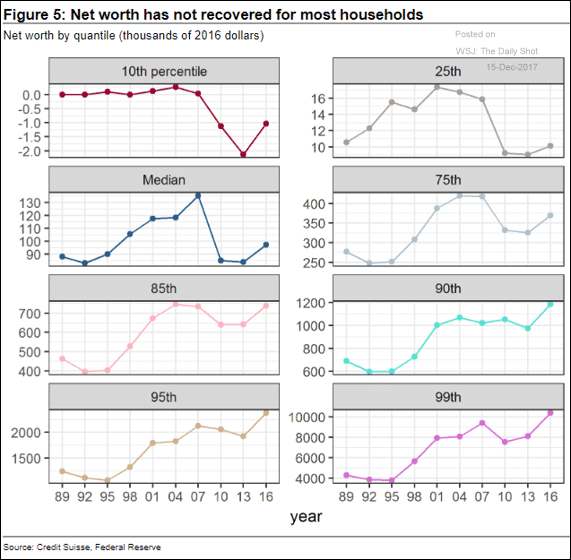 That's why the mean net worth is now above the pre-recession peak, while the median is not even close. The two indicators have completely diverged.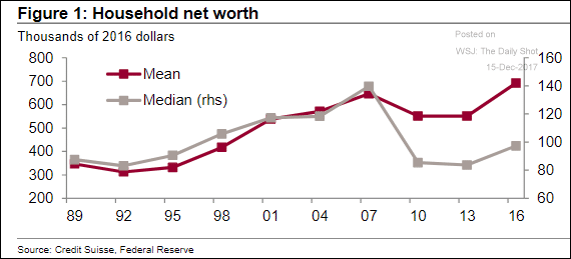 Josh here – of course the uneven nature of the post-crisis recovery is not a new insight, but I found this to be a helpful way to see it visually.
Especially in the context of the tax reform bill that looks closer to becoming a reality. It's primary feature is to lower the tax rate for corporations, thus primarily benefitting the holders of corporate securities like stocks and bonds – the very people who have already seen the biggest gains since the recession. The idea that we'll see that wealth trickle own to everyone else is nice, maybe if we get to Dow 30,000 and average home prices in the wealthiest suburbs and cities up another 25%, that might happen?
Well, that's the story they're telling voters…
Until that transmission mechanism actually kicks in, the best way to think about the tax plan's main emphasis is Welfare for the Wealthy.
Source:
WSJ